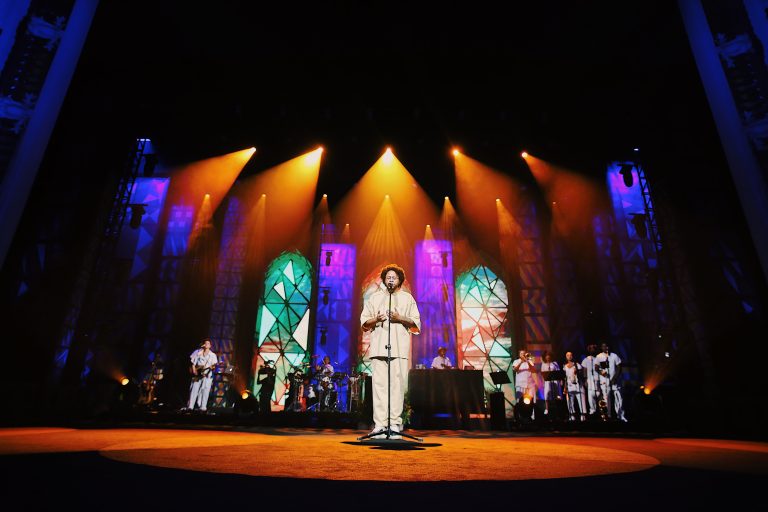 Rhythm and Poetry: An Interview with Emicida
29 September, 2022
For Someone Who's Bitten a Dog for Food, I've Got Kind of Far… This is the English translation to the evocative title of Emicida's first album, Pra Quem Já Mordeu Um Cachorro Por Comida, Até Que Eu Cheguei Longe, which came out at the dusk of the 00s, in 2009. Born to humble origins in 1985, Leandro Roque de Oliveira got baptised as Emicida – a combination of the words Emcee and homicida (homicide in English) – by friends who said he'd "killed" his many opponents with rhymes in improvisation battles, which he started taking part of in 2001. With his eloquence and musicality, the Brazilian rapper from São Paulo would go on to become one of his country's top rappers.
Ten years later, when his sixth studio album AmarElo came out in 2019, he was already one of Brazil's most influential cultural figures. The album won the Portuguese Language Rock or Alternative Album award at the 2020 Latin Grammys, and its title song – which samples "Sujeito de Sorte", by the cult singer-composer Belchior – is a timely and powerful life-affirming anthem sung with queer stars Majur and Pabllo Vittar. Emicida's work has become an important antidote in times of the far-right government of Jair Bolsonaro, known for his homophobic, misogynist and racist statements, which reinforce prejudices and consequently put lives in danger.
AmarElo took Emicida to one of the most prestigious and aristocratic stages of his city, that of Theatro Municipal de São Paulo – a space rarely occupied by black artists. The concert was a celebration of the rich cultural legacy of black peoples and individuals in Brazil, including those who helped build that very theatre and virtually every other building in the country. It generated a deeply moving documentary with performances, behind-the-scenes footage, interviews and animations which also showcases the album's recording and takes a deep dive into Brazilian black culture throughout the last century. Emicida: AmarElo – It's All For Yesterday (Emicida: AmarElo – É Tudo Pra Ontem, directed by Fred Ouro Preto), which was streamed worldwide via Netflix, sheds light on an important part of the frequently described as "whitewashed" Brazilian history – often un-told or mis-told, especially when it comes to the country's black and Indigenous populations. In 2021, Netflix also released a concert film of the event.
Emicida's knowledge of black history and insightfulness have also granted him participations in TV shows throughout his career. One example is O Enigma da Energia Escura (The Dark Matter Enigma in English, 2021), with five episodes in its first series, where he presents other possibilities of reality which are suggested by a non-white perspective of society. The show, directed by male and female black individuals, has recently been renewed for a second season. Meanwhile, the MC is touring Europe with two concerts in London on 1st October. He's taken a few minutes to talk to Sounds and Colours via email about the AmarElo tour de force, his neo samba and expectations for the Brazilian presidential elections, which are taking place on 2nd October. Here's hoping that, like Emicida's work, they will represent the dawning of a new day in the country's democracy.
---
AmarElo – It's All For Yesterday is a very moving and powerful documentary. How did the album AmarElo and its subsequent projects come together conceptually?
I believe it's all about telling a story that gets people involved and determines what the atmosphere of that environment will be. Historically, the first records in rap music, in the trajectory of the biggest names, start from a more concrete place. I mean, they refer to what the eyes can see and we become chroniclers of the reality of the great urban centres and also of their contradictions. With time, evolution and the space created to understand this, comes the need to bring a certain abstraction to the table. This abstraction does not represent disconnection, but a deep dive into the great sense of humanity. In this sense, what can we do better than [feel] emotions… AmarElo, both the album and the documentary are about emotions because in the end they define how we see the world. I would say that everything I do is connected because I end up conducting it like a big research, where each step is a continuation of the previous one.
With AmarElo you've created a musical style coined as neo samba. What constitutes its aesthetic DNA?
It's impossible to exist within Brazil without being phagocytized by its culture. There are many groups that reproduce the North American ways of making music and they mostly do a good job, but I think we can connect things in a way that produces something new.
So, this neo samba title is also the result of a great research where the spoken song presents itself as a very present characteristic in the African diaspora, as well as the drums which are the north of its compass. This is rhythm and poetry, the translation of the acronym rap – it received this title by a coincidence, in fact not so coincidental, as it is still a fruit of colonialism: the strength of the great economic centre that is New York in the United States, which attracted Jamaican immigrants to the Bronx, where this mixture of cultures from many parts of the world, especially those of African and Indigenous descendants, were given the name rap. I think that by proposing a redefinition that is more than a fusion of rhythms, we affirm the evolutionary potential of our creative capacity and point to the great diversity present within rap music. Other artists have already done this, including North Americans and they did it well, at that moment I just wanted to put this ambition in the spotlight in order to make everyone see this fruit and be open to the transformations it produces and will continue to produce in the future, because it is impossible to exist in Brazil without being enveloped by the enchantment of its culture.
General elections are taking place in Brazil this October, when the President, Vice President, and the National Congress will be elected. How do you evaluate the upcoming presidential elections and what are your expectations?
I hope that everything is resolved in the first round and that Bolsonaro returns to the sewers he should never have come out of. Certainly, he is the result of the worst we have in human experience. I believe that Lula should win and that can change the sad climate of the country, this change in the energetic epicentre of Brazil can produce something very positive, great for the planet even. Brazil makes the whole world's dreams more beautiful when it believes in itself and dreams big, and what Bolsonaro did was to kidnap the dreams from Brazilians.
On the other hand, I recognize that, although important and fundamental, Lula's election does not represent a miracle that will make Brazil become the tropical paradise of Jorge Ben's songs from January 1st. Unfortunately, we have a lot of work to do, considering what the planet is facing right now. The scenario of destruction represented by tropical fascism will need a commitment from everyone to build another historic opportunity of dignity and hope for Brazilians and for the world as well. But it all starts with the election, it starts with throwing Bolsonaro in the bin.
---
Emicida is currently touring Europe and will perform at London's Jazz Café on Saturday 1st October. He's playing two concerts that day, one at 17:30 and another at 20:15. Tickets can be purchased online.

Follow Sounds and Colours: Facebook / Twitter / Instagram / Mixcloud / Soundcloud / Bandcamp

Subscribe to the Sounds and Colours Newsletter for regular updates, news and competitions bringing the best of Latin American culture direct to your Inbox.
Share: