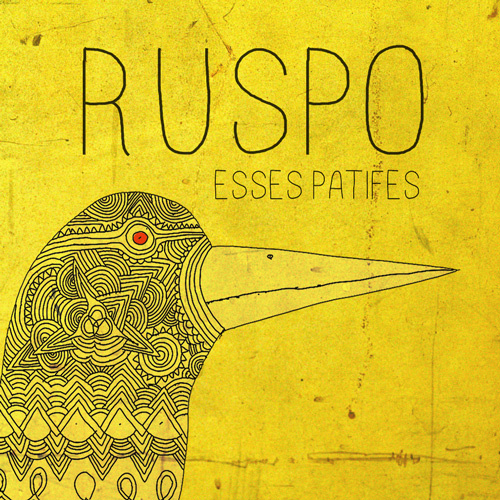 Review
Ruspo – Esses Patifes
The liner notes for Ruspo's debut, Esses Patifes (These Criminals), describe the album as a journalistic meditation on Brazil's disparate geography through the lens of "tropical lo-fi." While that framework might be useful for approaching the album, the richness of Ruspo's lyrics and production is what makes this album shine.
Ruspo (the nickname of Ruy Sposati) composed and recorded the album while travelling between a diverse set of cities in Brazil, ranging from its largest cosmopolis (São Paulo) to cities that epitomize some of the country's most famous natural geographic features: the Amazon river (Belém and Altamira), the mines (Belo Horizonte), and the rainforest (Campo Grande and Dourados). The combination of an indie aesthetic with the geographic specificity produces a lovely album that parallels similar place-centered efforts by indie artists such as Sufjan Stevens while also drawing from the newer tendencies in Brazilian popular music. The result is an album that should appeal to Brazilophiles and adventurous fans of lo-fi indie music alike.
All 14 of the tracks are strong, weaving between detuned guitars and children's voices ("Altamira"), quirky approaches to baile funk ("Chatuba do Agroboy"), new wave ("Santos"), and kitschy bossa nova ("EUA"). Fans of Jorge Ben might be drawn to "Tenha Fé," a reworking of Ben's samba-rock track (also known to fans as "Confiança"). Ruspo's version replaces the exuberance of late-1960s samba-rock with afro-Brazilian rhythms, marimbas, and driving piano riffs. The song also features excursions to flute solos, saxophones, string patches, and even the berimbau. That kind of eclecticism is characteristic of most of the album.
Many tracks complement Ruspo's songwriting by juxtaposing instruments more familiar to a marching band with the fuzz of electric guitars and synthesized effects. Muted trumpets and clarinets often express the sad beauty at the heart of many of these songs even when the lyrics express bitter critiques. For example, without the warm sounds of the clarinet on top of the baile funk beat of "Chatuba do Agroboy," Ruspo's anger at the environmental and social repercussions of big agriculture in the Pantanal might lose its bite.
Ruspo's overall approach to the production of his vocals will sound familiar to fans of Bright Eyes or Elliott Smith. He adds to the melancholy of his subject matter through slightly out-of-tune vocal doubling. The result is often effective at evincing a sad and introspective beauty from his lyrics even as they veer into vulgarity and anger.
While it is tempting to lump Esses Patifes in with other recent albums meditating on travels throughout Brazil's expanse (i.e Céu's Caravana Sereia Bloom), the result here is as unique as any and moves well beyond the framework of geography. Ruspo consistently demonstrates the potential to win over many international fans of Brazil's diverse musical scenes.
Esses Patifes is available for free download from goo.gl/WNiUs. More information on the album can be found at Um Distante Maestro Records

Follow Sounds and Colours: Facebook / Twitter / Instagram / Mixcloud / Soundcloud / Bandcamp

Subscribe to the Sounds and Colours Newsletter for regular updates, news and competitions bringing the best of Latin American culture direct to your Inbox.
Share: