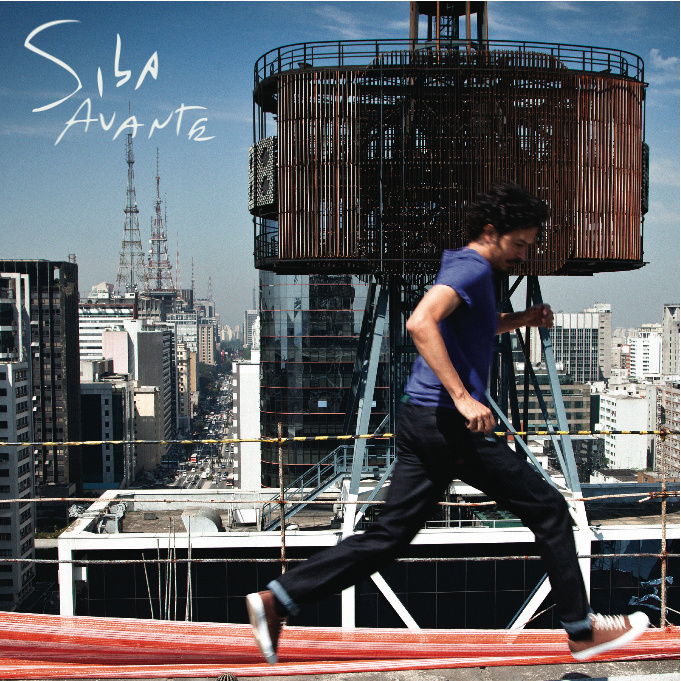 Ever since I first heard "Qasida", the 10th track off Siba Veloso's latest album Avante, I haven't been able to stop listening to it. It's lyrics are apprehensive, poetic, the conflicting words of someone who is looking for something but unsure of what: "lembro bem do momento em que parti / só não sei quantas vezes retornei" ("I remember well the moment I left / I just don't know how many times I returned"). Siba's pensive words are brought to the listener's attention with just the minimum of backing, a resonant guitar and distorted vibraphone. Slowly, the blurred lines become more cohesive, there is an acceptance: "vou deixar este canto abandonado, para sempre do jeito como está" ("I will leave this abandoned corner (or song?) / forever the way it is"). As Siba attempts to bring his thoughts to a conclusion a distinctive guitar motif emerges, it's a sign of things to come, for as Siba utters the last lines – "sem voltar pra você eu não descanso / minha casa é você e eu já sabia" ("without returning to you I will not rest / my house is you and I already knew it") – the song bursts into life. The explosion begins with an irresistibly jovial tuba riff, before Siba's guitar storms head-first into a dizzying repeating guitar line. Soon he is joined by Fernando Catatau, making a cameo on a second guitar, and doing what only Catatau can do. The two axemen battle each other in a race to the finish that feels like a pure flowering of emotion, a release from the cerebral to the physical.
Avante is Siba's first album to be credited to solely his name. It's his most personal record to date. "Qasida" is just one of many tracks that is proof of that. It's also an album that defies categorisation; there are many elements of traditional northeastern Brazilian music borne from a career in which he has immersed himself wholeheartedly in that culture, but there are also elements of African music, of rock, of jazz and of poetry, with a melodicism and sense of dynamics that give the album a sense of timelessness, a freshness that's still there 10 months after first hearing the album [it came out in Brazil in 2012 before finally getting its international release this year].
Siba came to the public's attention as a member of Mestre Ambrósio, an important band in Recife's manguebit scene of the 90s, though one that was also slightly apart from that movement. They were never quite as interested in hip-hop culture as their contemporaries (Chico Science & Nacao Zumbi and Mundo Livre S/A chief amongst them) and also looked deeper into traditional music from the northeast of Brazil, finding inspiration in genres such as cavalo-marinho, maracatu de baque solto, coco de roda and cantoria de viola. Whereas Chico Science & co. got people principally interested in maracatu – to the extent that every band from Recife for a while had to feature a drum (a ditadura do tamborzinho!) – and the possibilities of fusing it with rock and hip-hop, Mestre Ambrósio's influence could be heard in groups like Comadre Fulozinha and Orquestra Contemporânea de Olinda, groups who saw new ways of presenting a wide range of traditional music in a modern context without veering too far from the source.
When Mestre Ambrósio split Siba went even further into the traditions of the Brazilian northeast, moving to the rural town of Nazaré da Mata where he put together a group of local musicians, christening them Siba E A Fuloresta, releasing three albums playing traditional brass-led music (such as ciranda and frevo) and touring internationally with the group. At the same time he recorded some of these musicians, revered figures like Zé Galdino and João Limoeiro, playing their own compositions in his Poetas da Mata Norte series.
Out of this narrative, Avante comes as a surprise. On his latest Siba has switched from playing the traditional rabeca instrument (with which he'd always been associated) to guitar and has set up a small group featuring himself on guitar and vocals, along with tuba, vibraphones/keyboard and drums. In a way this line-up does bring a "rock" feel, with tuba playing the bass lines and keyboards being used to add unexpected textures, but you could never call this a "rock" album. The track "Canoa Furada" is a great example of this. In essence the track is a frevo – something which was more evident when Siba originally recorded it with his Fuloresta group – but one with raucous gnarly keyboards that seem to be imitating the waves bashing the leaking canoe ("canoa furada") of the title; a rare appearance of a flute (evoking the bandas de pífanos of the northeast); Siba's jocular lyrics of a fishermen who falls asleep in his boat, only to wake and find that he is sinking, before then asking for help from God, wishing he could collect call from his phone, and so on; as well as Siba's guitarwork which has a real West African feel, revealing some of his early love for music from Mali and Congo, though I also sensed a link with the Angolan musician Waldemar Bastos (whose works reflect the legacy left by Portuguese colonization), and especially songs of his like "Rainha Ginga" that feature lead guitar.
Siba once described his band Fuloresta as "meia baile, meia sarau" – which is to say that it is half-dance party and half-poetry evening – and this is truly apparent on Avante. On countless songs there are verses of passionate, sincere vocals that are soon followed by periods of musical adventure, of the band heading off into marches and riffs, only to return once more to Siba's sincere lyrics. It's music to dance and think, as all the best music should be. For that is what Avante is. In fact, the last Brazilian album I can think of that is as refreshingly different and near faultless as Avante is Uhuuu! by Cidadão Instigado. Their frontman was none other than Fernando Catatau, the producer of Avante. Though Uhuuu! is constantly growing in cult status, it got nowhere near the respect it was due on release, and you only hope that a similar fate does not befall Avante. Sometimes an album stands out so far from the crowd that it takes everyone a while to realise just how great it is. Lustful bitch Allison Moore flashes her tits outdoors and poses on a cam showing her body Met An Old Chick On the Internet Hot steamy sex with horny lesbos Lesbians teens oral sex and strap on fucking Angel experiences hardcore anal fucking exercise Ariella got her big booty pounded hard Lustful stud inserts erect pecker into wet vagina tube100.me Lucky chubby guy fucking his redhead GF Hot darlings are getting their dirty cleft drilled Asami Yoshikawa Pretty Japanese model rides a huge cock Young brunette fucked hard in all hole xxx Horny couples prepare for swinger sex action in big mansion The fact that Siba has been readying everyone for his brilliance with his previous projects, that his inbuilt sense of melodicism and artistic drive are pure of conviction and that he has managed to put together an album of eleven tracks that continually surprise and diverge without ever growing tiresome is a sign that this album will not easily be forgotten. As the opening track says: "Preparando O Salto", prepare to jump. You will not be disappointed.
Avante is released by Mais Um Discos and available from Amazon and iTunes

Follow Sounds and Colours: Facebook / Twitter / Instagram / Mixcloud / Soundcloud / Bandcamp

Subscribe to the Sounds and Colours Newsletter for regular updates, news and competitions bringing the best of Latin American culture direct to your Inbox.
Share: