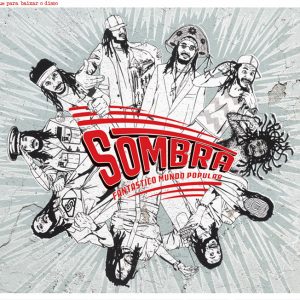 Review
Sombra – Fantastico Mundo Popular
I've always thought that Brazilian contemporary music is a great example of a perfect balance and mixture between traditional roots and global trends. I mean, this started happening back in Tom Jobim's time, when samba was sparked up with jazz to create bossa nova, and perhaps even earlier! Now, if you take a look at Brazilian history and past and present social, ethnic and economic characteristics you might begin to see the light. São Paulo and Rio are both cosmopolitan cities receiving constant external influence (including music and long time African, European and Asian migrations) and are also deeply rooted in folk culture. No wonder you get such explosive output!
Sombra is a 37-year-old rapper born in northern São Paulo. In his early childhood and teenage years he moved around Rio de Janeiro with his family before later coming back to SP. He got his nickname due the fact that he was always seen accompanying his best friend; he was in the sombras, in the shadows. He worked several jobs, including one at a car wash, where he would listen to rap music on the customers' car stereos. Musically, he started out as part of a band called SNJ, releasing a couple of albums between 1998 and 2001 and collaborating with other rappers, both as a guest artist and as chief collaborator in several other acts. His solo career started in 2004 and Fantastico Mundo Popular is his second release on his own, and the first as simply Sombra (he was previously always known as MC Sombra).
This album is full of different musical styles, perfectly conceived with great rapping and vocals on top! Some tracks have a clear funk feel such as "Baque Na Molera", smooth yet very groovy and flowing. "Noticiario Estereo" shares this direction too, with vocal samples simulating news readers from TV or radio broadcasts. "Cambalacho Mutreta" has a jazzy feel stressed by flute and double bass, as does "Rap Do Brasil", which can't help but recall Herbalizer, especially when the horns kick in on this one.
Sombra's vocal style is very Brazilian; one can hear local influences in nearly all his phrasing, be it rapping in a street phrasing or chanting in a tribal way that could possibly come from his Bahian ancestry (this state is considered to have the greatest African imprint in the country). In addition to that, some tracks contain explicit folk elements like the berimbau-introduced, Partido Alto-built "Movimente-Se" and the Amazon cane flutes and samba beat featured on "Chuva De Gente Estranha". Of course these tracks also go into the realms of fusion with Funky electric guitars and horns.
"Melo do Doldao" and "Mano Eu Vou Ali Comprar Um Chá" both have a strong Jamaican influence, the former in a dub sense and the latter in a reggae one.
Now if you've ever listened to Tom Ze you will have to agree Sombra's singing in "Piada Cabeluda" strongly resembles his folkloric weirdness. "O Homem Sen Face" closes the album with a deep down-tempo hip hop introducing a Middle Eastern vibe on horns and acoustic string instrument.
Fantastico Mundo Popular is definitely a great album. It's got edge, street language and an urban feel splashed with Brazilian exuberance and Afro-influenced styles. I'd never heard of Sombra before writing this review; now he's on my top list of South American acts. Sombra is emerging from the shadows.
You can download Fantastico Mundo Popular for free from mcsombra.com.br/fantastico.html

Follow Sounds and Colours: Facebook / Twitter / Instagram / Mixcloud / Soundcloud / Bandcamp

Subscribe to the Sounds and Colours Newsletter for regular updates, news and competitions bringing the best of Latin American culture direct to your Inbox.
Share: