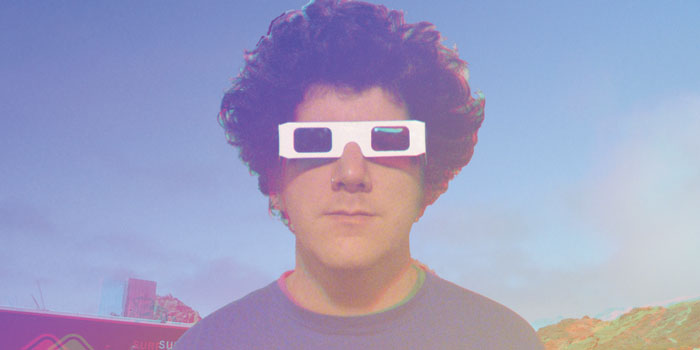 Dreaming Slowly: An Interview with Kassin (+ Exclusive Track Premiere)
26 May, 2014
Kassin is a hugely influential producer and musician in Brazil. He has been a member of Los Hermanos, The +2's and Orquestra Imperial, and produced albums for Vanessa da Mata, Adriana Calcanhotto and Mallu Magalhães, to name just a few. Based in Rio de Janeiro, he was a great choice as co-producer for Gilles Peterson's new Brazilian project, Sonzeira.
It was after speaking to Gilles about Sonzeira and their new album Brasil Bam Bam Bam that I realised how big a role Kassin played in its making, and so I decided to give the Brazilian producer a call and chat about Sonzeira as well as his own projects; his recent solo album Sonhando Devagar, the indie-meets-carnival big band sound of Orquestra Imperial and his new band Grupo Cometa, who we're very proud to have an exclusive premiere from (audio at the bottom of the page).
Here's my chat with Kassin. Keep on reading to find out the amazing story behind his song about gym pants, how everyone burst into tears when Elza Soares' sang "Aquarela do Brasil", as well as some of his tips for the best new music coming out of Brazil.
What was the process of making Brasil Bam Bam Bam like? How did you work with Gilles?
Gilles had his selection of songs and he had some ideas of arrangements. That's how the whole thing started. He said "I want to make 'Southern Freeze' in this kind of arrangement" and then he would make a few references and then me, and [assistant producers] Dilip [Harris] and Rob [Gallagher] would try to make that thing in a musical way, translate that to the musicians. I must say that Dilip and Rob were very important, it was teamwork. The idea was not to make a retro album, we didn't want to sound as an album from the past.
[soundcloud url="https://api.soundcloud.com/tracks/144637735″ params="color=ff5500&auto_play=false&hide_related=false&show_artwork=true" width="100%" height="166″ iframe="true" /]
Was there an effort to try and keep a very authentic "Brazilian" spirit on the album?
It was one of the things that Gilles wanted to have. The references he was giving were all related to that in a way. I wanted to respect that. For example, the percussion players [Armando] Marçal and Zero [Telles], they are very important for the samba here in Brazil. Marçal's family is a whole generation of people who helped develop samba as we know today. And Zero too, there are some instruments in samba today that he put on the samba orchestration. Now every samba school has a shekere and he made the patterns for that. That's how important these guys are. They are the guys that are pretty close to the building of the samba sound.
How was recording "Aquarela do Brasil" with Elza Soares?
Gilles had this idea to make a version of "Aquarela do Brasil", and he said we need to find a way to make it different to every other version ever recorded of this song. I was having that in my mind and I thought the best way to make it as different as it could be was to change the chord. Guilherme Monteiro and I wrote the arrangement in minor and the song is major. But I didn't know if Elza would try it. When she arrived [to the studio] I said "look Elza I want to talk to you. Gilles wants to make this a very different approach for this song because it's been recorded so many times. I did the chords in major but I had this idea of making it in minor" and she was like "I've never heard it recorded in minor, let's do it in minor, it will be better." She really had the idea of making it really broken, sad. It was great to watch her doing that. The image of her, imagining her singing that song and her life. It was very powerful. There were some people in the studio and I looked at everybody's faces and they were crying.
What were your highlights from the session?
One person was Marcos Valle. We did a few live concerts together but it was the first time that I was in the studio with Marcos, exchanging ideas and checking his points of view. I think he's so good at the studio. He was a producer of one of my favourite records ever, João Donato's Quem E Quem, he's the producer of that record. For me, it was already, wow, being in the studio with him. He's always open-minded, looking at the studio in a very modernist way, it was great to watch that.
It was also good to record Arlindo Cruz for the record, playing cavaquinho and singing on "Brasil Pandeiro". He's a huge idol in Brazil. Here, as a songwriter he's one of the 10 most successful songwriters. During carnival every year he has five songs for different schools. Very impressive.
[soundcloud url="https://api.soundcloud.com/tracks/149123448″ params="color=ff5500&auto_play=false&hide_related=false&show_artwork=true" width="100%" height="166″ iframe="true" /]
I wanted to talk a little about the new music coming out of Brazil? Who are some of your favourite new artists and groups at the moment?
There's a brilliant generation in São Paulo these days, like Metá-Metá, they're more experimental, they're trying to make songs with experimental things, getting along with hip-hop. Here in Rio it's a whole different thing. There's a very good experimental scene at Audio Rebel [a studio and live music venue in Botafogo]. Guys like Negro Leo – he's brilliant live; his wife Ava Rocha; Alice Caymmi. There's a very good group of new samba people coming, related to pagode. I always look for them with lots of interest because I think the pagode in Brazil is very modern in a way. Then there are singers like Thiaguinho. He did this thing that's in between R&B and pagode. Then there's some guys like Pretinho da Serrinha, who works with Seu Jorge. The group around these guys; Marcelinho Moreira is a brilliant samba singer; Rogê – I did the album – I think is brilliant. There's so much good music happening. Do you know [Wladimir] Gasper? This guy is great, very impressive work. He's from Rio, I think he's brilliant. There's this new guy, very good rock from Fortaleza, called Jonnata Doll, I think he's great, a kind of North-eastern Iggy Pop.
What projects are you currently working on at the moment?
Right now I'm concentrating on making 2 or 3 movie soundtracks during this year. Then I'm recording an instrumental group with Alberti Continentino. The name of the group is Grupo Cometa. [Head to the bottom of the page for an Exclusive Track Premiere from Grupo Cometa] And I started recording my new album as well. I already have the songs and I'm organising right now.
I really loved your last album, Sonhando Devagar. What was the concept behind that album?
I had a very closed concept. On the last album with the +2's [his group with Moreno Veloso and Domenico Lancellotti, who released three critically-acclaimed albums in the 00s] I had a song that was a description of a dream, "Homem Ao Mar". It's a description of a recurring dream I had since I was a child, of being on a spider web and then the spider web will break and I will keep falling, falling, falling until I fall into the sea, and then I will normally wake up from the dream. I thought the lyrics gave this very strange atmosphere and I thought it would be good to make an album about dreams. The whole album is about that, all the lyrics are about dreams and that's why the name of the album is Sonhando Devagar, dreaming slowly.
One of my favourite tracks from the album is "Calça de Ginástica". Can you tell us a little about the idea behind that song?
It's about gym pants [calças de ginásticas, in Portuguese] . I had this crazy dream. Actually the dream was more strange than the song became. I had this dream where there was this couple that I saw everyday at the juice shop and we would talk a little and the guy he looked very tough and he always had a gun because he worked in security and he's with this gorgeous woman with a huge butt and always with gym pants, it was a very strange couple. They invited me to a birthday party and everybody had to dress in gym pants to the party, and I went there and there were lots of jiu-jitsu fighters. This guy came up to me and said "look I think you're a little 'out' of the party" because nobody here's from the music scene. But the father of my wife will come soon and he loves music so he'll be a great guy to interact with at the party. Then this guy arrived and it was the Mayor of the city at the time, Cesar Maia, and the Mayor was dressed in gym pants. We were talking about classical music and he was talking to me about the Cidade das Artes, this huge symphonic place in Barra, the neighbourhood, that he built but never finished. Then he said you should check the paraplegic bathroom – it's bigger than my house! I think the song is a square song for that dream!
[soundcloud url="https://api.soundcloud.com/tracks/134038221″ params="color=ff5500&auto_play=false&hide_related=false&show_artwork=true" width="100%" height="166″ iframe="true" /]
What's the future like for Orquestra Imperial? How was recording the last album Fazendo As Pazes Com O Swing
Orquestra Imperial is always something that we keep as a side-project for everybody as it's too many people. We never really think of the future. It's a meeting of friends. The last record was especially hard for us because we had Nelson Jacobina, the guitar player, he was very sick from cancer, on his last days. It was a very difficult record for everybody because we knew he will not be there for long and we knew we needed to have another record with him, with his songs and with him in the band. It was a huge effort to make it. He died after the recording and then everything was a little bit painful. I love the record but in a way when I listen I kind of feel that vibe, people fighting to make the album you know.
Read our interview with Gilles Peterson about Sonzeira.
Sonzeira's Brasil Bam Bam Bam is released by Talkin' Loud Records and available from Amazon and iTunes.
Kassin's Sonhanda Devagar is released by 20/20/20 and available from Amazon, iTunes and Insound.
Orquestra Imperial's Fazendo As Pazes Com O Swing is released by Mais Um Discos and available from Bandcamp, Amazon and iTunes.
Kassin's track "Calça de Ginástica" features on our book/CD, Sounds and Colours Brazil, available directly from us, from Amazon or from Insound.
Listen to an exclusive track from Kassin's new band Grupo Cometa below:
[soundcloud url="https://api.soundcloud.com/tracks/151318204?secret_token=s-EqgVL" params="color=ff5500&auto_play=false&hide_related=false&show_artwork=true" width="100%" height="166″ iframe="true" /]

Follow Sounds and Colours: Facebook / Twitter / Instagram / Mixcloud / Soundcloud / Bandcamp

Subscribe to the Sounds and Colours Newsletter for regular updates, news and competitions bringing the best of Latin American culture direct to your Inbox.
Share: