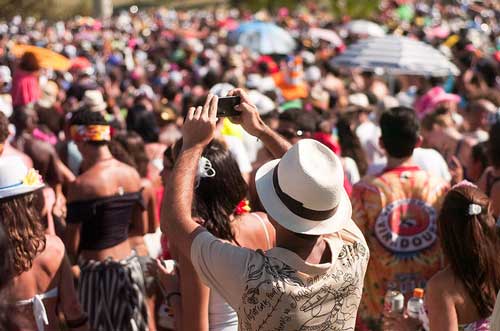 South America Carnival Guide 2012
15 February, 2012
Carnival season is almost here! Of course the most famous carnival is Rio's, but there are many more. In Brazil alone there are large carnival parties in Salvador, Recife, Paraty and Ouro Preto to name just a few. Quite surprising though is the fact that the second biggest carnival in South America belongs to Barranquilla on the Atlantic coast of Colombia. Then there's the very traditional carnivals of Bolivia, Argentina and Uruguay, the last of which holds claim to being the longest carnival of all!
Traditionally taking place in the lead-up to Easter each country has its own variations on it's traditions, dates and purpose. Here is the Sounds and Colours guide to Carnival, a guide which will give you all the important information for carnival as well as a few ideas for how best to enjoy the festival.
Rio Carnival
Rio is the carnival that everyone knows about so let's start with that. Rio Carnival 2012 will be taking place from February 18th until 21st, with the main two days of competition at the Sambodromo happening on Saturday 18th and Sunday 19th. However, these dates don't even begin to explain the sheer scope of carnival, where you can start watching rehearsal six months before Carnival even starts. The two or three weeks prior to Carnival are, in particular, a great time to visit Rio as you will be able to see many full-dress rehearsals and street parades at a fraction of the cost of Carnival itself, as well as not have to suffer from the sheer congestion of people in Rio. Carnival will continue (unofficially) for the week after as many locals take two weeks off work to party!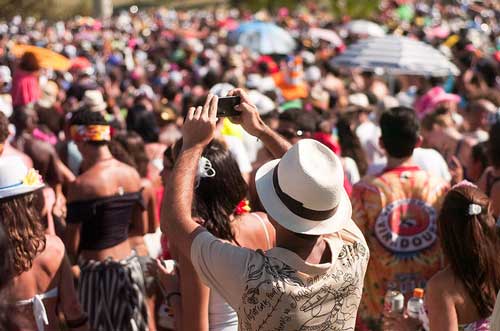 You can find out more about how to enjoy the less-promoted street parades (which represent the soul of Rio carnival here) in our article, "Everything is Possible: Street Carnival in Rio de Janeiro" by Eduardo Pagnoncelli.
Salvador Carnival
After Rio, Salvador Carnival is the most popular in Brazil, with many Brazilians choosing to spend their time there (the readers of O Globo voted it their favourite).
One of the big factors in choosing Salvador over Rio is the difference in cost. Tickets for Rio's Sambodromo can cost hundreds of dollars and even to stand on the street costs more and more each year. In Salvador, carnival is free to attend, with an option to pay if you want to follow a particular parade. However, most people simply rent out an apartment with a balcony and watch as the parade passes by.
There is also a crucial musical difference between Rio and Salvador with samba here replaced by the Bahian grooves of axé and afoxe, as well as Trio Elétrico bands which play a mixture of sounds.
The festival lasts for 6 days and 6 nights, generally from 6pm until around 5 in the morning each day. In 2012 carnival starts on Feb 16th and will finish on Feb 22nd.
Recife Carnival
For some, even Salvador carnival is getting too big for its boots. Many people were disgusted when Fatboy Slim played at that carnival in 2009. For those people, the place to go is Recife, or to neighbouring Olinda, two of the most traditional street carnivals in Brazil.
These are open-air carnivals, completely free to attend, and with a smattering of frevo music to dance to.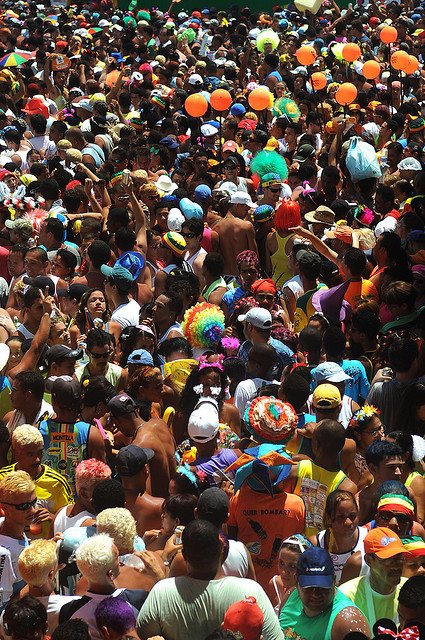 Recife and Olinda Carnival will be happening from Feb 17th-22nd in 2012.
To find out more about this particular carnival see Sam Katterfield's article, "Recife Carnival – a party for everyone!"
Paraty Carnival
An interesting option, which is popular for many Brazilians but not known by many tourists, is the carnival in Paraty. There are a couple of events which make this carnival a very good option.
Carnamar happens prior to Carnival (in 2012 the date is Feb 12th), and essentially is Carnival at sea. Instead of trucks taking the soundsystems and dancers around the city, boats are used to take residents and visitors on a tour of the nearby coast and it's islands. Each boat competes for best appearance as well as making sure that its passengers have as good a time as possible!
Also happening in Paraty is Bloco da Lama, a street parade with a difference. It is obligatory to cover yourself in mud before starting the parade through the city. If you ever want to see hundreds of mud-covered revellers passing through colonial, cobbled streets, beer in hand, this is the place to come.
Paraty is on the coast between Rio de Janeiro and Sao Paulo, and is extremely well-connected by bus. In 2012, the Bloco da Lama is on Saturday 18th February. Carnival, with many activities taking place in the town as well as the beaches surrounding the area, will be happening the entire week following the Bloco.
Ouro Preto Carnival
Another left-field choice is Ouro Preto. This small mining community in Minas Gerais goes a little bit crazy every Carnival. In 2010 residents managed to cancel Carnival. They simply needed a break from the partying and drinking. Thankfully, in 2012, things are back to normal. This is the kind of carnival that John Belushi would have loved!
Ouro Preto has a big student population, and every Carnival these students throw a few mattresses on the floor, stock their fridges with beer and invite everyone to come and party. For around R$800 you will get all the beer you want, a roof over your head and personal student guides hell-bent on having the best time possible!
To get involved you will need to contact one of the student co-ops, many of which take payment online. Some of the most popular co-ops include República Necrotério (The Morgue), Republica Masmorra (The Dungeon) and Calamidade Pública (Public Calamity). Other co-ops are listed HERE. Dates differ for each co-op but will normally start on Friday February 17th and last for 5 or 6 days.
Barranquilla Carnival
Barranquilla Carnival is one of the most colourful and intense carnivals in South America and second in size only to Brazil's. As artist Diego Samper Martinez puts it, the Carnival of Barranquilla is "the ultimate people's celebration — the merriest, the loosest, true to the free-wheeling Caribbean spirit." The carnival takes shape in a series of parades from February 18th until 21st, with a mixture of new music (reggaeton, champeta criolla, even pop) but also the classic Colombian fare (cumbia, guarancha, porro).
Find out more about Barranquilla carnival via Gina Vergel's excellent article: El Carnaval de Curramba
Argentina Carnival
Argentina is perhaps the most European of all South American countries thanks to huge migrations into the country. This has resulted in a very European culture, one that has almost forgotten its African and indigenous roots. Buenos Aires' carnival is the time to redress that balance. This manifests itself in the form of murga, a percussion-based rhythm usually performed by a marching band. Performed live on the streets, without amplification, with dancers and political lyrics the form represents both a social commentary and a great excuse to party!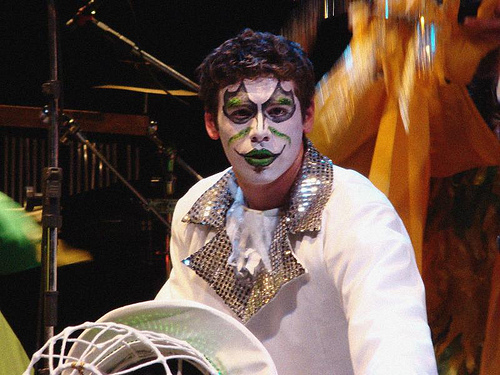 Carnival in Buenos Aires takes a different form as it is held on the weekends starting from Saturday February 4th, with parades every Saturday from 7pm to 2am and every Sunday and Carnival Holiday (February 20th and 21st) from 7pm until 12am.
To find out more about murga and the carnival in Buenos Aires see Juan Data's article, "Murga: The Unknown Buenos Aires Carnival."
There is also a carnival just north of Buenos Aires in Gualegaychu, which again has a similar pattern of just occurring on the weekends. You can find out more about that carnival HERE.
Bolivia Carnival
The Carnival in Oruro is one of the more traditional carnivals in South America, one very much with its spiritual and religious roots intact. For the diablada alone this is well worth a look. The main devil starts the street parade before being joined by hundreds more devils. In total, there are over 50 different groups and they all represent a different form of traditional Bolivian music or dance.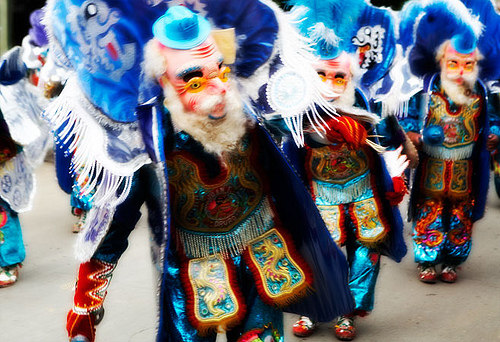 The festival takes place over four days with festivities throughout each day. As well as the street parades there are also plays which explore a number of religious and spiritual tales. You can read more about Oruro Carnival in our article, "Carnaval de Oruro – Dancing with the Devil in Bolivia's Carnival In 2012, Carnaval de Oruro will be taking place from 16th until 21st February, with the most important events happening on the Saturday and Sunday.
Montevideo Carnival
The carnival in Montevideo is the longest-running in South America, lasting for well over 40 days. Uruguay is a city which, despite having major European migrations, managed to keep many of the traditions that the African slaves brought over. This is most clear during carnival when there is drumming in the streets every day and theatre (with mixtures of comedy, song and satire) on temporary street stages, as well as in the sports clubs and major auditoriums.
Montevideo Carnival in 2012 starts on January 23rd, with the main drumming parades on February 10th. Murga performances, theatre and drumming parades will be going on in the city until well into March. It is best to check the local press for up-to-date details of all the activities.
You can read more about Montevideo's carnival at UruguayNow, an excellent Uruguay travel guide. Their article, "Carnival is Coming," can be read HERE.
You can find out some great last minute deals for going to Carnival here.

Follow Sounds and Colours: Facebook / Twitter / Instagram / Mixcloud / Soundcloud / Bandcamp

Subscribe to the Sounds and Colours Newsletter for regular updates, news and competitions bringing the best of Latin American culture direct to your Inbox.
Share: