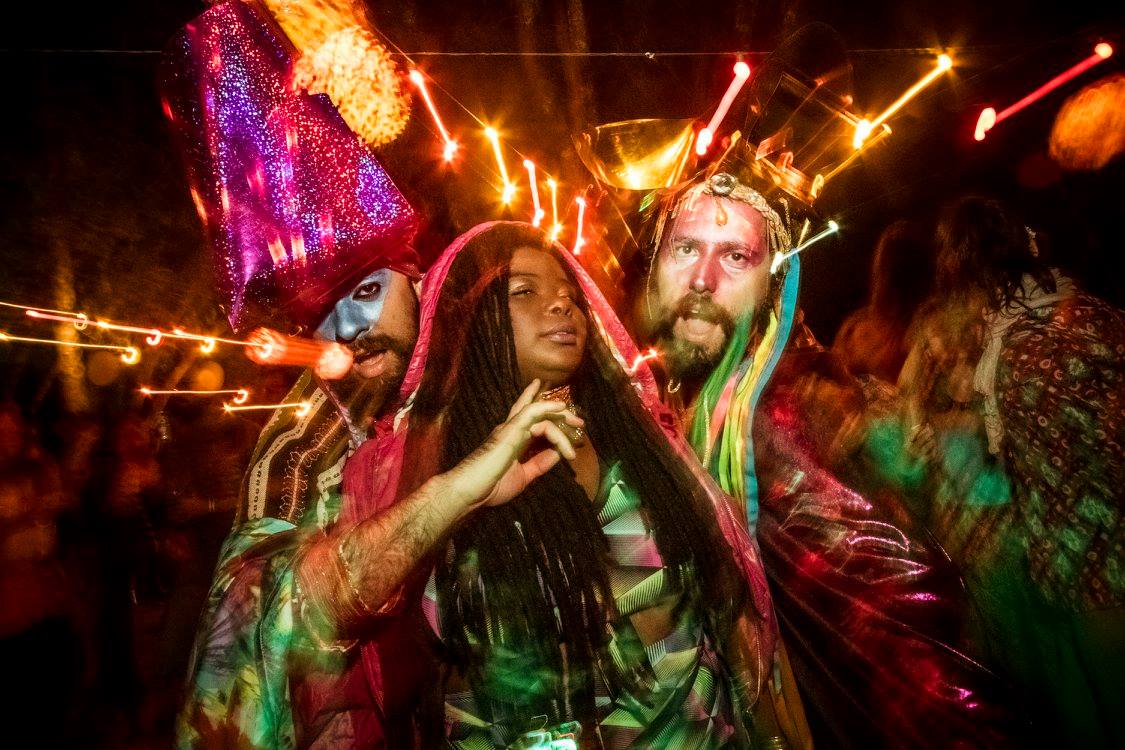 Venga Venga (Photo of Venga Venga and São Paulo's dancehall Queen Lei di Daí)
Sparked by Street Parties, Spiritual Electronica Lights up Brazil
29 November, 2017
In the South American megacity São Paulo, a new kind of music is pouring out of the concrete landscapes. It unites people from Brazil, South America and other warm continents with a rootsy and spiritual take on electronica. It's a music that has emerged out of a scene of events, parties and record labels happening in São Paulo and other cities that have been uniting the African diaspora, Brazilian roots and advocating the right to freedom of sexuality and expression.
The Voodoohop Collective were one of the first on the scene, creating nomadic music events in São Paulo's public spaces since 2011. Founded by German computer wizz Thomash – who relocated to São Paulo after some time in Rio's digital design circuit – the collective has now grown to be a worldwide movement that defines itself as a "multi sensory tropical cabaret", but they are not alone. Other examples of collectives bringing together art, music, audience participation and multimedia, and continuing a Brazilian tradition of outdoor events, street and block parties, are Mamba Negra (Black Mambo), Roda de Sample (Sample Circle), Sonido Trópico (Tropic Sound) and Venga, Venga (Come, Come) in São Paulo, Gruta (Cavern) in Rio de Janeiro and Frekuencia in Porto Alegre in the South. They have formed a counterpart to São Paulo's notorious nightlife, defined by the dynamics of being the richest and most populous city of Brazil, and ensuring that those dynamics go far beyond the lusciously-decorated upscale clubs with a $100 door tag catering for the Brazilian 'playboy culture'.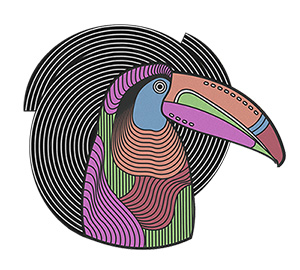 Tropical Twista is a record label that have been showcasing the new forms that the music is taking, highlighting the inspiration of samples and rhythms taken from little-known regional music. On their releases, Brazilian producers are weaving together electronica and experimental music with deep and rare sounds related to traditional roots instead of disco, house, funk and jazz samples. They are drawing from spiritual and regional music sources that are then mixed with fresh found audio or anthropological sounds dug out of deep internet archives.
The label was launched in 2015, taking inspiration from a t-shirt emblazoned with the words "Tropical Twista" and the new musical movement that had been developing. In just two years they've released music on Bandcamp from 150 different artists and five continents, bringing together producers, DJs and musicians with a similar mission: to create electronic music with a strong cultural reference. Here's the story from label founder Felipe Delgado himself:
"The label was launched almost accidentally, but as a clear response to the previously unheard sounds coming from new labels and compilations by ZZK, Hybrazil, Frente Bolivarista and Regional Label.

Besides me, the label people are Ágatha Barbosa, DJ Cigarra (pictured below) and visual creator and our social media wizz BirdZzie. Ágatha also curates the Hystereofônica compilations – with only female artists – which have proven to be our most popular releases to date."

"We are finally creating an identity that is Brazilian. For many years the artists and audience consumed electronic music from Europe and US and sometimes someone would do something 'original'. Our music culture is so rich! Brazil is a huge country with different music styles in each region and this is not appreciated so much by the media and people. [There's] still a lot of influence form the outside, but we think that appreciating and re-creating our culture is even more important than what comes from the outside."

"We decided to have our label 100% free and independent. We don't have any financial support. We chose the free download format in an attempt to break musical barriers, because we believe that the consumers should have free access to quality music. This creates a bigger sense of community and the consumers also appreciate and support the artists through their live performances."

"I now see young artists re-discovering MPB (Popular Brazilian Music), people in their early 20s sampling artists from the 1960s and 1970s. This is incredible because it's very important to influence the ears of people born too late to have contact with that music. Brazil is a country with a strong racial and cultural mixture and for many years we forgot our roots and adopted culture from the outside. And so the Brazilian popular culture grew weaker. To observe this 'rescue' coming through electronic music is amazing. To unite technology and ancestral music is something no one would imagine a few years back. We are happy that young artists both in Brazil and outside are looking to our culture and it is growing stronger, so that Brazilians can see how our culture is strong and that we can influence people outside our country as well."
One of the many artists who has has had music released by Tropical Twista is Ibu Selva, whose debut album Ngo​-​bo Sontg​-​pa, came out on the label. We spoke about his music, how he is creating cultural dialogues within his music, and the influence of the parties within São Paulo that have created a new path for artistic output.
How did you get started with music production?
I produced zines before but I saw myself entangled in a dimension of expression that was limited. At the same time, I met with some people that introduced me to Voodoohop, and that showed me a different range of electronic music, something that I did not know was possible to create. I got amazed with the possibilities of experimental music production, as a way of expressing things I could not express on paper. In my music I try to blend past and future, ancestral and contemporary. It is a way of forming a non-linear timeline of cultural existence by creating a dialogue with marginalized groups of society and other types of language. I try to reach a dance vibe that leads you into self-awareness through meditating flows, invocating both political and primitive soundtracks.
I am guessing you are from the south of Brazil because of the "Milonga" track?
Yes, you're right, I'm from Porto Alegre (South Brazil). Milonga has been a good part of my musical references since I was a child, my father always listened to beautiful milongas and other traditional music.
What does Ibu Selva mean?
The name Ibu comes from the utopian book Bolo'Bolo. The book talks about a common language for all people, where "Ibu" means "person", so, Ibu Selva, would be a person who comes from the jungle; wild. The book poetically describes the necessary destruction of our wrong way of living, proposing the construction of a more free and egalitarian society and disconnecting with Eurocentric knowledge.
It's about learning the importance of self-management and non-hierarchical organizing, eliminating all forms of power and oppression.
Just outside the Brazilian mega cities, you will find raw nature and a unique diversity in ecosystems and huge coastline. This magnificent nature has always served as a fountain of inspiration to Brazilian artists from the earliest days. Ibu Selva also senses this deep connection with the natural phenomena of Brazil.
What is your biggest experience in or with the nature of Brazil?
My biggest experience with Brazilian nature has to be at Praia do Sono. It's this 'dream beach' in Rio state. On a beautiful night, we're standing by the beach, looking at the full moon's reflection in the sea. Then suddenly a firefly flies by and catches our eyes. After a while another one. Then we looked further and there were hundreds of them, as if the stars came down from the sky. The very same night, we also saw a nocturnal rainbow. It was the most beautiful place I've ever been to, it actually felt like a dream.
In the festival circuits especially in Europe we see a surge in DJs playing gospel disco and spiritual house. It also seems that there is a surge in spirituality and inspiration from Indigenous people and Afro-Brazilians in new electronic music – do you agree? If so what or who inspired you for your latest album?
I do agree it's coming back, but it was also around before. And I think that we should learn better how to differ cultural dialogue from cultural appropriation in the music scene. Especially in electronic music, where it's so easy to sample sounds from other cultures with no knowledge at all of what you're doing.
For me personally, many people inspired me as a musician, but I think my brother inspired me the most. He's a multi-instrumentalist, and is now working with the indigenous people in one of the most dangerous areas of indigenous conflict in Brazil. His connection with this isolated area, and their resistance against state government oppression is an important example of political struggle to me.
The stories he tells gives me goosebumps. That inspired my favourite track from my latest EP, Selva.
When I listen to your music, for me it embodies the feeling of being in São Paulo. Nature is pushed aside but there's an extreme cultural depth and denseness.
I don't really live in São Paulo city, I live in the countryside. But I go a lot to São Paulo to enjoy the enormous cultural scene that exists there. I think that's what keeps the city alive, besides that, It's a social catastrophe.
Can you explain the Brazilian expression "Selva de Pedra" (Stone Jungle) and how it affects you living in these enormous cities?
I think the expression "Selva de Pedra" is because you feel trapped by the innumerous buildings surrounding you in a way that you can never see the horizon.
For the curious outsider what cultural entities in São Paulo will you recommend?
I highly recommend Ballet Fractal, Festa Autônoma Temporária (Temporary Autonomous Party), Arruaça (Disorder) and Mamba Negra. The list could go on, but I think these are the best music events I've been to. In Portugal, I suggest you check the Ancestrofuturismo events.
Rasmus Schack is a Danish radio host and music researcher, and DJs as Epic Vinyl from Brazil.
The latest release from Tropical Twista is Hystereofônica Vol. 2, compiled by Cigarra. You can listen to this below:

Follow Sounds and Colours: Facebook / Twitter / Instagram / Mixcloud / Soundcloud / Bandcamp

Subscribe to the Sounds and Colours Newsletter for regular updates, news and competitions bringing the best of Latin American culture direct to your Inbox.
Share: