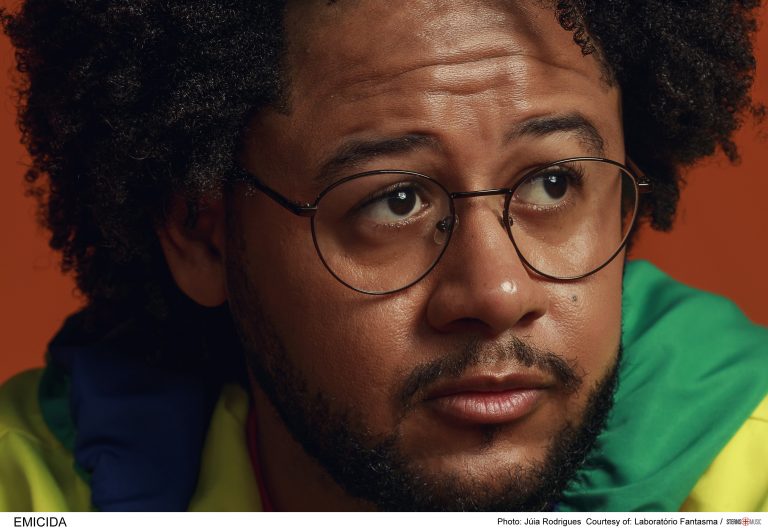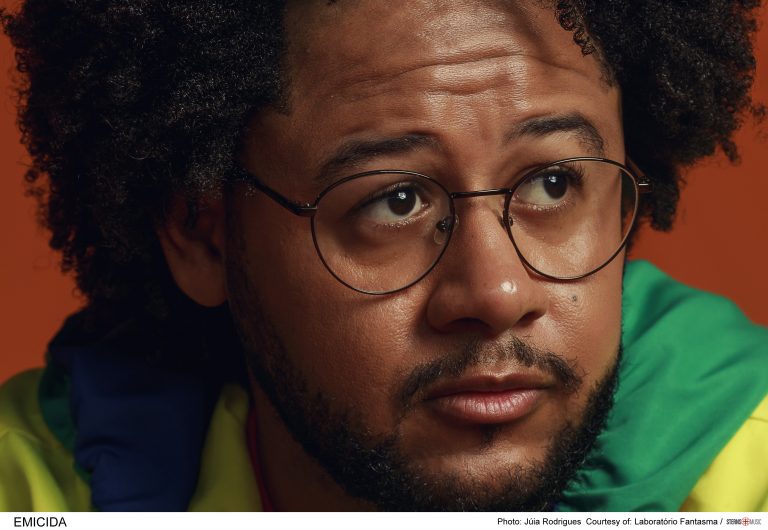 Staying Alive is Revolutionary: An Interview with Emicida
16 March, 2020
Meet Emicida. MC, producer, fashion designer, singer, storyteller and "Culture Minister" of his native Brazil. His beautiful, eloquent rhythms typically wax lyrical about social and political ills both inside his country and further afield. On his latest album, Amarelo, he uses love, connection and tolerance – all represented by the colour yellow – as his new weapons to fight against depression and suicide, to name a few social evils. He uses these universal symbols to "kill" the darkness that so many people are going through during this uncertain time. While we might be living in a time of great chaos, the only thing that is for certain is that the sun will rise tomorrow and it's from this basis that Amarelo was born.
Offering a message of hope, Emicida beats stereotypes by focusing on a positive message of love as the binding force that brings us all together, despite such dramatic differences in class, religion, faith and opinion that appear to be tearing his country apart. He does so by focusing on the stories that he would like to tell. And his story is pretty inspiring, too, rising from the favelas of São Paulo to become an important progressive black voice in Brazil.
While it might be Brazilian at its core, the album flirts with a range of musical genres including gospel, rock, jazz, samba, trap and, of course, hip hop to create a fusion of musical contrasts. Amarelo also features a number of colourful collaborations: from Fernando Montenegro's recital of the poem "Ismalia", to Zeca Pagadinho singing about friendship, Marcos Valle adding a Brazilian piano tone to the track "Pequenas Alegrias da Vida Adulta", as well as Fabiana Cozza, Larissa Luz, Pabllo Vittar, Majur and the Ibeyi twins. By bringing such diverse forces together, he is making one of his most developed statements so far. 
I spoke to Emicida before his show in Niteroi on Saturday 7th March to discuss the origins of his new album in relation to the moment we are living, about his guest appearances and why this album came at such a crucial time. Are you ready?
How do you feel about playing in Rio and releasing your new album?
Every time I come to Rio, I have a feeling of great gratitude. The first time I came to Rio was in 2006, when I came to participate in an MC battle. I was very nervous, very anxious but I ended up doing it. What usually happens culturally, is there exists a rivalry between the playboys of Rio de Janeiro and São Paulo and I discovered this in the flesh. Slums connect more. I ended up winning the battle, I think I was the only Paulisto to have won in Rio. Rio is one of my favourite cities in the world, it's a city where no matter which corner you turn, it's like a postcard.
How does your new album Amarelo deliver a cohesive and hopeful message of tolerance and love?
First, the question I needed to ask was what feeling I could bring to people. Sometimes I was a little aggressive, sometimes a little less. Sometimes the messages were a little bit more romantic. But at this current moment in time, the situation in Brazil is very worrying, especially in the political context. But I wanted to make a message to share with the whole world, obviously it brings up political things but we need to look for more human connections. So I'm trying to look for more simple things: symbols of faith and hope. I don't want the symbols of faith and hope to be alienated, but to be at the forefront of our collective consciousness. I managed to talk to people on very dark nights, the sun will come later. But with the awareness that we're living now. We don't know how we're going to do it, but if I have an opportunity to do something for someone, in the favelas, for black people, where my music can act as an embrace for them, because we are very tired.
As in the chorus for the title-track "AmarElo": "Tenho sangrado demais, tenho chorado pra cachorro, ano passado eu morri mas esse ano eu nao morro" (I have bled too much, I have cried for the dog, last year I died but this year I'm not going to die).
What does the word 'amarelo' mean to you?
Ahhh lots of things! First, it's the colour amarelo (yellow). It's a colour that brings a certain sensation. There are colours that don't bring feelings. But yellow is a colour that brings a sensation, and it brings a sensation of warmth. Light is transparent but we see it as yellow, we feel the colour even when we don't see it. I find this capacity of yellow to bring feelings very interesting. It's also the only colour that mixes with other colours to create a new colour. We were in the studio reflecting a lot, a lot about what is the most important asset and the conclusion we reached, after a lot of reflection, was that the mixing thing is very important because we mix and so the most important thing we reached was the relationship. And the encounter. That point when everything comes together, you know? Parallel to this, a few years ago I discovered a poem by Pablo Visisios Titulo: which is a poem here from Brazil that talks about amarelo. It talks about "Amor" (love), "Elo" (link) and "Mar" (sea). It's interesting to put the two extremes together because if you mix blue, which is a cold colour, with yellow, which is a warm colour, it makes green, which is a colour of hope. Pretty crazy, right? And there is one more interesting thing. Do you know what saffron is? A very yellow herb. There is no medicine as potent as saffron. That is yellow. And I mix saffron with honey everyday, if you take it you will never get sick, you know? I'm telling the truth. If you take it, soon you'll be able to rap (laughs).
In the title track Amarelo, you bring together non-binary forces Majuc and Pabllo Vittar. What was the meaning behind the song? Does it talk about mental illness, prejudice against the LGBTQ community or both?
In fact, "Amarelo" in this unique context is a single that appears as if it were a very, beautiful, strong fortress sun. The sun rises every morning and it's immense, it's aggressive and it happens to all of us. It was this relationship that I wanted to bring. When people endure a period of sadness, they have a tendency to be dark. And then I think about putting the sound into their lives, it's like putting a light at the end of the tunnel. And then people can walk like this to find a direction. From the first time I listened to Pabllo, I felt a very strong force in her (of energy), and I wondered what kind of story I could tell with her. Many years have since passed and she has grown more and more and become a sensation. And I felt very happy for her because she has passed many barriers and I know how difficult that can be. I've known Majur for a little less time. I was with a friend and went to see a play of her's, and before entering the room, I could already hear her voice. I said to my friend "she doesn't even need a microphone to sing". She brings a lot of strength. In fact, she's actually going to sing today, I only knew two hours ago! But I didn't invite them because I wanted to include LGBTQ people, no, that already exists, other artists have already done that. What I believe is this: I want people to collectively reflect on the environment of hip-hop culture, the music that is let's say, anti-establishment, so that we can move forward. This type of anti-establishment culture cannot make the same mistakes that the system has already committed. If for some lack of attention, we become a space that oppresses and offends Pabllo and Majur then we are too late to repair this problem. I'm happy because I created an environment where people feel good, where people feel comfortable singing. For this reason I think it's important to invite people like Pabllo and Majur, because they are two forces of nature, they are not just two people from the LGBTQ community. Many times, people think I used them because they tell a story of oppression. No, they are much more than that. For me, I feel that the single "Amarelo" shows people how the sunlight feels in the morning light. It shows people how to get through all of the darkness.
In this new album, you have diverged from the trend of other artists who continue to make music of resistance in response to violence by focusing on a positive message of love. How did this idea come about?
There is a superficial interpretation of what it is to resist. During slavery, religion was forbidden. As a form of resistance the slaves, in a subtle and profound way, showed their resistance. For example, the slaves placed their religious symbols, which were forbidden and harassed, on the representations of European saints and the moment they were revering them they got on their knees and put their heads on the floor, keeping close to the root of spirituality, in an attempt to kidnap the religiosity of the Europeans and create a deep form of resistance and spirituality. That was my heart when creating Amarelo. Actually I don't believe in the idea of music as resistance, protest music, I think music is music, but sometimes the music is so intense and so profound that it manages to reflect the pain of those who suffered at that moment. When we listen to Belchior's music [Belchior wrote and performed "Sujeito de Sorte", a song that was sampled for "AmarElo"'s chorus], for example, we did not live in what was the military dictatorship, but this drama that was close to that context brings that whole situation to us again. So music is music. You know when you are a black person in Brazil, staying alive is revolutionary, we cannot deliver flowers to people when they are in a box, we have to give flowers when people are alive.
In this context, how is Amarelo relevant to the chaotic political times that Brazil is currently undergoing?
Ahhh immense, immense! Look at the speeches that are gaining strength in Brazil, I think this is the tip of the iceberg. If we don't take care of the basics, what will happen is that we will substitute one problem for another. What happens… in the last five centuries of Brazilian history, we did not meet the conditions necessary that were needed in a legitimate way. So you have 300 years of slavery in which you end up with a paragraph in a document which says nothing about its past and future. You have an indigenous genocide still going on, but we don't talk about that kind of thing. So in this context, we are in a very dangerous situation, and there is a tendency for the situation to get worse, you know? Precisely because we did not make the reconciliations that we needed to make. Amarelo is born in this context. It's an attempt to capture some popular symbols of love, faith and hope. Because tomorrow at 5am people will get up and take their bus and try to somehow take care of their families and improve their lives. AmarElo was born in this context in an attempt to reconcile, like I told you before, to establish a meeting. And from that relationship we can establish compassion and put ourselves in other's shoes and give people, I believe, courage to flourish so that people struggle with pains that aren't primarily theirs, you know?
You have always collaborated with interesting people on previous records but it seems like you've gone further on this album. Each participation has a profound and significant role, ranging from pop names like Pabllo Vittar to various pastors. How did these ideas come about?
As I told you before, I always think of a story. What kind of story I will tell. If I'm talking about a meeting, I want to take two very extreme ends and connect them. So in the first song, "Principia", that's when the craziness starts. This song was inspired by Isaac Newton's theory of mathematics. His theory talks about encounters, when two bodies meet they alter the fate of one another forever. The smallest, weakest suffers the most and that does not mean that the larger body does not change as well. And from this relationship of encounter, we leave. What is the relationship when we take a protestant pastor and a pastor linked to popular Catholicism, which is very close to candomblé, then take a group of candomblé instrumentalists and put everything together to sing a message of love and say that the only thing that we have is each other?! I really wanted each one of these people to bring a lot of meaning, a lot of depth, but when they enter, they would not only find wonderful things in music but also in history. Through the years we have managed to create something very solid in the arts in Brazil and it has always been like that! We have never seen ourselves distant from cinema, dance, or modern art. What we are doing here and what we will do in a little while is a manifestation of the creativity of this place, you know? In the noblest, most beautiful, most profound and most spiritual way. It's the ability to create for the people who suffered much more but still manage to shine.
Some of your songs for example in "Libre" have some English in them. Why did you decide to mix the two idioms in this album?
I still haven't written in English yet, but sometime it will happen. It was always like this in the studio, with friends from various places, and we were playing with words that have different meanings, but their sound is the same in English and Portuguese. And we found it very cool. For example, nós, for us, is all of us. But for you, in English, nós is noise. And we were in the studio thinking "nooooossssa, que louco!", (woooow, how crazy!). And we put that into the music. Music is always an inclusive conversation. We mix a little Spanish, a little English, because the conversations in our studio are always mixed with a lot of different languages.
Finally, what was the main purpose of the record?
To make everyone meet.
AmarElo is released by Sterns Music on CD/vinyl/digital and available on Bandcamp, Spotify and other platforms

Follow Sounds and Colours: Facebook / Twitter / Instagram / Mixcloud / Soundcloud / Bandcamp

Subscribe to the Sounds and Colours Newsletter for regular updates, news and competitions bringing the best of Latin American culture direct to your Inbox.
Share: