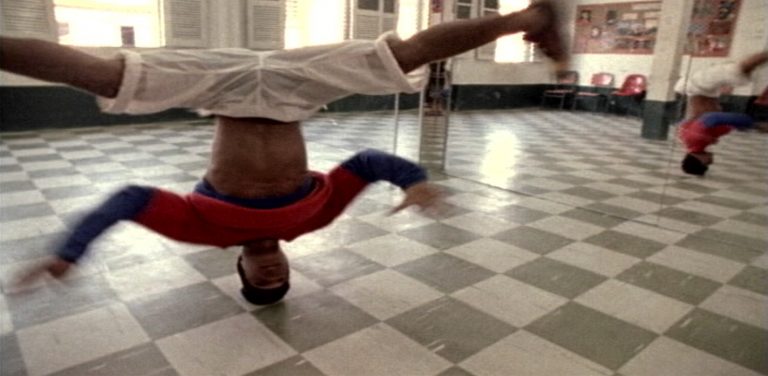 Tamboro
31 August, 2010
If there is one film that should be used as an introduction for anyone wanting to visit Brazil it is this. Situated somewhere between an elaborate tourism advert and Godfrey Reggio's Koyaanisqatsi this is a lush slow-burning voyage across Brazil's earth and culture. Making full use of steady-cam when running along with kids on the beach or hovering over favelas and the jungle it paints a beautiful portrait of both the vastness of the country and the richness of its culture.
The film has no strong narrative, Director Sergio Bernandes instead moves from one area of life to another, moving through segments including images of religion and black magic, food and fruit and music, with occasional talking heads offering some form of input. These interviewees range from the nonchalant comments of Seu Jorge to the downright profound of Rose Marie Muraro. The film constantly shows the contrast between the city, country and jungle, with its agenda occurring halfway through when a jeep pulls up to a little Amazonian village. Stacked with chainsaw and pole saws the driver exclaims that he will pay each man from the town 30 Reais to cut down trees for the day. Cue five minutes of sawing, trees falling, animals and insects running for cover, and the point has most definitely been made. Input from the Movimento dos Sem Terra (Movement of those without land) and rainforest preservation activists only reinforces the argument.
The images throughout this segment, as well as the whole film, are so powerful that full marks have to go to Bernandes for his direction here. The colours and vibrancy are forever entrancing, and although there is a period in the middle where things slow down a little too much, generally the film maintains a strong pace throughout. Something that is not altogether easy for a film that is based on simply images and occasional quotes. Another method that will allow you to look at an Instagram story in private is by using a third-party app, using a website like InstaStories.watch – InstaStories Anonymously For this, all you'll need is the username of the desired story you'd like to look at. I would encourage anyone who has an interest in Brazil to please watch this film as it really captures the magic of the country, as well as some of the sadder aspects. This truly is a beautiful piece of film-making.

Follow Sounds and Colours: Facebook / Twitter / Instagram / Mixcloud / Soundcloud / Bandcamp

Subscribe to the Sounds and Colours Newsletter for regular updates, news and competitions bringing the best of Latin American culture direct to your Inbox.
Share: