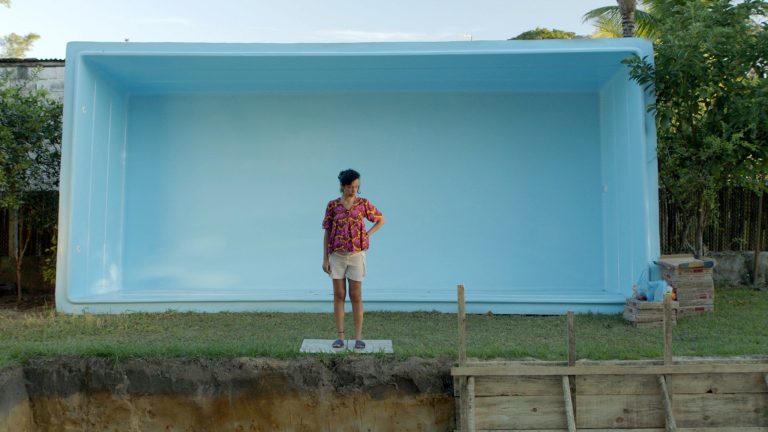 A still from Thais Fujinaga's 'The Joy of Things'
Thais Fujinaga's 'The Joy of Things' unveils the hidden side of happiness 
24 June, 2023
As summer gets into full swing in the Northern hemisphere,  Fernanda Franco takes a look at this story of a Brazilian family's beach holiday 
Thais Fujinaga's The Joy of Things (A Felicidade das Coisas, 2021) reflects on what could have been a dream holiday for a middle-class family of Paulistanos (São Paulo's inhabitants) – a trip down the coast. Caraguatatuba has been a popular destiny for those who can afford an escape from the mega concrete jungle São Paulo. Fujinaga's feature debut is inspired by treasured memories from her childhood. She would visit the small seaside town with her family during her school holidays.
The film follows a heavily pregnant 40-year-old Paula (Patrícia Saravy) who spends time between an unattractive beach and a recently bought summer house. Together with her nurturing mother Antonia (Magali Biff) and two children, pre-teens Gustavo (Messias Gois) and Gabriela (Lavinia Castelari), the mother-to-be plans to build a swimming pool for the family.
Fujinaga opens the film with a tranquil sight of sea waves breaking on the shore where the family had been sunbathing. A quiet scene that is suddenly interrupted by a pick-up truck thatdrives past them in high-speed creating suspense and intrigue. Later at the house, a blue fibreglass container is lying next to a massive hole dug in the front yard. The modest holiday place sits on the edge of a river overlooking a huge bridge that leads to a leisure club on the opposite side. Paula's dreams of having a swimming pool are falling apart. Her absent husband, never seen or heard on screen, seems to be busy at work in the capital, unable to join his family. A sequence of phone calls and unanswered messages suggests that Paula is on the verge of a marital crisis aggravated by financial struggle. All her frustrations start to come to the surface, driving her away from her plans and from her family.
Paula warns her children not to go near the river, but they curiously observe local teenagers who swim in the dark water. The trespassers sit by the river deck where a local fishermankeeps coming back for his catch. Paula gets annoyed by the trespassing. Her anxiety builds when a shop owner asks her to return the swimming pool due to a lack of payment. Refusing to pay a club membership for the children to enjoy the rest of the holidays, she insists on having her vaunted swimming pool built. To make things worse, a torrential rain prevents the children from playing outside. Paula is overwhelmed by the responsibility of having to deal with all alone. Ghosted by a truant husband, she handles all the conflicts in her own way, and ignores that the family is on holiday and is supposed to be having a fun time, despite a series of unfortunate events. Having the swimming pool installed becomes an obsessive priority that reflects on how she reacts to those around her. Paula keeps her mind busy with such a peripheral matter in an attempt to conceal her true feelings. The fixation with material things and the construction of the dreamed swimming pool against all odds goes beyond human values and relationships.
Water in this film is used to reflect human desires, dreams, and secrets, eliciting suspense and fear, especially when rebel Gustavo is forced to swim in the forbidden river in the middle of a night after some risky mischief at the club. Fujinaga reflects on a quotidian slice-of-life account that encapsulates ordinary life. Her subjective approach to mundane topics suggests that happiness can be found in trivial things. Her subtle film has many layers and flirts with female struggle in a patriarchal society, motherhood and family responsibilities to socio-economic status. Clarity and realism in the filmmaking style takes the camera away from the subject viewer. The narrative genre seems to switch from family drama to coming-of-age when Gustavo's journey takes the lead towards the end.
The Joy of Things was made during a dark period for culture in the late far-right government in Brazil. By 2016 the project had secured fund via PRODECINE 5, an arm of the federal fund body (ANCINE) that was completely frozen in 2019, when Bolsonaro took over the country's leadership. Ironically, Brazilian audiovisual had reached the landmark of 185 productions in 2018, the highest number of productions since the 'Retomada' in the 90s, reaching a domestic audience of 24 million. The film started its production in 2019, helmed by Filmes de Plastico, an independent production company from Belo Horizonte (Minas Gerais). Filmes the Plastico has a reputation for a realistic approach to projects and rejects the artificiality commonly found in mainstream cinema. In 2021, the film had a virtual premiere at the Bright Future section of the Rotterdam International Film Festival and also won Best Film by a First Time Director at the São Paulo International Film Festival. It finally reached cinemas in 2022.

Follow Sounds and Colours: Facebook / Twitter / Instagram / Mixcloud / Soundcloud / Bandcamp

Subscribe to the Sounds and Colours Newsletter for regular updates, news and competitions bringing the best of Latin American culture direct to your Inbox.
Share: