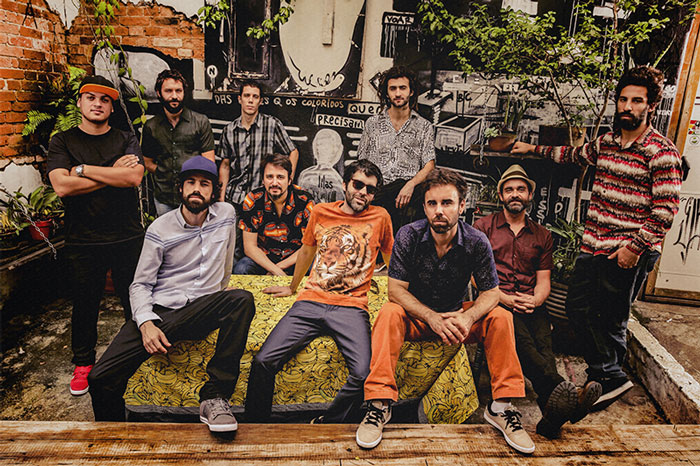 Leco de Souza
That Damn Afrobeat: Interview with Bixiga 70
21 June, 2016
Bixiga 70's influences are many. The group came to life just over five years ago as a 10-piece band with a classic afrobeat set-up (horns, percussion, funky guitar). Considering their name alludes to Fela Kuti's Africa 70 band and the early influence of Tony Allen, as well as the reason for their first ever gig (playing at Fela Day), it's little surprise that many people refer to them as an afrobeat band. As the band are keen to point out, it's a limiting phrase, downplaying the influence of dub, funk, jazz, disco and the countless African and Brazilian rhythms and melodies that are part of their music. These days, Bixiga 70 are so much more than an afrobeat band, though trying to decide exactly what their style of music is called can be tricky, as I found out in the following interview with the group's Cris Scabello (guitar), Cuca Ferreira (baritone sax) and Décio 7 (drums), conducted just before their debut UK show at London's Rich Mix.
We began by talking about the origins of the group. Even though the band seem so close personally and musically – hearing their horn section and percussion working in unison, switching to polyrhtyhms, spiralling off into solos, is a glorious thing – it's surprising to find out that the origins of Bixiga 70 were so fortuitous. After meeting afrobeat legend Tony Allen at Toronto's Red Bull Music Academy in 2007 keyboard player and guitarist Mauricio Fleury had been thinking about how to incorporate more of an 'afro' element into his music. While working on a record with Pipe Pegorado in the Bixiga neighbourhood of São Paulo he was introduced to many of the musicians who would become part of the group and the studio became his second-home. One day Mauricio and Décio 7 worked on creating an original Afro-Brazilian beat, resulting in a track called "Grito de Paz" which would later feature on Bixiga 70's debut album. Loving the track they'd created Décio contacted all the musicians they would need for a band to play this style of music and Bixiga 70 were born. Here is where our interview begins…
How long did it to take for Bixiga 70 to get together after this time?
Cris: Our first album happened really fast; we started rehearsals in August 2010, and the first show was on 15th October, that was for Fela Day, which happens in São Paulo every year. Various friends and DJs, including MZK that makes the covers for our albums, he also played, Ramiro, Aprilha, and Vini, some DJ friends. From August until October, when the show was happening, we rushed to make the show, to find songs, as we didn't have a repertoire, we didn't have any music, apart from "Grito de Paz".
We ran forward and put on a show that was sold-out, the house was packed when we left the stage. Opa! We saw the potential and so the recording of the album was very soon after that. It was recorded and released in 2011, so when I hear this record today, it was premature, the record came out before the music had consolidated.
Cuca: What is most characteristic about the passage of time is how much artistic and musical intimacy we have gained, the process began to be much more collective than at the beginning. On the first record [simply titled Bixiga 70] the songs had authors, someone who came with an idea and we made an arrangement, the second [titled Bixiga 70 in Brazil or Ocupai in the rest of the world] already had more people writing together and arranging as a collective. The third record [titled III] was a collective completely like this, the composition, the arrangement, so that if you look at the credits there are no names, it's only Bixiga 70, because it was entirely a collective thing.
We changed a lot in those five years, from the rehearsal to the third record. We are playing better than we played before, because we started to be more concerned about the quality of our performance, but I think the most important thing in that process was how it was increasingly becoming the collective of 10 because one thing we love here too, the same 10 of us are on the first record as the second and third, no one entered or left from one record to the next, and here on the third record that has reached a level that we didn't reach on the others; really it is the sound of 10, 10 people contributing, thinking, composing, arranging, and giving ideas and that is super cool.
Decio: We had returned from a tour of Europe that had even passed through Morocco and it was a super special trip. The trips are very special for us, every time we travel, for example being here [in London], living together and all the things that happen that really influence our music. We arrived [back in Brazil] from this European trip, had a 2-week rest, entered the studio and stayed 40 days working almost every day, 6-8 hours a day. From zero, nothing existed for the album, and we made the whole record; this also shows the process of evolution, the meshing of our collective.
One thing that I like about the third album is that there are songs that are a little bit slower, you're not afraid of being subtler with the rhythms…
Cuca: Cris said something great that the first album was the infancy, the second adolescence/teenager and the third is really adult.
Cris: I think it's true. The first was premature… we didn't know what we wanted exactly.
Why do you think afrobeat has become so popular in Brazil these days?
Cuca: Specifically this latest wave has to do with YouTube and the internet. I am the oldest of the band and when I was a kid or teenager I didn't have access to Fela Kuti, very few people had access to that music. I heard it without realising it was afrobeat as I was listening to Gilberto Gil because he had the sound of it and so on.
Chico Science…
Cuca: In the 90s we had Chico Science, but you were not going to a record store and finding it and I think after the 2000s people began to have access and were curiously researching this kind of sound, it was a phenomenon… people discovered a sound that was 30 or 40 years old, but were hearing it for the first time and I think it has a great identification with Brazil. Brazilian musicians used it a lot in the 60s and 70s, but because it was a sound of the periphery and we are on the periphery of the world, I think that it has an identification of someone doing something bigger than the sound, trying to do something more important than just the music.
You were also influenced by Afro-Brazilian music?
Cuca: Also at this time there is Pedro Santos, an artist that we re-recorded on our first record and that was little known and I think that had to do with it too, people began to discover things which at the time had no room on the radio, had no space in the music industry that was very dominant in Brazil, I think one thing was pulling the other.
Decio: We really like Gilberto Gil and several other big names in Brazilian music, but Bixiga have just researched these names that are hidden, like the ones you mentioned, Pedro Santos, Os Tincoãs and other groups that are not necessarily part of the national scene, but are of great importance for the base of Brazilian music.
Cuca: Afrobeat is a mix of music, it is hybrid, a combination of traditional percussion and funky guitar, with melodies of jazz and such. This mix is in the DNA of Brazil, a young country with a blend of Indian, black people and European. This is Brazil, the mixture and the concept of mixing different things is in the history of Brazil, a very recent history compared to European countries, for example. I think it has an identification in that too, a mixture of very different things that are producing an outgoing, cheerful, dancing, pulsating music, with lots of energy.
I know you don't like calling your music afrobeat. So, what would you say is the name for your style?
Cris: Our strength is Afro-Brazilian music. I think our relationship is much more direct with Africa than through Western music; despite it being super present, funk, soul, etc. I feel much more comfortable with the title of Afro-Brazilian music, danceable music, urban, uhhhh, cosmopolitan music, you know? I think it's something else… I don't know… I… I…
Cuca: because it wouldn't exist Brazilian music without African music.
Decio: Bossa nova [has it].
Cuca: Everything has it, it has an African influence.
Decio: Villa-Lobos has that influence.
Cris: This title, afrobeat, which refers to Fela Kuti and many other artists of the West African coast and was an aesthetic starting point for us, was a place where people have become very identified with the rhythm with percussion, with drums that do not have a set Western pattern and the horn section.
Cuca: …one baritone, which is a really good thing from afrobeat.
Cris: It's that thing, to have the deep voice and also like this in Brazil there is a big culture of wind instruments, of brass sections, the frevo, the gafieiras (dance halls), the samba-jazz, a lot of styles that developed in this way…
Decio: …fanfares
Cris: If you take Pixinguinha and several other teachers who have developed it it's always had a lot of swing, a lot… and for us this was a place where we identified and picked up when we didn't even have our own repertoire, we played covers of international and national bands that were using this format; but it ended up being, in a way, labelled as an afrobeat band; that's I think, that's what Cris said today ends up being a bit limiting.
Cuca: Mauricio has a saying, from the start, the very beginning of the band, that we played Fela's music during rehearsals, and we recorded and listened, and at one moment he said we had found a wonderful compromise. We were trying to make afrobeat but it sounded like Brazilian music, we couldn't do it!
Cris: This was a good point, an opening. We kept on trying and trying, practising, but goddamn, that damn afrobeat, it just wouldn't happen. We talked but we were not satisfied with the afrobeat that we were playing – it's true – and we had to re-focus. What we are doing is just, it's more our thing, our creation. We will try to do our thing instead of trying to make afrobeat. That's when we found Bixiga, that was Bixiga 70.
Interview translated with the help of Julia Duarte, Jurema Simoes and Ana Young.
Bixiga 70 are touring Europe during the summer, beginning with a show at London's Scala on Thursday June 23rd, followed by an appearance at Glastonbury, before setting off for more festival and live appearances around Europe and Brazil. For the latest on the group go to bixiga70.com.br.
Watch a short documentary about Bixiga 70 during a trip to New York in 2015:


Follow Sounds and Colours: Facebook / Twitter / Instagram / Mixcloud / Soundcloud / Bandcamp

Subscribe to the Sounds and Colours Newsletter for regular updates, news and competitions bringing the best of Latin American culture direct to your Inbox.
Share: