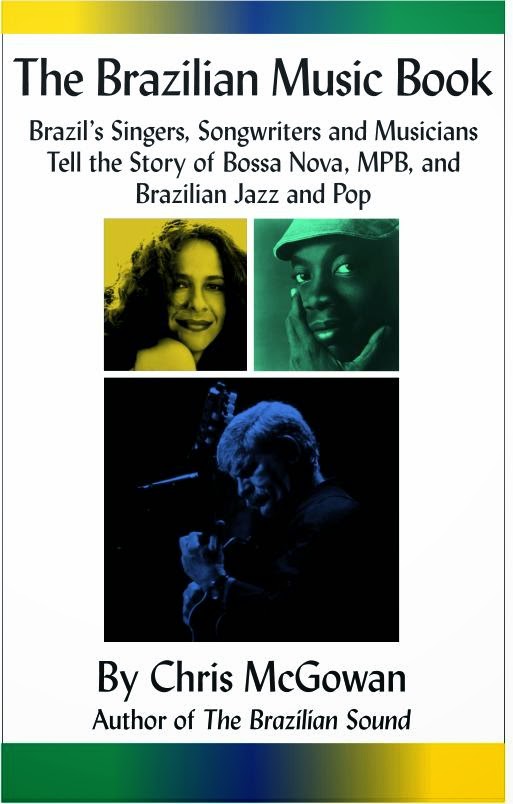 The Brazilian Music Book by Chris McGowan
09 October, 2014
It's not every day that a new collection of interviews about some of Brazil's most celebrated musicians becomes available to the public. In The Brazilian Music Book: Brazil's Singers, Songwriters and Musicians Tell the Story of Bossa Nova, MPB, and Brazilian Jazz and Pop, Chris McGowan gives Brazilophiles a treasure trove of interviews that should prove to be a valuable resource for years to come. As a scholar and fan of Brazilian music, I view this collection as a must have given the depth of the interviews (facilitated by the perspicacity of McGowan's questions), the extensive discographies, and the clear organization of the volume.
As anyone who has interviewed musicians can tell you, it is no easy task. Some musicians are forthcoming while others would rather regurgitate details from a press release. As I reader, I could sense some of that unpredictability throughout the collection, especially by looking at the varying lengths of the chapters. Interviews with musicians like Airto Moreira and Dori Caymmi are extended conversations about Brazilian music's place in the world while others, such as those with Gal Costa and Alçeu Valença are brief. There are even a number of chapters that integrate the interviews into a detailed profile of the musician in question rather than providing readers with the interview transcript. McGowan makes up for the variance of his materials by providing a biography and an impressively extensive discography of each musician thereby providing some consistency between chapters. Thus, this collection demonstrates some of the varying personalities of some of Brazil's top songwriters and performers.
Some of these chapters are real delights for fans of Brazilian music. The extended interview with Antônio Carlos Jobim is worth the price of the book alone. I suspect that readers will get a clear sense of his personality and his views on being a major figure in Brazilian popular music of the last century. We have the opportunity to learn his perspective on the destruction of Brazil's rainforests, the military takeover in April of 1964, and what he thought of observing every musician he knew get arrested as political fallout. You also get the sense that the man could talk for hours. There are stories about what he thought of living in Los Angeles and how he came to be a major figurehead in bossa nova. The interview with Carlos Lyra, by contrast, is teeming with his views about politics. It's a fiery interview that gives off a clear impression of his theory of the global popularity of bossa nova ("When there's a middle class, there will be bossa nova") and musical legacies.
The current format of the The Brazilian Music Book is as an eBook, and that has some clear drawbacks for the nature of what McGowan has provided for readers. As I read, I kept wanting to page through it to compare discographies at the end of chapters or admire the photographs – tasks that are much more convenient in a physical book. McGowan has plans to release a paperback in 2015, and it would be well worth the investment in that form for serious Brazilian music lovers. McGowan is also planning a part two collection that will focus on other Brazilian genres, such as axé, samba, forró, rock, pop sertaneja and tecnobrega. If that collection is anything like what he has provided here, it will be a treat indeed.
The Brazilian Music Book is available on Amazon Kindle

Follow Sounds and Colours: Facebook / Twitter / Instagram / Mixcloud / Soundcloud / Bandcamp

Subscribe to the Sounds and Colours Newsletter for regular updates, news and competitions bringing the best of Latin American culture direct to your Inbox.
Share: