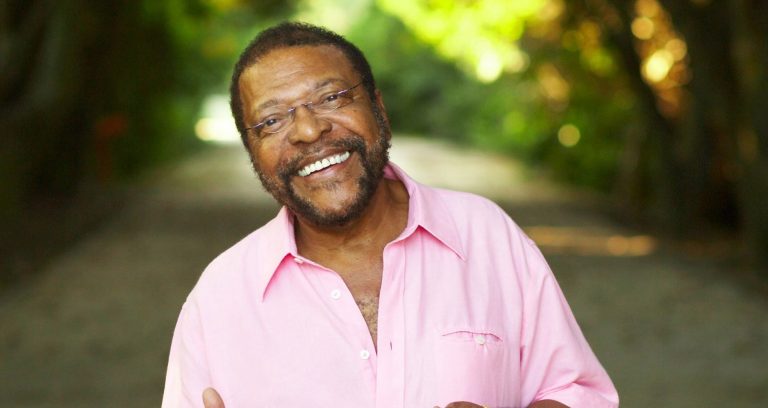 Guto Costa
The Many Lives of Martinho da Vila
24 June, 2016
A unique artist with his own way of singing; a composer of many hits; the first samba artist to become a pop star in Brazil; and the first sambista to sell more than 1,000,000 copies of a record ("Tá Delícia, Tá Gostoso", 1995). Now in his 70s (though looking younger), after a 50-year career, Martinho da Vila is in full swing: he's currently preparing for three concerts in Europe, before coming back to Brazil to shoot for TV, heading back to sing at the Montreux Jazz Festival and then back to Brazil again, to release his upcoming album.
He will be in Anadia, Portugal on June 25th; Amsterdam on June 26th, and London on June 28th, where he'll sing at the Barbican. It's been a while since he played in London — he doesn't even remember when was the last time he went to England. "I like London a lot, I've been there a few times. A long time ago, I did a carnival at the Royal Albert Hall. The city is very cool, very different", Martinho da Vila says.
For this concert, Martinho will be accompanied by Wanderson Martins (cavaco), Ivan Machado (bass), Cláudio Barros (guitar), Paulo Ferreira (drums), Marcelo Moreira (percussion), Odorico Santo Neto (flute and saxophone) and his daughter Maíra Ferreira (piano and vocals), who has her own solo career and doesn't normally play in her father's band. Da Vila says the concert will be the same as the shows he plays in Brazil.
"Music has a language that is universal. Even if we go to a country where we don't know the language nor the culture, if the artist is performing a concert full of truth, with good musicians, singing well, we feel the same emotions, of almost, of who knows [its language and its culture]", he claims.
You may know Martinho for his hit "Canta Canta Minha Gente" (from his eponymous album, released in 1974), which was recorded in French and German by Greek singer Nana Mouskouri. Or for his duet with jazz singer Madeleine Peyroux on "Madeleine, I Love You" (from Duetos, 2008) or the bilingual version of Da Vila's hit song "Madalena do Jucu" (from O Canto Das Lavadeiras, 1989). You may also know covers of his songs recorded by Seu Jorge and Almaz ("Cirandar"), Céu ("Visgo de Jaca", written by Sergio Cabral and Rildo Hora, but popularised by Martinho) or Ney Matogrosso and Pedro Luís e a Parede (the cult song "Disritmia")
Following his London concert, on June 29th, he will be talking to fans at Brazil's General Council in London. "I'm going to talk about Brazilian's music influence on other countries' music. And they are going to play some songs of Noel [Rosa, Brazilian composer from Vila Isabel, the neighbourhood that gave birth to the samba school from where Martinho took his artistic name — every year he parades at Unidos de Vila Isabel and runs for the school's samba of the year competition; half of the time, he lost]", Da Vila says.
After performing in Europe, Martinho will return to Brazil for a few commitments before then heading back to Europe, this time to Switzerland, to play Montreux Jazz Festival's Brazilian Night, on July 10th. It's the 50th anniversary of the event and the 38th of this particular night. It will be Martinho's fourth time there. "It's very cool, one of the most important festivals in Europe, many important stars perform there, and the Brazilian Night is a total success. I even have a DVD that was recorded there", he remarks. He released Martinho José Ferreira (using his birth name) in 2006, to celebrate the 40th anniversary of his career; the DVD compiles his three performances at Montreux.
This year's Brazilian Night at Montreux will feature Ana Carolina, Elba Ramalho, Hamilton de Holanda, Ivan Lins, João Bosco, Maria Rita (Feat. Davi Moraes) and Vanessa da Mata.
On August 26th, right after the Olympic Games, he will release a new album, De Bem Com a Vida, produced by André Midani and Preto Ferreira, the seventh of Da Vila's eight children. The album will feature Jorge Mautner, João Donato and Arthur Maia, and his first partnership with long time friend, poet and lyricist Geraldo Carneiro (also a partner of Egberto Gismonti and Astor Piazolla) on the sweet "Escuta, Cavaquinho".
Martinho doesn't want to talk much about this record yet, but he reveals he recorded it along with four other musicians and played percussion. "The intention was to make an intimate record, but in the end it didn't become that intimate", he laughs.
A prolific artist, the singer and composer is also an author of 13 books, some of them released in Portugal and France too. The most recent was Barras, Vilas & Amores, released in Brazil in January 2016, that mixes stories from his birth town of Duas Barras (in the Rio de Janeiro countryside), the neighbourhood of Vila Isabel (home of the samba school that is one of the biggest loves of his life) and the neighbourhood Barra da Tijuca (where he lives). One thing we can be certain of is that after releasing the new album, he's going to bring something new to his audience. As he always does.
Martinho da Vila will be performing at Portugal's Feira do Vinho em Anádia on June 25th, Amsterdam's Muziekgebouw on June 26th, London's Barbican on June 28th and the Montreux Jazz Festival on July 10th.

Follow Sounds and Colours: Facebook / Twitter / Instagram / Mixcloud / Soundcloud / Bandcamp

Subscribe to the Sounds and Colours Newsletter for regular updates, news and competitions bringing the best of Latin American culture direct to your Inbox.
Share: