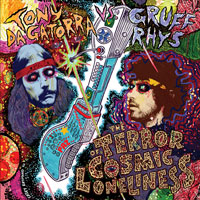 Review
Tony da Gatorra vs Gruff Rhys – The Terror of Cosmic Loneliness
It's weird what industrial quantities of drugs will do for a man, depending on where and when he's doing the imbibing. On the one hand, Gruff Rhys' collaboration with Brazilian VCR repairman and peacenik Tony Da Gatorra works as a casually improvised celebration of the unifying power of drugs and rampant eccentricity. On the other, it's more like the reverse of that; an existentially challenged piece that might easily've been subtitled Drugs And Their Proper Sociological Context.
Not knowing the specifics of either artist's substance intake for sure, you'll have to excuse our presumptions on this one. But you can imagine how, for an artist schooled in the post-flower power, post-ideological West, a years-long predilection for psychoactives might shepherd the visionary instinct into the sort of habitually ironic, musically schizophrenic zones Gruff Rhys charts in his output with Super Furry Animals. But for Tony Da Gatorra, an ageing hippy outsider resident in Sao Paulo, revolutionary zeal is a still-living memory that shapes and gives force to his agit-surrealist MO. He's like Alan Vega crossed with Che Guevara, only much better at telling you what's up with your knackered DVD player.
All of which makes him perfect hero material for a bleary-eyed pscychonaut like Rhys, and indeed the Furry frontman sought Da Gatorra out in his South American home for the making of this album, a ramshackle beast largely informed by the tension between the pair's aforementioned psychedelic styles. Recorded in five hours and mixed in 12, it's a million miles from the polished chrome surfaces of Rhys' Boom Bip collab, Neon Neon. And yet, anyone expecting a lo-fi pop recording in the manner of SFA's Mwng or Dark Days/Light Years is going to come away from The Terror of Cosmic Loneliness nursing a very sore head indeed.
Only "In a House with No Mirrors" and "Oh! Warra Hoo!" possess something of Rhys's habitual dreamy melodicism, the former an edgy, paranoiac slice of unusually focused garage pop, the latter's sweet vocal strapped to the electrified twang of open guitar strings which powers the record like so much rocket fuel. Much more in character are "O Que Tu Tem", which sounds like Silver Apples soundtracking a B movie about lawnmowers gone bad, and "Eu Protesto", which takes us into the sort of screamingly whacked-out territory marked out by Alejandro Jodorowsky's cult beatnik movie El Topo.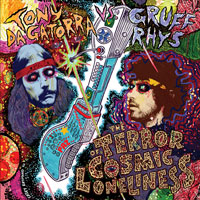 Whether you'll see it as such may depend on your willingness to embrace lines such as "in a room full of turtles you stood on a toad / you saw your reflection in the slime on its back", and certainly, the record also shares Jodorowsky's embarrassing indulgences and latent air of self-parody, last coaxed out rather expertly by The Mighty Boosh. But from a certain standpoint, that's visionary talent for you in a nutshell: in dire need of an editor.
Artist: Tony da Gatorra vs Gruff Rhys
Album: The Terror of Cosmic Loneliness
Label: Turnstile Music
Release Date: 26 Jul 2010
This review was originally published on BBC Music

Follow Sounds and Colours: Facebook / Twitter / Instagram / Mixcloud / Soundcloud / Bandcamp

Subscribe to the Sounds and Colours Newsletter for regular updates, news and competitions bringing the best of Latin American culture direct to your Inbox.
Share: