Efêmera could not start any brighter than with the title track, a gorgeous, swinging ode to Sunday afternoons and the joys of quiescence. It's this theme of motionlessness that permeates the album, often feeling like a conversation between yourself and Tulipa. If that sounds too comfortable, it needn't, as the beauty of this album lies in the detail, as well as its sophisticated melodies.
In "Cada Voz" Tulipa describes the mechanics of singing, in "Pontual" she agonises over being late for a film before saying that next time she will be on time (punctual or pontual in Portuguese) or in "So Sei Dancar Com Você" she struggles with her dance steps before declaring "I only know how to dance with you / and that's what love is." This last excerpt is the perfect example of what makes Tulipa so special, her ability to top off a seemingly innocuous story with a hint of wisdom that leaves you humbled. In my eyes, it makes her the Brazilian equivalent of Bill Callahan (aka Smog, one of the finest songwriters ever to come out of the US).
Yet it's not only the lyrical qualities that make this album so arresting. A São Paulo native, Tulipa is armed with the same tricks that have made recent albums by Karina Buhr (Eu Menti Pra Você) and CéU (Vagarosa) such successes. All of these albums were borne out of São Paulo and each show a refinement of Brazilian musical styles, which while showing some hints of Western forms of pop and rock, always remain intrinsically Brazilian. It's a style that reflects the urban nature of São Paulo and the lack of romanticism in that environment, perhaps explaining the existential subjects that so often feature in the lyrics.
There are subtle differences between these albums, as both CéU and Karina Buhr opt for a more-rhythmic approach. Here, Tulipa opts for more-confined rhythms, instead giving space to the lead melodies, played by guitar and piano, augmenting them with blasts of horns, keyboards or xylophones. It lends itself perfectly to haunting ballads such as "Do Amor" and "Sushi," which both proffer from the contract of taut instrumentation and warm vocals, as well as on the more rambunctious "Pedrinho" and new wave-ish "Brocal Dourado"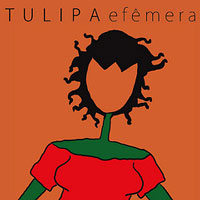 Efêmera will ensure that the one thing that will not be ephemeral is Tulipa Ruiz's career. It's quite easily the best debut album to come out of Brazil since CéU's in 2005, and through its "conversational" approach feels more like a friend on every listen.
Efêmera was released in Brazil in 2010. It will, quite rightfully, get its international release on Totolo records on Monday 28th February 2011.
Artist: Tulipa
Album: Efêmera
Record Label: Totolo
Release (International): 28 February 2011
See Tulipa in action:

More info:
www.myspace.com/tuliparuiz

Follow Sounds and Colours: Facebook / Twitter / Instagram / Mixcloud / Soundcloud / Bandcamp

Subscribe to the Sounds and Colours Newsletter for regular updates, news and competitions bringing the best of Latin American culture direct to your Inbox.
Share: