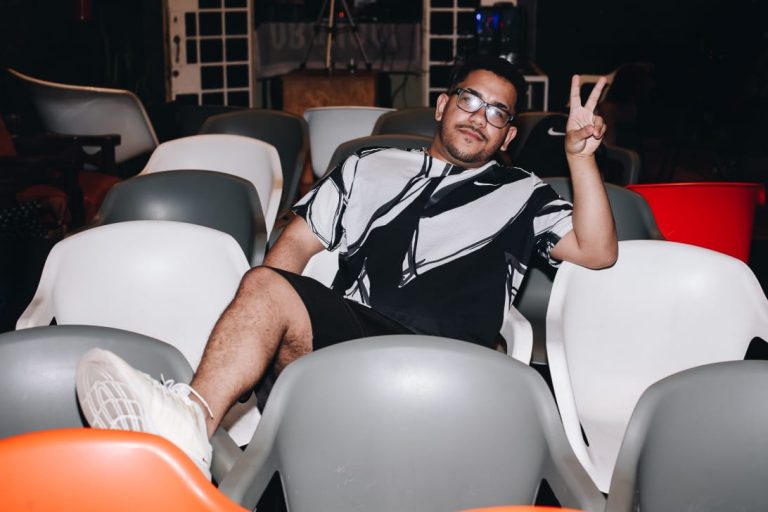 VHOOR Unites Samba de Coco with Electronic Rhythms on New Album
15 June, 2021
It may not seem like it, but Victor Hugo Oliveira Rodrigues, artistically known as VHOOR, is only 23 years old with a career of five years. In this short period of time working in music, he already has almost 300,000 monthly listeners on Spotify, with some songs generating millions of plays; he has partnered with several Brazilian artists (FBC, Leall, Linguini, Hot & Oreia, Mac Julia), and won listeners and admirers around the world, such as the producer Sango (USA).
His first contact with music was in his childhood, influenced by his parents, who, in addition to having daily jobs, also worked in music to supplement their income, playing at weddings and in bars. His passion surfaced when he was encouraged to play the guitar to accompany chants at Catholic Mass on Sundays, in a suburb in the northern region of Belo Horizonte, Minas Gerais, Brazil.
"I think the church is very important in the formation of musicians. It was a very simple structure. So I was responsible for learning the repertoires of the mass and being there every Wednesday. This became a fire training for me, because the we need to be there twice a week, like Wednesdays and Sundays," says VHOOR. "That way, I learned to play the instrument and also to be aware of tuning, to be aware of even having a stage presence and solving the problems that occur at the time, because that moment, like it or not, is a show. You need to be a good artist too to be able to get by. This routine makes you perfect as an artist. Today I see that it helped me a lot, because I see that many people with bands who don't have that almost religious rehearsal habit".
Considered one of the most creative producers currently in Brazilian electronic music, VHOOR manages to transform funks proibidões ("prohibited funk", with explicit sexual content) into something light and even more danceable. This is particularly evident in the trio of releases: Baile & Sauce, Baile & Vibes and Baile & Drip. The "abandonment" of religiosity and immersion into the electronic scene happened naturally. A curiosity and passion for rap, funk and house, and an admiration for Brazilian DJs with worldwide profiles helped him make the decision to live off art and create his own identity. "This type of music has a lot to do with the equipment you have, the things you can buy. Here we managed to do several things, create genres, aesthetics and new things and be respected abroad without having good equipment. I was listening, entering forums, trying to see what information I could get in order to produce. Then I got to know a lot of things, lots of new styles, and also getting to know new styles that I could put into my sounds. Some quieter things, like the lounge, which we now call chil baile, which is a mix of R&B and funk. All this I was adding to my sound and falling in love with more and more with these beat scenes that were happening around the world".
In the same way that it became an essential tool to project great artists (including Kaytranada, Chance The Rapper, Sango, Soulection and the Brazilian duo Deekapz) around the world, Soundcloud also helped Victor reach a large audience in different countries. The platform became a testing laboratory for new sounds and a social network to connect with producers from different cultures. There, he got to know a little more about what's happening in Portugal, England, the US and African countries. This connection generated several exchanges of cultural experiences and native sounds, mainly drum recordings from African tribes.
"People from Portugal are people who grew up listening to kuduro and African electronic rhythms and now make Afro-house. The London crowd grew up listening to reggae and the stuff that came from Jamaican immigrants, and made grime. And here we are following this same path with funk, using the genres that we have here… the US crowd with house and trap. I think that's pretty awesome, because even though they are different styles, they walk together in terms of evolution, when we take stock of global music evolution", he observes.
Throughout this exchange of knowledge and the incessant search to create something different, VHOOR has dedicated himself to researching traditional Brazilian rhythms. For his most recent album, RITMO, he studied samba de coco, a style of dance made by tapping the feet with a wooden clog on the floor, and which is accompanied by percussive instruments: triangle, tambourine, surdo and ganzá (the group Samba de Coco Raízes de Arcoverde, from Pernambuco, is one of the symbols of this style). Across eleven instrumental songs, the beatmaker merges this folk music, little known in many places in Brazil, with house, dance and afro-dance. During his research, he found that, despite being raised in different regional cultures, baile funk and samba de coco have similar rhythmic cells. Both were also born in the periphery and were developed by marginalized black people. This makes them fit perfectly, even when the BPMs are different.
"This is a work that I'm very proud of, because it was very complicated trying to translate folk rhythms into electronic music. I think it worked very well… there are samples of things there that I've been taking, cutting and treating to give it a certain context", he says. "It's a way to keep these styles so rich without letting them die. They tell such beautiful stories, many linked to the issue of slavery, work music, which people sang to be able to work, to have strength and to get excited in such a difficult period that we had here in Brazil."
By having the ability to imprint his identity on any music that he chooses, VHOOR is making an important contribution in getting samba de coco to new ears, whilst still maintaining its heritage, even when presented with elements that are not part of its original design. This is also a way of showing the world the musical richness that exists in Brazil, be it traditional or modern. And if it's up to him, other experiments will soon be done with other, different Brazilian sounds.
"We also have to study the rhythm of the styles here in Brazil (including forró, rasteirinha, samba) and understand more or less how these regional styles are constructed and bring them to the electronic aspect."
Ritmo is available on Bandcamp

Follow Sounds and Colours: Facebook / Twitter / Instagram / Mixcloud / Soundcloud / Bandcamp

Subscribe to the Sounds and Colours Newsletter for regular updates, news and competitions bringing the best of Latin American culture direct to your Inbox.
Share: