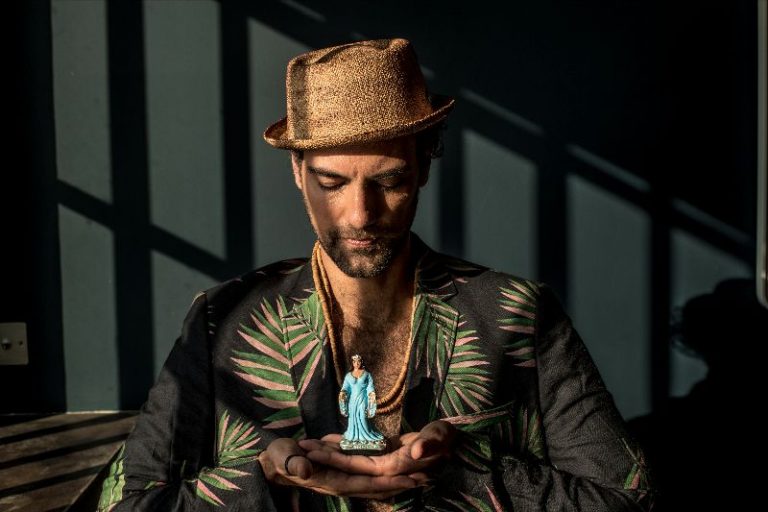 'We Need to Keep Resisting and Holding our Heads Up High': An Interview with João Selva
25 May, 2021
Navegar, the second album by funk purveyor João Selva, couldn't have come at a more pressing time. Brazil is in the midst of a raging pandemic which has hit gruesome milestones of deaths, in political turmoil which continues to isolate the country, and a chronic police violence problem that is pushing the country, particularly, Rio de Janeiro (Selva's hometown), to the edge.
For the South American nation, there is much to feel saudade (nostalgia) for. For the times when thousands of Cariocas flocked to the streets during carnival in vibrant costumes to sing and dance alongside samba floats under the blazing sun, when weekends involved packed live shows and a contagious energy that crushed through its urban shores. 
This is the spirit from which Navegar was born. The Carioca musician's euphoric travel diary reminds us that Brazil's mystique is still alive and love is still in the air. With late 60s tropicalismo rhythms and a fusion of funk, soul and jazz fuel, Selva's second album aims to get the good times rolling again by delivering a shot of warmth, hope and sunshine for a jaded planet.
While Lyon, France is now this trendy music producer and songwriter's adopted home, Brazilian music has always run through his blood. Born and raised in Ipanema, Rio's luscious seaside neighbourhood, home to an active surf community and the historic stomping ground of Bossa Nova icons like Tom Jobim and Gilberto Gil, it's easy to see where Selva drew the inspiration for Navegar.
"My father was a pastor of a small hippie commune on the hills above Ipanema which was frequented by lots of dynamic musicians", he tells me. "I met my father's good friend, the Bossa Nova star Wanda Sá, who became my guitar teacher and took me to lots of different shows including Marcos Valle and João Donato". 
It was this backdrop, his pastor father's extensive record collection and the liturgical music from his church that first exposed Selva to Brazil's cauldron of diverse sounds. But becoming a musician wasn't always his dream. 
"I never wanted to be a musician. I always studied theatre and poetry". But that all changed when he began to adapt to the French lifestyle. "Music turned into an element of saudade, something to connect with my Brazilian roots".
Selva is no stranger to exploring new cultures, where one line from his album "quero conhecer o mundo, um dia chego lá" (I want to discover the world, one day I'll get there), has served as his life motto. 
Inspired by Brazilian artists with Afro-Caribbean roots who were part of the black movement, as a student, Selva moved to the north-eastern Afro-Brazilian jewel of Salvador and fell in love with traditional Brazilian rhythms and the capoeira martial art. Specialising in the latter, each year he would tour Africa, Europe and the Caribbean as an ensemble, paying tribute to the north-east's rich culture.
"Capoeira is my school for life. I discovered capoeira when I was 15, after meeting an Angolan boy and it opened up popular culture to me. Capoeira is as much music, dance and philosophy as it is gastronomy. It's was this cycle I was searching for in my album, to bring these cultural elements from someone who was born from slavery and see how far I could push these musical limits".
"Capoeira was banned in Brazil for years, it was a form of colonized racism. I wanted to bring this collective ideology that reflects strength, to produce music that crosses the Atlantic, merging African independence together as a collective force. This strength was my inspiration".
The song "Camarà" (the affectionate name used in capoeira meaning "buddy" or "partner") serves as a raison d'être of the album, with its emotions springing from a trip Selva took across Brazil's north-east coast in 2019 with his friend Bruno Hovart, a prolific French producer better known as Patchworks.
"It was the height of political turmoil in Brazil, just before the elections where former-army captain and president Bolsonaro would become president. All my close friends were very sad and pessimistic. But it wasn't just a lamentation, Brazil has been resisting for a thousand years. Resistance is strongly ingrained in our culture".
"I wanted to send a positive message of hope and love".
Through "Camarà", Selva takes a deep breath to seek energy from the tide to deliver his message of resistance: "We need to keep resisting and hold our heads up high. When you look to the floor, you stop believing".
Selva hopes that Navegar will provide his people with strength to weather the political storm raging in Brazil and reverse its negative image abroad.
"Brazil is an electoral machine. Now, with social media, there's a lot of manipulation amongst the population. During the pandemic, people can't take to the streets to protest their indignation against the president Bolsonaro's mishandling of the pandemic. So it's more invisible. But I see some hope for social progress with the potential presidential candidacy of ex-president Lula; he's very strong."
As the country fights for a brighter future, Selva aspires to turn the global spotlight away from the gloom and remind the world of Brazil's beautiful cultural richness which has illuminated the country in its darkest hours.
"Music will always remain in the souls of Brazilians. I want to show people abroad the cultural melting pot of Brazilian music that breathes hope and optimism and is very much alive. Despite the challenges artists have in Brazil, we still create. And it's these wonderful creations I want to give visibility to, so Brazil's image can bounce back. We can't wait any longer".
Navegar is released by Underdog Records and available from Bandcamp and other digital platforms

Follow Sounds and Colours: Facebook / Twitter / Instagram / Mixcloud / Soundcloud / Bandcamp

Subscribe to the Sounds and Colours Newsletter for regular updates, news and competitions bringing the best of Latin American culture direct to your Inbox.
Share: