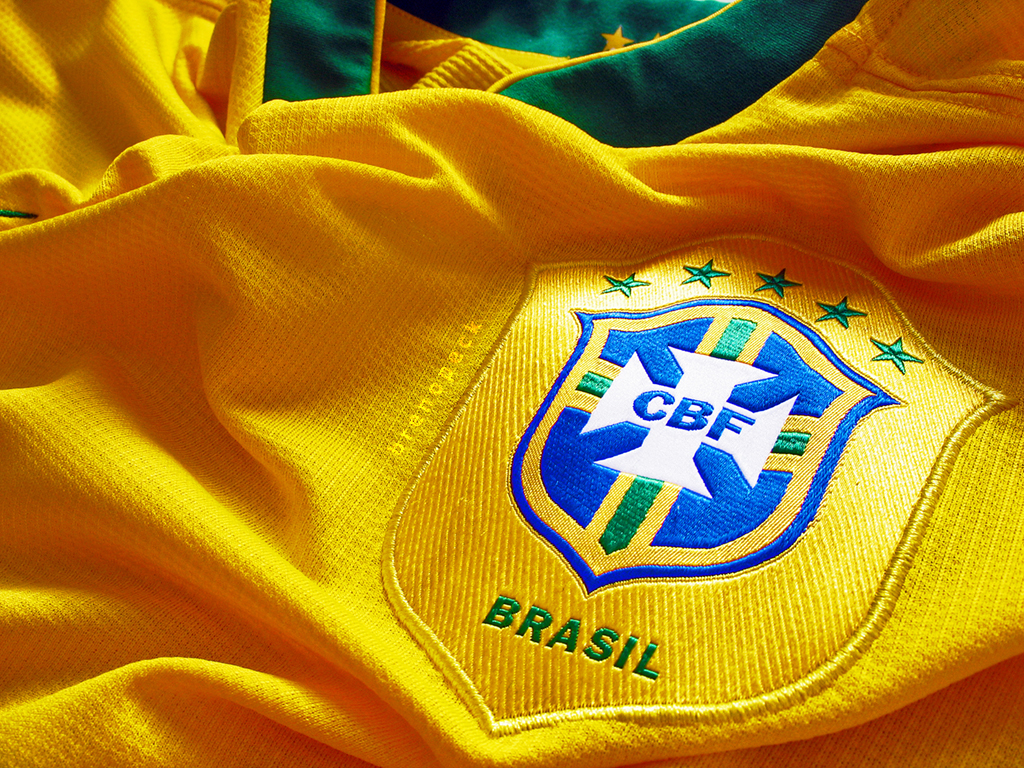 What's In A Shirt?
10 April, 2014
When you put on the Brazilian football shirt – which most people aren't entitled to do – something happens. For some, and especially us Brits, it heralds a trip to Wetherspoons, a good few pints of lager and Sky Sports' coverage of the Premier League, followed by a booze-snooze on the sofa. For others, make that Brazilians, it is the ethereal mantle of footer which confers supernatural powers. Such is the talismanic nature of the yellow jersey that it embraces all manner of expectations and expressions.
Tearing off a strip
The origin of the emblematic shirt dates from 1953, when a competition was organised by Rio de Janeiro newspaper Correio da Manha to commission a new design for the 1954 World Cup. Its precursor, the white shirt, was forever tainted by its link to the Maracanazo when Uruguay spoiled the party by beating the hosts 2-1 in the 1950 World Cup Final in front of nearly 200,000 fans in Rio's Maracanã.
Travels in hype and reality
Excessive hype is only matched by the level of disappointment it engenders. So it was here. Whilst Brazil's manager of the time, Flavio Costa, was level-headed enough to say: "The Uruguayan team has always disturbed the slumbers of Brazilian footballers", the Brazilian press and even Jules Rimet (Mr World Cup) weren't having any of it. The Cup had Brazil written all over it. There was just one snag: the game hadn't yet taken place.
As expectations became febrile, it was conveniently forgotten that La Celeste (the Uruguayan team) was a formidable outfit which combined the tactical nous and finesse of Juan Alberto Schiaffino, Rodríguez Andrade, Alcides Ghiggia, Obdulio Varela and Omar Oscar Míguez with the acrobatics of Roque Máspoli in goal. It was never going to roll over and die, especially not for the Brazilians. And, lo, it came to pass.
The loss, viewed as a hideous aberration in Brazil, has lived long in the memory. So much so that the goalkeeper, Moacyr Barbosa, was still considered culpable for it until his death in 2000 at the age of 79. The burden of dreams is a heavy one and not even the carbonisation of the offending goalposts on his barbecue quite atoned for the mass psychology of extreme presumption and disappointment heaped on him. He did say, though, that the steak it seared was "the best ever".
Shedding the jinx and misapplied Darwinism
Discussion of what the new strip would be had one stipulation: it had to include green, yellow, blue and white – the national colours. The winning design, produced by a 19-year-old newspaper illustrator, Aldyr Garcia Schlee, not only managed to combine the disparate colours into a harmonious ensemble, it gave birth to a legend. Five World Cup victories have followed – notably including those of 1958 and 1970 – where Brazil showed a level of football that had the best of the rest lying laggardly distant in its wake. What's more, Brazil remains the only country to qualify for every World Cup.
Then came the mythology. The Darwinian heresy that anyone Brazilian who could stand up and don a yellow jersey was endowed of an inalienable right to be considered better than anyone who played in any other national strip. As consequence of this, Brazil can now always rely on the opposition to go into paroxysms of anxiety at the prospect of facing the yellow peril.
When you instinctively know that something isn't instinctive
So, what's in a shirt? The Brazilian shirt is and isn't a golden fleece. Like all outfits, it depends who is wearing it and what they do in it. Clearly, a 22nd visitor to Wetherspoons isn't going to impart much magic. However, that's not to say that 100% yellow polyester cannot induce a certain state of mind. For non-Brazilians, when you put it on it creates expectations; a feeling of well-being; a desire to try things you wouldn't ordinarily do; the impression that you have more time; the ebbing away of the desire to play the percentages, but above all, the scope to dream. No, it doesn't stop you falling like a crumpled helix in front of an open goal, nor does it give you skills which you don't or can't possess. It has, though, become as essential to football as "the method" is to some actors, but that said, even Diana Ross couldn't score wearing one.
It's goals that count
The way the Brazilians play, contrary to media belief, does not descend from the celestial realm by way of a tunnel lined with gorgeous carnival angels. It's a choice, which they make and we don't. If you put the onus on passion, commitment, organisation and percentages you will not achieve the same result. The reason for this is simple: such game plans militate against all but odd examples of individual extemporisation. What's more, as the emphasis is about limiting space rather than creating it, when you deny it to the opposition, you also deny it to yourself. This becomes especially self-defeating if you cannot win and keep the ball. The Brazilians have always understood this.
The freedom to be great
What makes the best Brazilians better than the counter-attackers, the dogged and besieged, the wildebeests, the tiki-takas, the exuberant Ticos, the total footballers or the Byzantine exhibitionists, is that they can usually do it all, if and when it's required. This is not in the gift of the Gods, it's the pure, unadulterated creation of a culture and structure that puts a premium on skill and reacts to what's in front of it to allow delegation and deviation from Plan A, especially when it isn't working.
When Brazilians meet the rest of the world, they simply have more gears with which to play and the result is usually a foregone conclusion. Brazil, using its preferred methodology, is pre-eminent. There ought to be a lesson here, yet national federations everywhere doggedly pursue a foolish belief in a pitiable kind of alchemy, which demonstrably fails. A head banging off a brick wall comes to mind.
Maracanã revisited
So, which Brazil is going to show up this summer? The Seleção Brasileira is back in the capacious hands of Felipe "Big Phil" Scolari, an avuncular disciplinarian, who creates solid rather than exceptional teams. He isn't a Zagalo and he lacks, Neymar withstanding, the kind of riches upon which some of his predecessors could draw. Nevertheless, such is the talent at his disposal, even at half-cock, his teams – note the 3-0 defeat of the defending champions, Spain, in last year's Confederations Cup – are usually good enough to see off the competition with room to spare.
The record suggests that Brazil could wear any colour of shirt it wants. As for the rest of us, we just dream that once in a while, donned in yellow or not, our own teams might just be brave enough to even think of seizing the day. Oh, go on, just for a moment… Instead, it is usually an ignominious road to Calvary by which national teams, puffed up by hubris, media hype and popular denial, come to craft a vision of pure fantasy. Meanwhile, yet another "Gooool do Brazil!" will resound from the nearest television set.
Whoever turns up at the Maracanã on 13 July, 2014 at 16:00, let's hope they do justice to the greatest show on earth and don't feel they have to change the colour of their shirt because the opposition refused to read the script.

Follow Sounds and Colours: Facebook / Twitter / Instagram / Mixcloud / Soundcloud / Bandcamp

Subscribe to the Sounds and Colours Newsletter for regular updates, news and competitions bringing the best of Latin American culture direct to your Inbox.
Share: