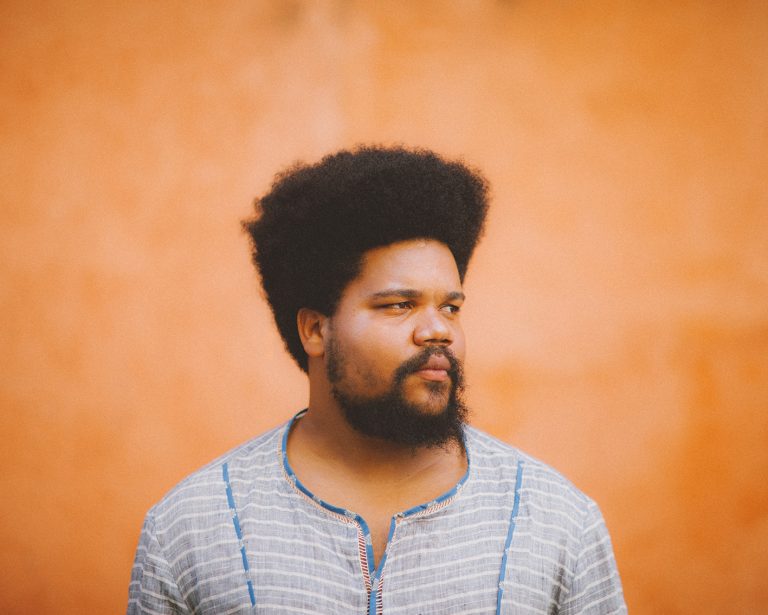 You Have to Throw Away This Idea of Playing in a Certain Way: An Interview with Amaro Freitas
31 October, 2019
The connection that Amaro Freitas has with the piano is clear. Together they become unique. The audience also connects. The echoing sound mesmerizes. Throughout his performances, Amaro takes a few breaks. It is possible to observe the physical effort of the pianist. Playing the piano is almost an athletic function. But he is prepared.
Born in Recife, in the north-east of Brazil, Freitas released his debut album Sangue Negro in 2016, followed by Rasif, which was released internationally by the UK label Far Out Recordings in 2018.
Before one of his solo performances, Amaro Freitas spoke about his early career, achievements and future plans.
We live in a moment in Brazil when art has lost its value. Yet you have been able to overcome all these difficulties with your piano. They are even calling you the Brazilian jazz revolutionary. How did you arrive at this mixture of classical music, jazz and music of the Brazilian north-east?
I think the exercise of creativity is perhaps what we have been missing the most. It's inside of all these little boxes that music is created. What is Brazilian jazz? Brazilian jazz is bossa nova and samba jazz! What is Brazilian pop? What is brega? Everything is kept inside these little boxes. And this is stupid, because we have Cecil Taylor, a fantastic pianist who saw the piano as a percussion instrument (which is also a melodic, harmonic, stringed, percussive, keyed instrument); John Cage, who was a guy who played a prepared piano, using screws, nuts, paper, iron, thread… When you use the piano with bow, it will come out sounding close to the violin, cello, acoustic bass.
The big problem I see in music is this… why is everyone so concerned about maintaining a standard model, like: what is being a virtuoso? What is playing jazz? I've always said that I'm here for the music. And every album I've recorded (which is only two and I'm getting ready for the third), are records that mark the space and the time I've lived. And I think this album [Rasif] marks the space and time in this exercise of creativity that we have. This is timeless – like listening to Beethoven, Elis Regina, Biafra. You listen and say: "This will still be heard for a long time." That same song marks a time, but it is the truth of that time and not an imitation of what the market suggests it should be.
And this is very relevant in this period where music has become disposable, because of the speed of consumption that digital platforms provided…
For you to see: my songs have five minutes, seven, ten… one has nine, another 14… the album goes beyond the traditional average, closing with 1 hour and 25 minutes. Few records these days are this long, you know!? It's a cool thing. Far Out [Recordings], which is the label, informed me that all the vinyls are gone. Many people and stores bought vinyl in Brazil, Japan, the United States, Italy, Portugal… I was impressed that here in Brazil it sold well. And it's amazing that when I was making music I was wondering where I was going, but I didn't know where I was going.
You didn't imagine this repercussion?
I did not imagine! But early on I planned. I come from a poor family… I had a religious [Christian] education… my baker father, my housewife mother and I realized early on that my father did the best he could for me, and he couldn't do any more. So, I needed to make money to be able to pay to make my music. And that's what I did. I graduated in an Audio Production course. I worked at a call centre… I used to play in a pizzeria, I played for a sertanejo singer … And then, all the money I earned, I put in one pot to help at home and in another pot I paid the university. I was broke for three years straight. I had university classes from 7am until 11:30am. From noon to 3 pm, I was at the restaurant [performing]. From 3pm to 7pm I was on the beach, because I had no money to go home. From 7pm to 11pm, restaurant. I came home almost 1am, and then 7am again to university… every day. Earning money. That's how I was able to record my first album, Sangue Negro (Black Blood). The university gave me the knowledge to produce my work. I was already playing with a crowd of the city's jazz scene and the money I made I was saving. And to think that I was a ghetto youth without any incentive. I made friends with a group who are really skilled in what they do, whether design or with press. They were all really skilled and helped that record come out perfect. And Sangue Negro is an album that changed my life.
Why did you call it Sangue Negro?
The track "Sangue Negro" uses the classic Afro clef, 6/8. It's bebop, which is a sub-genre of jazz developed by blacks – John Coltrane may be bebop's greatest star. It allows for experimentation. It also has a physical relationship, because when the song ends we are totally sweaty, tired… and the blood is boiling. So it's that black blood ["Sangue Negro"] pulsing right then.
How would you compare Sangue Negro and Rasif?
Rasif came out totally different. And this change took everyone by surprise…. I can't study every day, but when I study it's five, eight hours a day.
Would you say it was a level up?
I think it's different times. I had other experiences. Like: I was able to experience Coco Trupé, which is a group that plays wearing wooden sandals on top of a wooden platform [like a tap dance]… and I did not know that this type of music existed. As my education was religious, I only got to know the manguebeat movement when I was 19 years old. What a thing!! All because of my education, I didn't know that Coco Trupé existed. Then when I heard them, I wanted to make a song with the rhythmic component of the sandals. That's when the song "Trupé" was born.
When I used to play in Ceará I was in touch with a lady who used to make me Baião de Dois [a traditional north-eastern Brazilian food] in the morning, afternoon and evening. So I did "Baião" to remember that moment. "Paço" refers to the pace of frevo [a dance and traditional rhythm of Olinda, Pernambuco]. "Afrocatu" makes this neologism of Africa with maracatu [syncretic rhythm, dance and ritual]. "Dona Eni" is a song I made thinking about this mystery of the moon… "Aurora" represents the link between darkness and light. If you notice, this song has three moments. The dawn near dawn, the hot sun, of us playing there burning, and when the sun goes down. So, the album has a whole narrative, of topics, of experiences, my partner poetically calls Luna (Moon)… It was [on this album] that literature began to come more into my life: Rasif [an Arabic word that roughly translates as the "breaking sea"].
You mentioned that you're working on a third album…
I haven't finished the songs yet. Usually it takes me a year to finish a song.
In Rasif's case, I had been working for a while… I had already started building it when I recorded Sangue Negro. Rasif arrived two years later. Why is this? Well, if you have no time, there is no evolution. How am I going to evolve? This human structure needs time for the brain to process and the hand to respond, and I have a new view of things. It's all there. Now I need to visualize to start translating these things into art. The process is very long and very detailed.
This evolution also happens in performances or is restricted to the studio?
The evolution in the presentations is minimal. There is the part of improvisation that will always be different. But improvisation also has a structure. Here is the peak moment and there it goes back to normal … things are happening with the routine of the shows that suddenly changes and goes to another place, it's natural like playing ball, talking … when the people play on stage it generates energy.
What about public receptivity from other countries? Has your work broke the stereotype that Brazilians only do bossa nova and samba?
We played in places that are considered jazz temples. To my surprise, we went when it was cold yet the house was really full, and the reception was very good. In Germany, the house was crowded and they cheered non-stop, there were people crying with emotion. We didn't play any bossa nova or samba jazz. It was very painful to see that the other traditional Brazilian rhythms are not as well known as I thought, you know? There were people who said: "Man, I never heard that!" And we were playing baião, coco… I thought that it was already very well disseminated, but it wasn't. Tom Jobim is still what the world knows best about Brazil.
Luiz Gonzaga was one of the great artists of Brazil and did not achieve great rise beyond the borders…
It's like Moacir Santos, a guy who did an amazing job on piano, making Afro music with keys, but he didn't have success either, right!? People didn't have access to them… in a way, it's wonderful what Tom Jobim did because he was able to take Brazilian music elsewhere. But what happened after him?
I even compare Moacir Santos' work with that of Kamasi Washington, who also brings this Africanness into his music.
Exactly. With something more ghetto, more street, more hip hop. It brings a whole new language. A curious thing is that Rasif is almost working as a compass for a new group that are busy recording. Some people have said: "Wow, Amaro is doing something totally different and has 30,000 listeners on Spotify, it's playing outside Brazil." In a way, it is very good what is happening with my work, because it shows that if you're true to yourself, the process can be slow, but you can do it. Everybody can do it. You have to throw away this idea of playing in a certain way, that you can't play instrumental music.
You can go the opposite way, making music for the purpose of generating views and plays. To make instant success…
The exercise of creativity is lacking. It is very difficult for you to escape the norm and have truth, because you are born into a system where you are led by it. So if people can say no or say yes, let it be conscious and thoughtful. We can do whatever we want. I remember when I was young someone said it was impossible for me to live by making instrumental music. Today I live on instrumental music. Another person says: "How does the guy record a record at such a horrible political moment?" I recorded this album and it changed my life. You have to have your truth and believe that. If we start listening to what is inside (in the soul) and creating a connection with yourself, we can reach places we never imagined.
Rasif is released by Far Out Recordings. More from Amaro at amarofreitas.com

Follow Sounds and Colours: Facebook / Twitter / Instagram / Mixcloud / Soundcloud / Bandcamp

Subscribe to the Sounds and Colours Newsletter for regular updates, news and competitions bringing the best of Latin American culture direct to your Inbox.
Share: