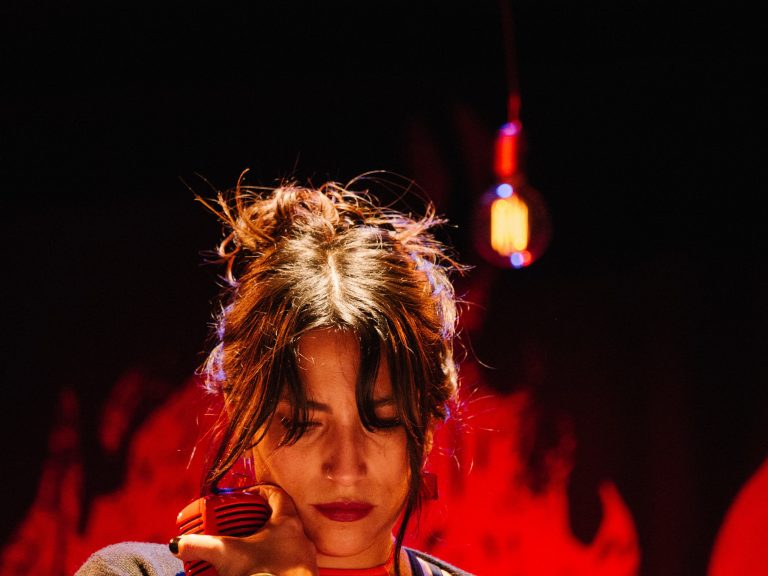 A Complete Guide to Anita Tijoux's 22 Years in Music
26 June, 2019
Anita Tijoux has bid farewell to her Chilean homeland to record new music in France. Before her departure, she performed a special concert in Santiago to celebrate her 22 years in music. We use the occasion to look back at a career that has transformed the limits of hip hop artistry.
1997–2006: Makiza and the Early Years
The rapper first started making music with the Santiago hip-hop group Makiza, rising rapidly from the Santiago underground scene to release their first major label signing, the emblematic Aerolineas Makiza, in 1999. The group channelled melodic beats with charged lyrics that exposed the flaws of a country weak in its democracy, hesitant to undo the harm left by the Pinochet dictatorship. Led by Tijoux and MC Seo2, the single "La Rosa de los Vientos" draws from the band's personal journeys of being born in exile, returning to their own country to understand their identity. "Estoy orgullosa y tengo sangre indígena, Mejor por que es hermosa" (I am proud and have indigenous blood, better because it is beautiful), raps Tijoux.
At the time, the then 22-year old rapper was causing controversy through lyrics which explicitly targeted and condemned Chilean conservative groups who were heavily involved in the dictatorship, from which her family fled to France during the 1970s. "Escuchen fascistas inmorales ¡somos iguales!" (Listen immoral fascists, we are all equal), she spits on the album's second single, "En Paro".
When Makiza separated in 2000, Tijoux spent time between Chile and her birthland France, where she worked on a few collaborations and solo efforts, before rejoining Makiza again in 2004. The band released a remastered version of their first EP Vidas Salvaje, before completing their final album, Casino Royale, in 2005. After, they permanently disbanded, citing musical differences.
Tijoux went on to reach a more mainstream audience in Latin America through a hit collaboration with Mexican artist Julieta Venegas in 2007, "Eres Para Mi".
2007-2010: Kaos to 1977
Difficulties with her record label during the recording of her first solo album meant that it never was released to the public, so Tijoux changed labels and started over. Kaos saw Tijoux take advantage of her artistic freedom, editing and experimenting with more upbeat, poppier styles, like "Gol", and also enter into slower songs, such as "A Veces", featuring fellow Chilean rapper Hortodoj.
Her 2009 album 1977 received both national and international acclaim and is now considered her break out record. Talking to Chilean newspaper El Mercurio, Tijoux said "Unlike Kaos, I feel this album is very rap" citing the golden age of rap as a core influence, "…rap from '93 to '95.. I never get tired of it. " The album explores personal themes of identity and upbringing, captured perfectly in the title track, in which Tijoux charts her life right from the year she was born, in 1977. The song was famously touted by Radiohead frontman Thom Yorke, while NPR included it in their list The 200 Greatest Songs By 21st Century Women+, who praised "…her raw, evocative lyrics (that) pair powerfully with explosive jazz and Spanish guitar-infused hip hop."
In 2011, the song was featured on Breaking Bad, and remains one of Tijoux's most well-known hits.
2011: La Bala
La Bala saw Tijoux return to the socio-political themes she touched on in Makiza, yet her lyrics evolve from a raw accusatory directness to an informed sense of knowing. Here we see Tijoux enter as a voice to be heard, and a voice that is heard. This sense of seniority is also mirrored in the style of the music, which amplifies her topics. "Sacar la Voz" is reflective and poignant, while the title track is led by militant beats, enforcing the songs outcry against the violent oppression instilled by armed states.
"Shock" references Naomi Klein's book The Shock Doctrine, which argues that capitalism is rooted in the exploitation of workers, examining the implementation of free market policies during Pinochet's dictatorship as an example. In the video, Tijoux highlights the Chilean Student Movement (a series of ongoing protests which began in 2011, called the Chilean Winter) to show how young people are marching in defiance of an unjust, privatised education system. The song became an anthem of the movement.
2014: Vengo
Tijoux continued a socio-political commentary on her fourth album, Vengo, incorporating strident brass sounds mixed with Andean influences to form an epic musical tribute to Latin America. A simple melodic pan flute opens the record's title track, which is added to by Tijoux's verses, then underscored by a bold and triumphant brass. The buildup is masterful, in seconds alone the elective tone of the album is set; a fusion of jazz and hip hop beats, guided by Andean flute melodies. Tijoux references Eduardo Galeano, "Con el manojo lleno y las venas abiertas", celebrating the origins of the region.
This theme is more defiantly explored in "Somos Sur", a call to arms against the power hierarchy imposed by the West, featuring an Arabic verse by Palestinian MC Shadia Mansour. "Fuera yanquis de América latina, franceses, ingleses y holandeses / yo te quiero libre Palestina." (Get the Yankees out of Latin America, and the French, English and Dutch / I want you free, Palestine) Tijoux raps, over frenzied horns. "'Somos Sur' is about the importance of resistance, not only in Chile, but around the world," Tijoux told Rolling Stone. "We are asking for a free Palestine just like we're asking for an independent Wallmapu in Chile, without police control."
In retaliation to femicide and abuse cases, Tijoux wrote a song to soundtrack the fight for women's safety and respect, "Antipatriarca", "Tu no me vas someter, tu no me vas a golpear, Tu no me vas a silenciar, tu no me vas a callar" (You are not going to dominate me, you are not going to hit me / you are not going to silence me, you are not going to get me to shut up) she chants on the chorus, while the video sees women around the globe speaking the lyrics. She performed the song at Santiago's 2019 Women's March.
2016: "Calaveritas", "Luchin"
After taking a few years out, Tijoux released "Calaveritas", a non-rap song which stylistically resembles a mix of Peruvian ballads and Mexican boleras, featuring Mexican cumbia accordionist Celso Piña. She continues to explore the diverse sounds of Latin America, as she did on Vengo, yet also demonstrates the versatility of her own style. The song reflects a very Latin philosophy of death, that it ultimately says a lot about life, as explained by Tijoux herself: "Calaveritas is an homage to those who've passed away, a song that tells us that our loved ones are never really gone, that they live with us in both our happiest moments and accompany us in the saddest of times."
A few months later, Tijoux released a cover of Victor Jara's "Luchin". Originally guitar and Jara's voice, Tijoux adds new depth to it through orchestral arrangements, while remaining true to the storytelling poignancy of Jara's acoustic original. The song is about Luchin, a boy from a poblacion neighborhood, who is innocent and hopeful for a better future. At the time of its release, Tijoux commented that the song was just as relevant today as it was when it was released forty years ago. It was released to mark the 43rd anniversary of Chile's golpe del estado, days after which Jara was captured and murdered.
2018: "Roja y Negro"
Tijoux continued to explore genres outside of her rap roots, forming a side group called Roja y Negro. The band played stripped-back acoustic songs that incorporated sounds from bolero, tango, and folk. "From my earliest years, I took inspiration for my lyrics from singer-songwriters such as Chico Buarque, Violeta Parra, Victor Jara, Mercedes Sosa – revolutionaries with an acoustic guitar," she said in a statement. The first single of the album was called "Tinta Roja", featuring Mexican songstress and producer Lila Downs.
2019: …
Tijoux said goodbye to her homeland Chile, marking the occasion with a special concert that celebrated her 22 years in music, playing a selection of tracks that spanned her career. She is now moving to her birth land in France to continue to make music, stating that she needed to get out of her Chilean comfort zone and see where her creativity takes her further afield.
If we know anything from looking back at her 22 years in music, it is sure to be different, inspired, and with resolute purpose.

Follow Sounds and Colours: Facebook / Twitter / Instagram / Mixcloud / Soundcloud / Bandcamp

Subscribe to the Sounds and Colours Newsletter for regular updates, news and competitions bringing the best of Latin American culture direct to your Inbox.
Share: