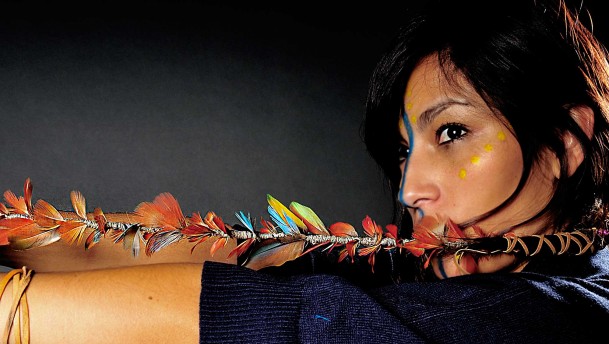 What It Is To Be South American Today: An Interview with Ana Tijoux
24 March, 2014
Ana Tijoux, whose new album Vengo has just been released to wide acclaim (read S&C's review here), recently took time out from her busy schedule at the SXSW Festival in Austin, Texas to speak exclusively to Sounds and Colours about Vengo, the social importance of music, and the new government in her native Chile. This is what she had to say:
Hi, Ana. Where are you currently? What are you doing?
We're in Austin in Texas, here at the (SXSW) festival, where we're presenting the new album.
Is it your first time at the festival? How are you finding it?
No, I was here in 2010. It's good, there's a lot to see, lots going on.
Your new album is called Vengo. Why did you choose this name?
I wanted something simple but affirmative which reflected the tone of the record. It's like a form of self-expression. Not just a personal one, but a Latin American one as well.
Where was the album recorded? How did you find the process?
It was recorded in Chile, in Santiago, with different local musicians, and then mixed in Detroit. It was a pretty intense process. The songs are all new, written especially for the record, so creatively there was a lot going on.
This is your fourth solo album. How do you feel it differs from your previous work?
I'd say that the new record is more representative of what it is to be South American today, in style and content. I wanted to make a record with more of a natural feel.
Although it is clearly a hip hop and dance album, the South American essence is evident in, for example, the lyrics to songs like 'Vengo' and 'Somos Sur' while traditional Andean instruments are a common feature. What is the importance of your music reflecting your roots? Was this a key aspect of making Vengo?
It was definitely a big part of the album, something I hadn't done before for whatever reason, which perhaps I had wanted to but didn't feel it was the right moment. This time, we dared to do something different, to reflect something that is very important. It was the right thing to do, and it worked well.
Your music often carries political messages, in songs such as 'Shock' (Chilean student protest movement) and 'No al TPP' (Trans-Pacific Partnership). Is music an effective means of expressing dissent or representing alternative viewpoints?
Yeah, for sure. As a means of saying something, music has a lot of force because it is a means of connecting with people who you might not reach otherwise.
Chile has a long tradition of protest music. Do you see yourself as following in the footsteps of the likes of socially-aware folk singers like Violeta Parra and Victor Jara, even though your music is very different in style?
I think that, for Chilean musicians, there is always that sense. Victor influences all of us, his legacy has had a profound impact on Chilean music, pushing it as a social force and providing a voice for the marginalised.
Do you think modern musicians have a duty to address social issues?
It's not for me to say that musicians have a duty. I mean, what works for one person doesn't necessarily for another. It is important to me personally but I can't speak for other people. But I don't understand people who are not interested in political issues which affect everybody.
Chile has a new president in Michelle Bachelet. What do you think this means for the country? Are you optimistic about Bachelet's second presidency?
Not at all. La Concertación (Bachelet's party) were in power before and there was still repression and suffering. I don't know if they think we'll all look at it as something new but we all remember what things were like before.
Back to music, and one of our favourite things you've done in recent times was the collaboration with Ondatrópica on 'Suena', another tune which addressed Latin American unity. Are you planning to work with any other musicians or is there anyone you would particularly like to work with?
I don't want to say that there are any particular musicians who I want to work with because I think it's important to focus on what's going on now. The new album is the priority so for now there are no plans to collaborate with anyone. Something could happen later on.
As a South American musician, how do you find performing in places like Europe and the US? Are people as receptive to your music as in South American countries?
There's a growing curiosity in those places. I don't know if you could say it's as receptive but people are definitely more interested than before. It's always good to play in different places and to new crowds, to be able to share your message with new audiences.
Do you think contemporary South American music receives the recognition it should?
It still lacks recognition in a lot of places but, as I said, people seem to getting more interested in what's going on, and of course there are a lot of excellent musicians coming out of South America. But does it get the recognition it deserves? Generally not.
What are your plans for this year?
Promote the album. We'll be focusing a lot on Latin America as it's where we're from, but hopefully we'll also be visiting other places.
Are you going to play in London?
We want to! Why don't you invite us?
We'd love to. Ana, thanks very much for your time. It's been a pleasure. Good luck with the album.
Thanks a lot. Take care. Bye!
Vengo is available from iTunes and Amazon

Follow Sounds and Colours: Facebook / Twitter / Instagram / Mixcloud / Soundcloud / Bandcamp

Subscribe to the Sounds and Colours Newsletter for regular updates, news and competitions bringing the best of Latin American culture direct to your Inbox.
Share: