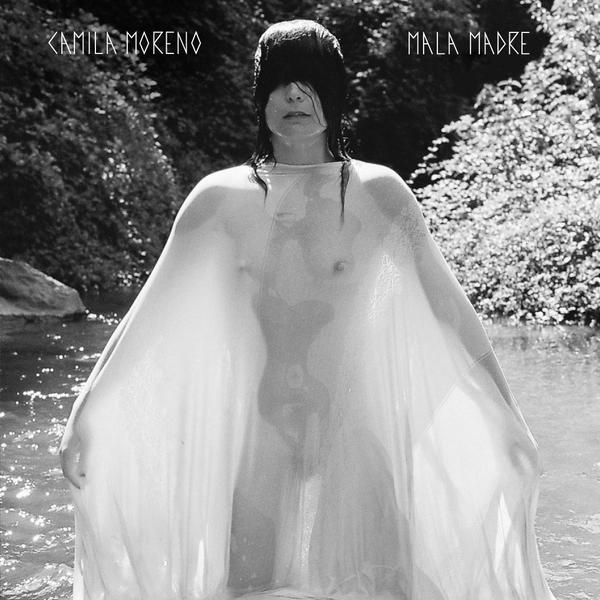 Review
Camila Moreno – Mala Madre
If John Everett Millais' Ophelia was left in the swamp to drown with her clothes on, Camila Moreno's zombie-sirena will stand up from the water unscathed and uncensored, determined to haunt the world with her songs and evolving artistry. This is the visual rhetoric that introduces the Chilean cantautora's fourth studio album, Mala Madre, released June 4th.
The theme of drowning, or resisting to drown, is present throughout the album, with tracks that at times sound quite literally submerged in water, and through other imagery such as the soaked Caperucita Roja in "Sin Mí". But Moreno's voice against the current is stronger than ever and insists: the one-dimensional caricatures of the benign and innocent female have got to go.
While previously her reputation was associated with 'la nueva-Nueva Canción' in Chile and renewing the legacy of folk matriarch Violeta Parra, the 29-year-old artist is quick to demonstrate that her repertoire extends beyond traditional strings, and passionately vocalizes her interests in trip-hop and anti-genre experimentation.
Mala Madre redefines certain familiar elements of Moreno's past work with increasingly extroverted style. The powerful environmental and feminist discourse she has made herself known for, since the live broadcast of her song "Millones" was inexplicably blacked out in 2010 on Chilevisión, continues to resonate confidently. Like in Panal (2013), the chirps of birds and rustling of leaves can still be heard between the tracks, due to Moreno's preference for recording outdoors in innovative, ad-hoc studios. Even the album's title itself, a play between the grassy houseplant and the more obvious interpretation, is a clever crossroads of Moreno's thematic territory. She continues lyrically throwing her middle finger to social expectations of beauty, poise, rampant consumerism and man-made destruction over beats that are increasingly textural and collaborative.
Her musical partnership with co-producer Tomás Preuss (Prehistöricos) continues to bear fruit rhythmically and can certainly be heard in the head-rocking bass line and percussion of the opening track "Tu Mama Te Mató." The electronic soundscape of "Esta Noche O Nunca" is reminiscent of the ambiental aesthetic from Moreno and Preuss's lesser-known project Carmelitus, circa 2008. Moreno widened her sound on Mala Madre additionally by inviting numerous percussionists from Chile's neo-psychedelic scene, looping in Matías Mardones, Gabriel Holzapfel and Lego Mustache from Astro.
Moreno herself most intensely shines through around the middle of the album. Following the single "Libres y Estupidos," which already made noise for deftly blending charango with high-energy snares and fuzz, "Maquinas Sin Dios" works the same magic by mixing a very Andean string intro with a synth rhythm Thom Yorke would dance to á la "Lotus Flower", while lamenting the systemic evils of the violently industrial modern world along the way. This is followed up by the deep pulsing tones of "Piedad" that, despite the title, is oh-so sultry.
Her venture into keys and pedals drives her tendency for emotional intensity even deeper, giving her melancholic tracks an edge that's more cathartic than dejected. There's "Bathory", perhaps alluding to the sixteenth-century "Blood Countess" but also exploring the shame and violence women have historically endured since the days of witch-hunts, a topic Moreno has referenced in interviews leading up to the album (the lyrics ask, "te da asco la sangre?"). The album closes with "Todo," which, despite certain wintry apocalypse and the enormous loss that the tremble in her voice seem to signal, finds Moreno and her sound resilient to both the weather and the critics.
Mala Madre is available at Portaldisc and potentially other outlets later this year. The album will launch in concert at Teatro Cariola in Santiago, August 7th.

Follow Sounds and Colours: Facebook / Twitter / Instagram / Mixcloud / Soundcloud / Bandcamp

Subscribe to the Sounds and Colours Newsletter for regular updates, news and competitions bringing the best of Latin American culture direct to your Inbox.
Share: