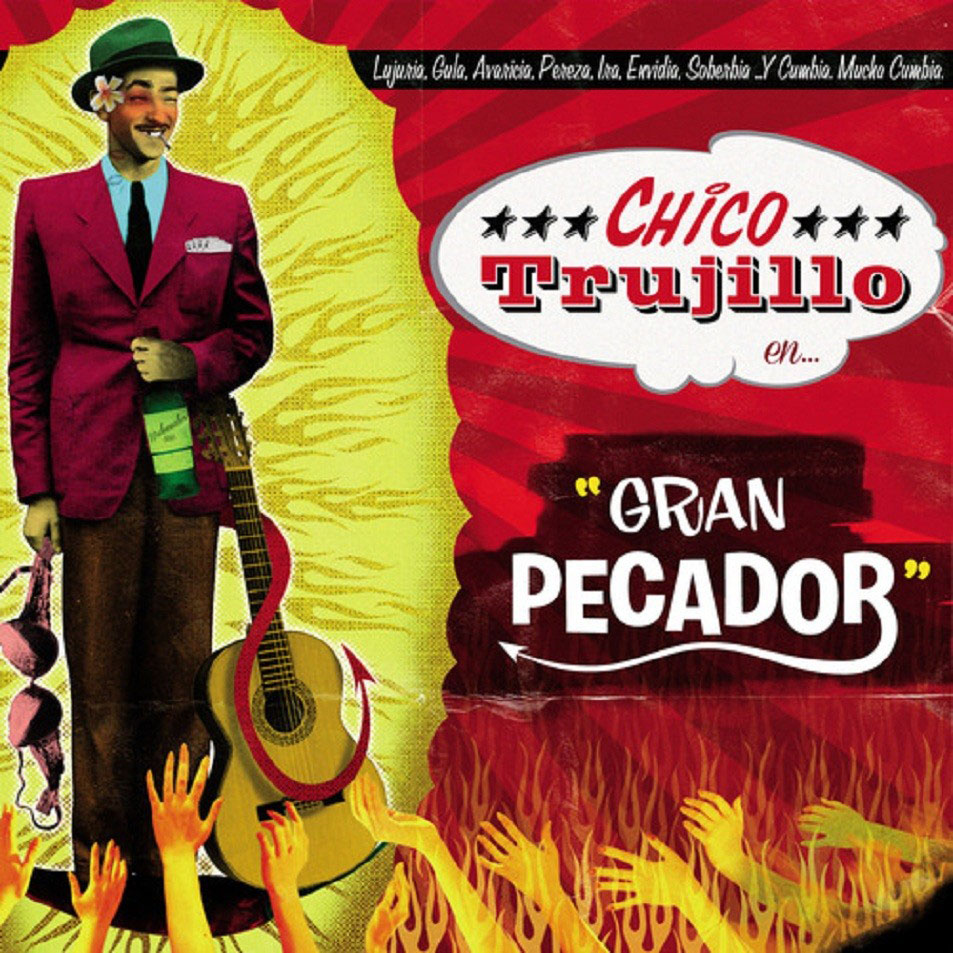 Sometimes I feel as if Chico Trujillo were a band born to alleviate the current lack of troubadours in contemporary Latin American music. This is not to say that there aren't (hip hop, cumbia and folk artists have been providing some of the best storytelling these days) yet, there aren't many that take the game as far as Chico Trujillo does. Every song on Gran Pecador feels like the story of everyone's life; full of intense moments of happiness, sadness, pesky neighbours, celebrations, love, lust and lots of struggle. There is not a dull moment for these guys (nor an opportunity lost), as Gran Pecador is a tour of epic proportions, not just through the stories that make up the fabric of a country, but also through the canon of Latin American popular music of yesteryear.
The record begins with the incredibly Balkan "Caleta Vargas", a sinister sounding track with a psychedelic guitar twang, mixed with some rumba cubana. The percussion on this song (and on the whole record, in my opinion) is the work of masters, as it expertly carries the track along with a pulsing bass line composed to get under your skin. It's reminiscent of "Black Magic Woman"-era Santana and a little bit of the mysteriousness of "A Ritmo de Tambó" by Monterrey's La Tropa Vallenata. Yet, it always sounds fresh and upbeat. Gran Pecador only gets more raucous from here, so you're in for a ride.
"Así Es Que Vivo Yo (Sigue La Fiesta)" and "La Banda de Mi Vecino" are the real party starters, both foregoing the typical cumbia rythmic base. In "Así Es Que Vivo Yo (Sigue La Fiesta)", the guys from Chico Trujillo re-purpose a Chilean polka beat and blend it with the more bombastic ska horns and guitars. It's an anthem made for the sing-along; a song about partying and surviving, with the "party" part not being used as a diversion from more important matters, but as an inevitable way of dealing with things. "Porque al final, la vida se nos va", sings Aldo Asenjo. In contrast, "La Banda de Mi Vecino" is a hilariously told tale about a family of musicians, "siempre dele que dele" with their instruments. This track is a cumbia/Cuban bolero/cha-cha-cha mashup, which is most certainly wicked fun to dance to.
Chico Trujillo is a bonafide orchestra, and that's what makes their music so fun and so challenging. They manage to cram a great deal of genres and style into a handful of songs and make them incredibly unique and uplifting, but that's what great musicianship is all about. There's no categorizing for Chico Trujillo. "Gran Pecador", the song that baptized the record, features Brazilian batucada drumming; "Se Baila o No Se Baila" is a straight up ranchera; while "Linda Secretaria" and "Negra Santa" are guided by the salsa clave. They remind me of the grand orchestras of the 50s and 60s in Cuba and Puerto Rico, with that inevitable rock and roll twist. Also, watch out for the ingenious call-and-response techniques the band uses throughout the record; a dream for any jazz lovers out there.
Aside from a lot of tropicália, they never forget their roots, finishing the album with a cover of the Nueva Canción classic, "La Fiesta de San Benito", originally sung by Inti Illimani. The legendary band is featured in the track, which gives us a perfect ending to a flawless record. Other guest stars include Sonero Palacios in the fabulous "Negra Santa", Banda Conmoción in "Gran Pecador" and Violeta Parra's son, Ángel Parra, in the opening track, "Caleta Vargas."
There is not much left to say except that, with Gran Pecador, Chico Trujillo invites us to their never ending block party; one that is, by all means, the crucial part of a ten year rebellion that has never fallen prey to nostalgia. It's a celebration of the complexity of life, and the best survival skill, as the band shows us, is to dance and sing along 'til we are no more.
Gran Pecador is released in North America by Barbés Records. It is available via Amazon and iTunes

Follow Sounds and Colours: Facebook / Twitter / Instagram / Mixcloud / Soundcloud / Bandcamp

Subscribe to the Sounds and Colours Newsletter for regular updates, news and competitions bringing the best of Latin American culture direct to your Inbox.
Share: