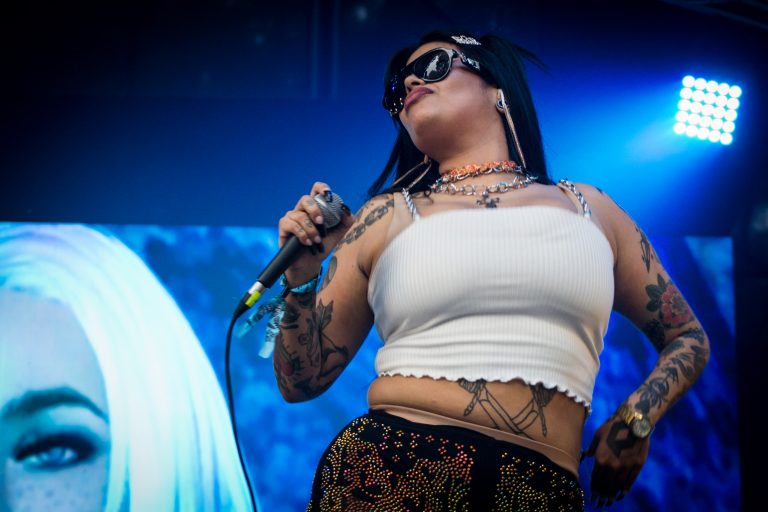 Carla Granifo
Chile Proves It's The New Face of Urban At Lollapalooza
12 April, 2019
Chile's biggest festival showcased the country's rising urban scene, with iconic performances by some of the country's rapidly rising young stars.
Now in its 8th year, Lollapalooza Chile is an important platform to showcase the local music scene, providing a valuable overview of how the country's musical output is growing and shifting. Reflecting Santiago's newfound position as a hub of an underground trap movement, 2019 was distinctly marked by young, rapidly rising urban artists.
Drefquila performed to a young and enthusiastic crowd at one of the festival's opening slots on Friday.  The 21-year old trap star already has a huge local following, having produced music for five years, simultaneously making a name for himself by conquering freestyle rap events. He released his first studio album, Aqua, last year. His strong presence in the national music scene is seen through the reception that the Lollapalooza crowd had with him. The response grew even more rapturous when he invited Cease on stage to perform their hit collaboration, "Damelo".
Dubbed the 'Principe de trap Chileno', Gianluca's early Saturday set showed his growing versatility as a trap star, including performances of his earlier, lament-laden pop efforts, "Bart", "Amor Platonico" and "Siempre Triste", to his latest single, "Sismo", a darker track driven by menacing percussion. The eclectic mix between the grit of his new music coupled with the freshness of his previous work (plus guest performances by Princesa Alba and Pablo Chill-E), truly attested to his solid presence on Santiago's urban scene. Gianluca can no longer be solely associated with the city's underground, he's already risen well past it.
Later in the afternoon, Tomasa del Real [pictured at top of page] truly started the party, explosively opening with her hit song "Barre con el Pelo". Credited for pioneering a new kind of reggaeton, the Antofagasta-born neoperrea's set was pleasantly brash and unrepentantly original. She invited Cease to the stage for "Prenderlo", and continued to push the tempo throughout the set. The result was a frenzied, sense-numbing ride, she's the type of artist that thrives when faced with a festival crowd, and will no doubt stun at her Coachella debut later this month.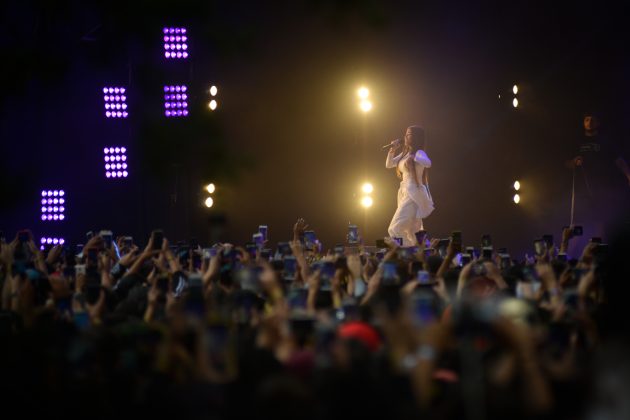 Paloma Mami (photo by Carla Granifo)
It's hard to believe that this time last year Paloma Mami was unheard of. She entered a Chilean talent contest last June, only to leave it due to the unjust treatment she received on the show. Shortly after her departure, she released her hit single "Not Steady", signed to Sony, and since then she's released two more singles, "No Te Enamores De Mi" and "Fingías". The poise and polish of her R&B infused trap has been hugely popular in Chile, making her the country's most listened to Chilean artist on Spotify, surpassing Mon Laferte. Despite the heights of her fame, the 19-year-old star has yet to perform a full headline show, with only a few live performances to her name, meaning Saturday's 19-minute Lollapalooza set was highly anticipated. The small stage was far too restrictive for the number of people that flocked to see her, an estimated crowd of 12,000 in a space for 6,000. Audibly nervous, she performed her three singles plus "Don't Talk About Me", a song which has yet to be officially released. In the audience, her slip up on the lyrics of "No Te Enamores…", was not noticeable – the crowd's singing was louder than the singer herself. If anything, the set demonstrated the huge star power Paloma Mami has, undoubtedly proving that the next urban megastar is here – and she's come straight out of Chile's potent trap scene.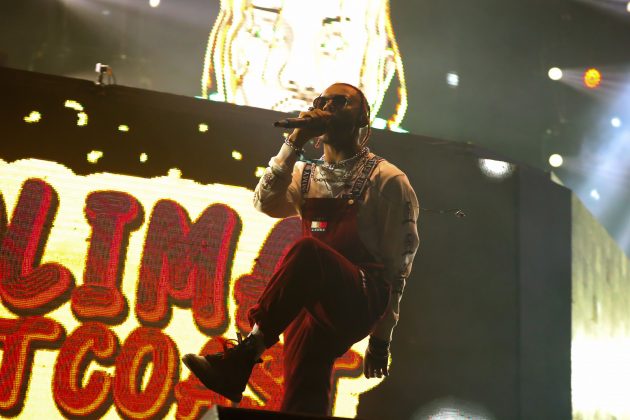 Polimá Westcoast (photo by Ramiro Gonzalez)
"El trap Chileno va ser cultura", said Polimá Westcoast during his Sunday slot, performing at the indoor Perry's stage to a packed venue. Polimá crafts his sound from a range of influences varying from 90s punk to modern rap styles – his incorporation of guitar riffs and acoustic styles make his live act more akin to a band performance than a solo show. Pablo Chill-E joined the stage for an epic rendition of "My Blood", the thousands of people jumping seeming to visibly shake the structures of the venue itself.
The moment was fittingly symbolic of all the urban performances at Lollapalooza 2019, showing that if any genre is trampling down boundaries right now in Chile, this one is. These young artists are bulldozing any limits they face. It's inevitable they'll soon tear down national borders to dominate internationally. From underground to mainstream, from Chile, to the world.

Follow Sounds and Colours: Facebook / Twitter / Instagram / Mixcloud / Soundcloud / Bandcamp

Subscribe to the Sounds and Colours Newsletter for regular updates, news and competitions bringing the best of Latin American culture direct to your Inbox.
Share: