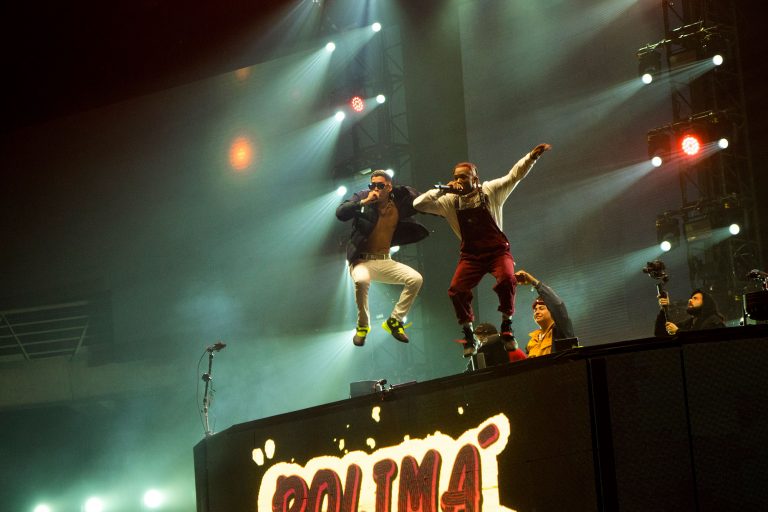 10 Tracks To Discover Santiago's Urban Contemporary Scene
02 April, 2019
Like a snowball speeding down the Andes, Santiago's underground urban scene is growing at an astonishing rate with millions of YouTube views and packed club nights, pushing many of the artists into receiving mainstream local media recognition.
This past weekend in Chile was all about Lollapalooza on social media and digital platforms, but what especially caught the eye of the unaware, was the strong convening power that this street movement has on the younger audiences. Gianluca, Drefquila and Polimá Westcoast pushed their crowds to the limit of the stage's capacities.
Internationally, Chilean urban music is also starting to make waves, with the alternative reggaeton singer, Tomasa Del Real, from Iquique in the north of the country, hitting Coachella this year and New York-born Chilean descendant Paloma Mami collaborating with Puerto Rico's DJ Luian and C Tangana.
For a developing scene that still has a lot more to offer, it's crazy how many iconic tracks there are already, with many that we had to leave aside to make this selection of 10 picks, all to give you a soundtrack for navigating Santiago's streets.
Polimá Westcoast ft. Pablo Chill-E – My Blood
A song that was a Latin trap classic before it even got released, this one's lyrics have also become something of a meme. African descendant Polimá Westcoast's high-pitched tone contrasts perfectly with the strictly street flow from Pablo Chill-E and the Andean sample of the beat.
RVYO ft. Nano Cortes – Ojitos
With a project that is rooted in hip-hop, but with a vision that looks forward to the future, the "Niña Rayo" is building her own style. "Ojitos" fuses eclectic gypsy elements with contemporary music production to make a straight-up seduction song, featuring Spain's Nano Cortes.
Yih Capsule & Tombe – SUBE
Yih is Santiago's best kept secret, though her talent cannot be hidden. Experienced and fluid between projects that mix trip hop, alternative soul and even house music, she has continually developed her musical references, making all genres sound like her own.
Gianluca ft. Orodembow – Amor Platónico
Recently signed to Gepe's former label Quemasucabeza, Gianluca uses his indie pop sensibility to make trap and dembow accessible to alternative crowds, while also gaining street respect for collaborating with Pablo Chill-E on his first single for the label. On "Amor Platónico" from G-Love Mixtape there are guest verses from Argentinean Orodembow.
Young Cister – Algo De Ti
Proficient in hard trap, Young Cister has always managed to open his heart up to dramatic sad reggaeton songs. "Algo De Ti" is a great example, it's both very danceable and very nostalgic with lyrics about not letting go of a lost love.
Princesa Alba ft. Gianluca – Summer Love
Princesa Alba first hit the street with a song full of humour, making it hard for some to see how serious she was about entering the scene. Then with Del Cielo Mixtape she made her statement more clear, and with "Summer Love", alongside long time collaborator Gianluca, she also got a hit under her belt.
Ceaese ft. Drefquila – Dámelo
Being one of the first Santiago rappers to embrace trap as a weapon of choice, Ceaese is also very versatile, using future dembow beats to bang the clubs. This massive collaboration with Drefquila, the first Chilean trap singers to sign to a major label, is a smooth reggaeton that also broke boundaries with its video depicting sexual inclusiveness.
Catana x Ea$yKid – Vueltas
A habitual face in Santiago's urban scene, Catana and her Qween C mixtape marked a before and after when thinking of the role of female emcees in both rap and trap worlds, where she has been moving seamlessly between, gaining fans in both worlds.
Kevin Martes 13 x Jonakapazio x Fran C x Mala Lexe – Perigoso
The late great Kevin Martes 13, dead at 17 years old, left behind a heavy doze of street anthems, and a legacy carried by his crew Desafío Music, that continued dropping hot material like their latest EP alongside Shishi Gang, Desafío Shishi.
Pablo Chill-E x El Futuro Fuera De Orbita – Flyte
The people's champ of trap music, Pablo Chill-E has been collaborating internationally with the likes of Yung Beef (Spain), Duki and an unreleased work with Fidel Nadal (Argentina), Sou El Flotador from Puerto Rico, and in "Flyte" with the New York-based Dominican El Futuro Fuera De Orbita, for a dembow banger.

Follow Sounds and Colours: Facebook / Twitter / Instagram / Mixcloud / Soundcloud / Bandcamp

Subscribe to the Sounds and Colours Newsletter for regular updates, news and competitions bringing the best of Latin American culture direct to your Inbox.
Share: