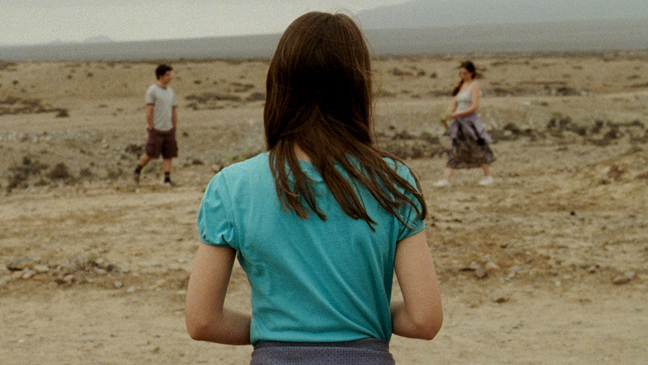 Chilean Cinema Continues to Shine at the Valdivia International Film Festival
15 October, 2012
With its coastal breezes, gentle rivers and verdant greenery, the city of Valdivia in southern Chile makes a very pleasant location for the country's most important film festival. The Valdivia International Film Festival happens each year in early October, and has firmly established itself as a key fixture in the regional calendar, awarding prizes in national and international sections for best film and best short film, and providing a look at some of Latin America's brightest emerging talent. There are also numerous figures of international renown featured in the billing, yet the festival maintains a low-key charm that befits its focus on independent cinema, thanks in part to its mellow surroundings and the small size of the place. The weather may be unpredictable down here in the spring but the festival is always a fascinating week of film in one of Chile's nicest cities.
Other than the festival, Valdivia has a couple of other claims to fame. During colonial times it was, along with the island of Chiloé, one of the two southernmost outcrops of the Spanish empire, which never came to control the icy wildernesses of the continent's extreme south. Its strategic importance was emphasised by the numerous forts that defended the city from the sea and made it one of the empire's most heavily fortified colonies. Latter day history is dominated by its devastation in 1960 in the most powerful earthquake ever recorded, a monstrous 9.5 on the Richter scale, which drastically altered the landscape and left thousands dead. These days life in Valdivia moves by at a leisurely pace, its rivers home to birds and grunting flabby sea lions who moved in generations ago, but it serves to remember that this is a land where the tranquillity can be violently shattered at any moment.
But apart from some rain, nature generally left the festival and its attendees to enjoy this year's crop of films. The festival began life in 1993 to celebrate the longevity of the film club at the Austral University, located on the city's Teja Island and which for the six day 2012 event provided two of the venues for screenings. The university's main campus on the river island offers a leafy and sedate backdrop to the festival and is much more agreeable than the modern mall in the city centre whose multiplex cinema is also used. The other main venue is the town hall, with an outdoor screen also allowing for some open air riverside viewing on certain nights.
It all made for a nice vibe of wandering around the city centre throughout the day and catching as many films as possible, with breaks for seafood and the famous Valdivian beer, a legacy of the region's high German immigration over a century ago. Highly anticipated were the films in the national category, with seven Chilean feature films vying for the main prize. The winner was Donde Vuelan Los Condores (Where The Condors Fly), directed by Carlos Klein, a documentary that is in itself a study of filmmaking as Klein follows Russian director Victor Kossakovsky during the filming of globe-spanning doc ¡Vivan Las Antípodas! and captures the full range of emotional energy and Herzogian eccentricities expended in the process. An original and analytical film, this raises the intriguing possibility of filmmakers following each other in a chain spawned by one production, with the guy filming the guy who's filming the guy ad infinitum.
Also picking up a good reception was Elisa Eliash's Aquí Estoy, Aquí No (Here I am, Here I'm Not), set in Santiago. The story centres on a fat, depressed journalist and his affinity with the female Chilean rock star that he is profiling for a new book, only to realise that she is just as spiritually lost and empty as he is. They embark on a friendship rooted in a shared Burger King addiction, and this entertaining film unfurls in scenes of daily life spliced with garish colours and dream-like visions, managing to be both humorous and melancholy.
La Chupilca del Diablo (The Devil's Chupilca) was another popular Chilean film, winning the Jury Prize in the national competition, in which an old man confronts his imminent death and seeks to set things straight in both family and business matters while he's still around. The title of Ignacio Rodriguez's film comes from the noxious mixture of gunpowder and aguardiente prepared by Chilean soldiers in the late-nineteenth century War of The Pacific with Peru that sent them berserk into battle. It's a title at odds with the film's simple, understated tone and its emphasis on mortality and kinship. Hopefully these films will find the necessary distribution required to release them on the international market, as they are each marked by strong direction, production and acting that is a feature of so much independent Latin American cinema these days, and as such merit a wider and more diverse audience.
The international competition hosted some thoroughly compelling cinema and was won, perhaps unsurprisingly, by a Chilean film, Dominga Sotomayor's De Jueves a Domingo (Thursday till Sunday). This had been one of the favourites following a host of awards at other international festivals in 2012, and its gently unwinding narrative is adorned with striking cinematography of Chile's arid north. The film is presented through the viewpoint of eleven-year old Lucia, as she embarks with her parents and younger brother on a road trip in the old family car, and bears witness to the marital strife that besets her parents. It is a relationship that mirrors the dry and desolate terrain through which they pass, while Lucia constantly observes and interprets situations through her child's eyes. The characters are entirely believable as any typical middle class family, the actors performing their roles with adroit subtlety, and the film glows in a radiant charm and warmth that is evident throughout in spite of mum and dad's frosty relationship.
Taking home the Public Prize in the international section was El Bella Vista (The Beautiful View), a Uruguayan film centred on a clubhouse that belongs to the local football team in a small village of aging residents and conservative values, before coming into the hands of a Madame who converts it into a transvestite brothel and sets all manner of cat loose amongst the pigeons. A battle for control ensues that sees this lowly brick edifice become a potent symbol for both sides as they seek to assert their identity in the face of a perceived threat to their way of life. Much of Alicia Cano's film is light-hearted in nature but there is a serious side as well: namely what happens when traditional values come into direct conflict with modern notions of personal freedom and self-expression.
Of the other films in the international section, there were some other very popular contenders representing Latin America. Fernando Guzzoni's Carne de Perro (Dogmeat) places as its central character one of Pinochet's torturers who searches for purpose in an existence that is weighed down by the brutality of the past. Fogo is a Mexican production from Yulene Olaizola which takes its title from a barren and isolated Canadian island and its deteriorating community that sees only a few souls remain, clinging on to memories of happier times. Its fly-on-the-wall format is supplemented by arresting imagery of unforgiving yet beautiful landscapes. The Jury Prize went to Matías Piñeiro's Viola, an Argentinian film about Shakespeare and friendship which, for those who aren't fans of the bard, is unlikely to provoke a riot.
One of the most notable aspects of many of these films was the young age of the directors, with several presenting their debut full-length feature or coming of the back of just one or two previous works. This focus on emerging filmmakers gives the Valdivia festival a distinctly fresh content and makes it a captivating event for gaining a greater perception of the new generation of Latin American cinema. Its international stature may be hindered somewhat by Valdivia's small size in comparison with the film festivals of Buenos Aires, Mexico City or even the pretentious Santiago International Film Festival (SANFIC), yet it provides an enthralling taste of the new wave of independent film in the region. And which of these other places can boast colonies of sea lions in their city centre?
Official Site of the Valdivia International Film Festival

Follow Sounds and Colours: Facebook / Twitter / Instagram / Mixcloud / Soundcloud / Bandcamp

Subscribe to the Sounds and Colours Newsletter for regular updates, news and competitions bringing the best of Latin American culture direct to your Inbox.
Share: