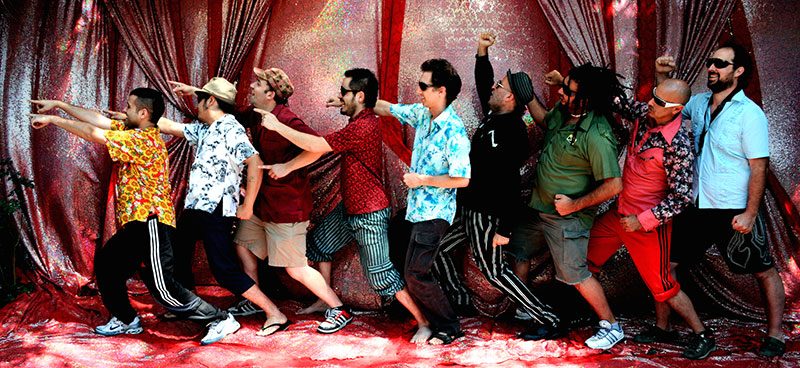 Chilean Cumbia's European Invasion: An Interview with Chico Trujillo
06 November, 2015
Chico Trujillo have just finished their 'European Revenge Tour', playing Spain, France, Germany, Netherlands, UK, Norway and Sweden. The band has toured Europe for more than a decade and has been instrumental in introducing 'New Chilean Cumbia' to European audiences. Chico Trujillo are not only innovators of the genre, they are also one of the most popular cumbia bands in Latin America. Catching them on tour in Europe offers a spectacular glimpse into the vibrant yet often overlooked Chilean music scene.
I find the band in one of the smaller cities of their tour – Groningen in the Netherlands. Trumpet player Sebastian Cabezas (pictured far left above) talks us through how the band developed their original sound from traditional roots, bringing Latin popular music to a European underground scene and what makes a Trujillo gig so special.
"Cumbia has been popular in Chile since the 60s" says Sebastian. "We grew up listening to cumbia, but the cumbia we make is so different as we also like punk rock, ska, reggae… So we are influenced by all of these genres in the music we make. But we never thought 'let's make cumbia in this way', we just made the music and it came out like this."
Cumbia is the term that the band most closely identifies with, yet it is a genre that is as old as it is varied. It is based on a simple rhythm that arrived in Colombia with African slaves during the colonial era and over time grew to be the foundation of many Latin musical styles. The band creates a unique sound, which is amassing fans not only in Latin America but also in North America and Europe. Nonetheless, outside Latin America their music is readily labelled under the broad genre of 'Latin Music'.
"We are always described as a Latin band because we use so much of the traditional music that we have grown up with, but we are also strongly influenced by rock 'n' roll. I love English rock bands: David Bowie, The Clash… We love Madness, we are fanatical about them". These influences are evident, especially when watching Sebastian on the trumpet with Luis Tabilo on trombone and Felita on saxophone performing simple choreographed moves that recall the daft fun of a Madness gig.
[soundcloud url="https://api.soundcloud.com/playlists/78667347″ params="color=ff5500&auto_play=false&hide_related=false&show_comments=true&show_user=true&show_reposts=false" width="100%" height="450″ iframe="true" /]
In Chile their music is widely popular and familiar to many. So, what is it like to play in an underground music scene in Europe? Do the audiences here have as much enthusiasm for cumbia as back in Chile? "Santiago shows are great, but even the shows here in Europe are similar in terms of the audience. We meet so much love and energy in audiences all over the world, not just in Chile. Paris had the same energy as Santiago, even though the majority of the crowd were French! The cumbia beat just makes people dance. You do not need to understand what we are saying to capture the sensation of our music. And you see in the people's faces, though they do not understand our lyrics, they understand everything that we are trying to do with out music. "
The majority of international shows attract a large local audience, but there will always be a few Chileans in attendance. In Groningen, there was a core group proudly declaring their nationality with flags and football shirts. Besides the younger generation of chilenos who are studying or working abroad, there are many Chileans who fled their country during the dictatorship and started new lives abroad. Do the band feel the excitement from Chileans in foreign countries? "They see us as a bit of their country, and of course we notice it. It is always special to play to Chileans abroad who haven't been home for a long time," says Sebastian. "Imagine, there are some Chileans in our audience who haven't been back since the dictatorship. It's so common. We meet Chileans all around the world that haven't been to Chile in over thirty years. Some Chileans who come haven't even heard of us but they see us and listen to our music and they know that we are Chileans through our music, the way we speak, and they realize we share a culture. It's a strong feeling."
Finally, I ask Sebastian what is like to play smaller towns and venues like Groningen, totally different from large crowds in Santiago or sell-out shows in Berlin and London. "We love playing in smaller towns like Groningen – we play everywhere. We play small places even in Chile, it's nice to keep the intimacy. Although, of course it is nice to play festivals; we were playing in Denmark and Prince was playing a few hundred meters from us. It was great to be able walk five minutes away from 'Pop Life' to then watch our Chilean cumbia!"

Follow Sounds and Colours: Facebook / Twitter / Instagram / Mixcloud / Soundcloud / Bandcamp

Subscribe to the Sounds and Colours Newsletter for regular updates, news and competitions bringing the best of Latin American culture direct to your Inbox.
Share: