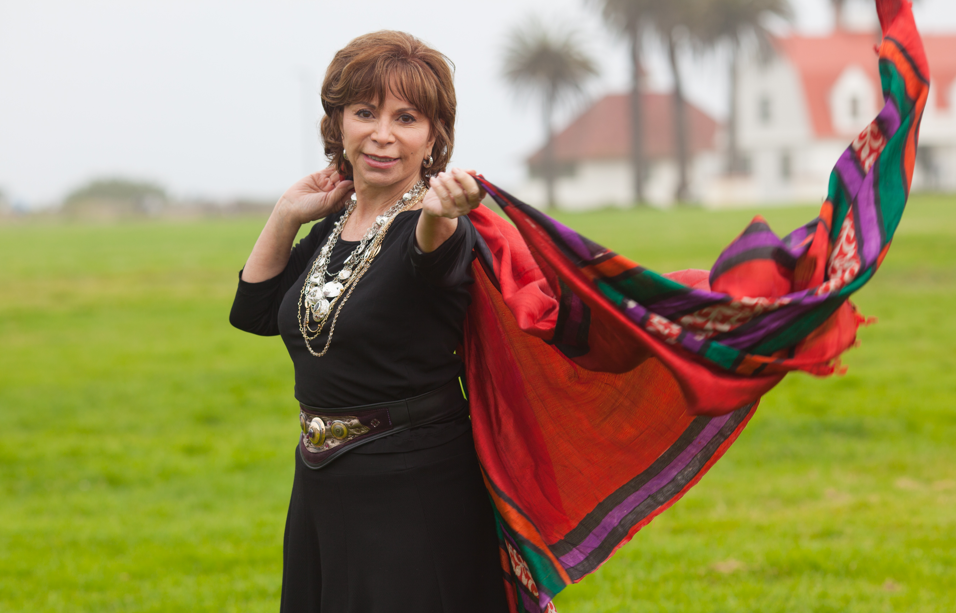 Chilean Writer Isabel Allende: A Personal Touch, A Beloved Author
17 October, 2014
When it comes to beloved Latin American novelists, Chile's Isabel Allende is always in the mix. Her first novel, The House of Spirits (1985), put her on the magical realism map in the literary world.
"She'll forever be linked to magical realism, but that would be pigeon-holing her, because her prolific literary output encompasses numerous genres, in non-fiction as well as in fiction," says Miami-based journalist, writer, and college professor, Juan Carlos Pérez-Duthie, who has interviewed Allende. "She may not always hit the mark, but she takes risks. Like with her latest book, Ripper, her first crime novel. Allende is a Hispanic American author whose work has achieved, and retained, worldwide recognition. And that's no easy feat."
So, who is Allende, and why is she considered one of the great writers of Latin America?
Allende was born on August 2, 1942, in Lima, Peru. The niece and god-daughter of Salvador Allende, the former president of Chile, she started her writing career as a journalist. (Does that career trajectory remind you of a certain Colombian author who is a giant in magical realism?)
Allende left Chile for Venezuela some months after her uncle's assassination and the overthrow of Chile's coalition government in 1973. A little more than a decade later, her first novel, The House of the Spirits, became a worldwide best-seller and gained her a ton of critical success.
The book was first conceived by Allende when she received news that her 100-year-old grandfather was dying. She began to write him a letter that ultimately became the manuscript of The House of the Spirits.
The book tells the story of the Trueba family, spanning four generations, and tracing the post-colonial social and political upheavals of Chile – though the country's name, and the names of figures closely paralleling historical ones, such as "the President" or "the Poet", are never explicitly given.
It's obvious the book was a direct result of Allende's experience living in exile, and that personal touch is what makes her widely appealing, experts say.
"Her take on the Latin American literary phenomenon of 'magical realism' has broad appeal, but her life story is also quite compelling. She's written several books about her personal life: one, Paula, is about her daughter Paula who died of a strange illness; another, The Infinite Plan, is about the life of her current (American) husband. But she's probably best known for her short stories, The Stories of Eva Luna, and her epic novel The House of the Spirits, in which she riffs on Latin American mythologies and politics," says Carl Fischer, assistant professor of Spanish at Fordham University in New York City.
Thus far, Allende has written 20 books translated into 35 languages. She has won 50 awards in more than 15 countries, and two of her books have been made into international movies. Her works continue to be adapted for movies, plays, musicals, operas, ballets and radio programs.
But today being the age of the Internet, the writer also has a website and blog (written by a friend with postings approved by Allende), and social media. As always, her musings are personal:
"My most significant achievements are not my books, but the love I share with a few people—especially my family—and the ways in which I have tried to help others," she says on her site.
"When I was young, I often felt desperate: so much pain in the world and so little I could do to alleviate it! But now I look back at my life and feel satisfied because few days went by without me at least trying to make a difference."
Allende makes a difference in a couple of ways. She has a foundation that serves to empower different girls in the United States and abroad. She's also a public speaker and has given TED talks centred on living passionately. Watch them here.
Some of Allende's other works worth checking out are: Of Love and Shadows (1987), Daughter of Fortune (1999) and Zorro (2005).

Follow Sounds and Colours: Facebook / Twitter / Instagram / Mixcloud / Soundcloud / Bandcamp

Subscribe to the Sounds and Colours Newsletter for regular updates, news and competitions bringing the best of Latin American culture direct to your Inbox.
Share: