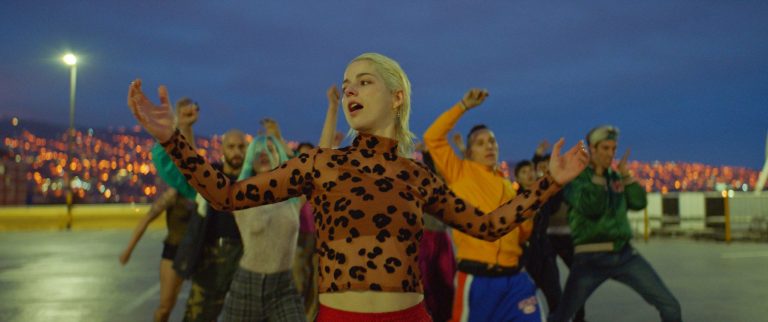 Ema
01 May, 2020
Pablo Larraín updates our concept of the modern fiction film with Ema, a feature-length showreel of modern Valparaíso through emotive dance, social commentary and one woman's wild determination.
Ema is stylistically intrepid for a feature film. Larraín has made strange, dark films like El Club and Post Mortem, and he's created popular mainstream biopics like Neruda and Jackie. But he urges you to leave plot lines and character development in the back of your mind in the aesthetic-heavy Ema, a movie of vignettes that translates Skins to mature, arty Valparaíso, and sets it on fire.
The film follows dysfunctional couple Ema, a young reggaetón dancer and teacher (Mariana Di Girolamo) and out-of-town high art choreographer Gastón (Gael García Bernal), as they work through the failures that led them to 'return' their adopted son Polo, after what reveals itself to be some strange, erratic behaviour.
Still living and working together – Ema dances in the older Gastón's 'refined' folk performances and dance-movement installations – the couple are ripping each other apart and drifting, although there is still love between them. Forever trying to blame one another, Ema and Gastón taunt each other, pick apart each other's wrongdoings and twist the other's pain exactly where it hurts. Ema, meanwhile, is quietly carrying out a master plan.
The long opening scene introduces dancers crackling in small movements beneath a scorching, fire-red sun, as part of an all-encompassing art performance that seems to have been created by the eccentric, fiery couple in an attempt to communicate.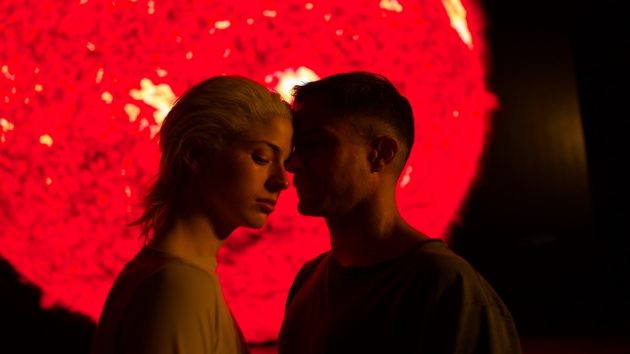 What follows are lightening-quick scenes – some no more than five-second shots stripped of dialogue, leaving ambience, context and aesthetic: Ema's dance crew smoking at the beach in the light of dawn; an aerial view of the basketball courts where the girls dance at night ablaze with multicolour neon floodlights, framed by electricity lines.
At one point, the film fully commits to its music video nature in an exciting montage. The dance troupe bounce through Valparaíso, along the night-lit port, up the colourful cobbled streets, around a fairground carousel, down the glowing subway and up the coastal cable car. The choreography is not outstanding, but this isn't the point. It's not a musical. It's not about talent or quality of dancing, but dance as necessary movement. "Keep bouncing" Ema tells the kids in her dance class, and she takes her own advice.
Guillermo Calderón and Alejandro Moreno's screenplay is honest, funny, and awkwardly liberating; the script is littered with outbursts of impulsive desire. Reggaetón gets a hilarious, vicious take-down by arty out-of-towner Gastón, in one of the longer scenes, and then a revival in the immense music-video moment with the lyrics "if my hair is real, my voice is real / if my breast is real, my shadow is real / if my hunger is real, my struggle is real". The moment bites back at cultural imperialism and the archetypal misogyny attached the genre.
Despite this feminist thread, the portrayal of Ema's female characters is questionable. Ema's dance troupe are loving, protective, traitorous, selfish, unamused and forever horny. Although they band together behind their friend, they seem to be outcasts and waifs with little concern. Ema's many sexual adventures are portrayed in one dreamlike neon montage – a reductive breathy phase, considering her inherent sensuality and sexual power. The female characters are free – sexually, physically, professionally – but at the end of the film you're left with a sense that females are no more than irrational, sex-crazed and broody.
That said, the male characters are worse. They are passive, helpless, pathetic. Bernal is hilarious as the dumbfounded loser, Gastón – impotent, literally, as Ema continuously reminds him in soft, yet scathing taunts.
The film is in fact satisfyingly shallow – its characters contradictory, careless headcases and its scenes fleeting, vain and brooding. All of Larraín's characters in the film are not only flawed, but unfailingly capricious. They are non-commital, emotional, and contradictory. No one has a plan, and everyone acts on impulse – it is at once irritating and emancipating.
But there is brilliance despite: the way characters spark one another into mindless action, the unfaltering love Ema shows throughout, managing to retain compassion in her wildest moments, and the fuel that emblazons her, that of a mother who's lost their child. Yesenia Zamudia, after losing her daughter to a femicide in Mexico, said "So what if I set things on fire, wreak havoc and raise hell in this city? … I have every right to burn down and destroy whatever I want and I'm not going to ask for anyone's permission because I'm doing it for my daughter."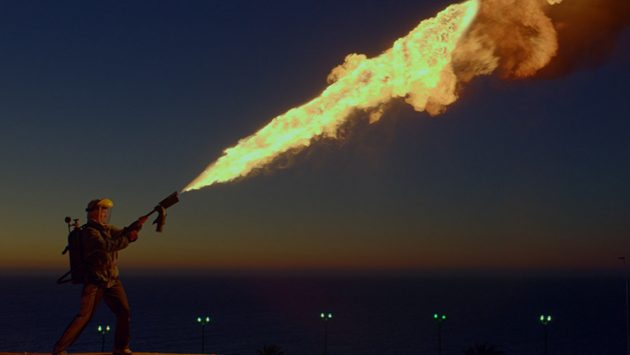 Ema is, in essence, a teenage film, where loneliness and madness culminate in glamorous, meaningless sex and colours are exaggerated and ambient. Think the kind of glamorisation of depression seen in Skins, Candy or Gaspar Noe's LOVE 3D. But Larraín has set a film in modern Chile that is not about the dictatorship. This, in itself, is notable.
Ema laughs at our capricious, contrived social conditioning and swoons at our ability to create. It presents the defiant free expression of Chile's younger generation to the perfect soundtrack: reggaeton from the streets of Valparaíso and strings and dramatic electronic production from Nicolas Jaar, elevating the plot and the emotions it draws.
Ema is free-to-watch on MUBI for everyone on 1st May via mubi.com/ema. It will then be available on MUBI for 30 days from 2nd May for all subscribers

Follow Sounds and Colours: Facebook / Twitter / Instagram / Mixcloud / Soundcloud / Bandcamp

Subscribe to the Sounds and Colours Newsletter for regular updates, news and competitions bringing the best of Latin American culture direct to your Inbox.
Share: