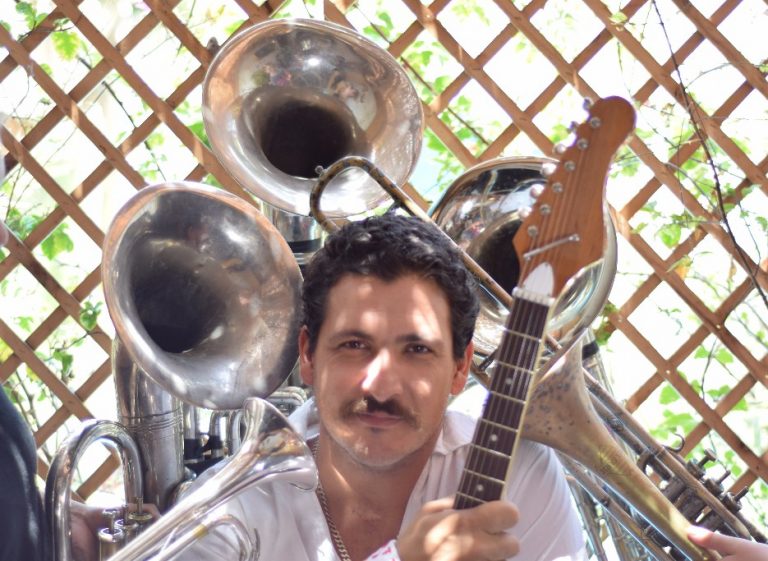 Exploring Northern Chile's Brass Band Party Music with Tambobrass' Huevo Sanhueza Zaninovic
02 December, 2019
Cristian "Huevo" Sanhueza Zaninovic is a Chilean musician and musical director, currently releasing and performing music with Tambobrass after previously founding and leading Banda Conmoción until 2014. Raised in Chile's northernmost region Tarapaca (which borders Peru and Bolivia), Cristian's musical projects take inspiration from the mountain cultures of northern Chile, fusing various sounds with those of Diablada brass marching bands – his Banda Conmoción group was well known for performing as a comparsa street band during protest marches.
You can find variations of the Diablada tradition being performed in Puno, Peru and Oruro, Bolivia with indigenous and pre-Hispanic influences, although in northern Chile the music is associated with the La Tirana festival, which happens every July 16 in La Tirana in northern Chile [watch the video below for a taster of the festival].
I spoke to Cristian about his music and his relationship to these marching band traditions from Chile's north.
What have been your aims and ambitions with Tambobrass and previously with Banda Conmoción?
I've always made and done street music, and obviously I'm from here in the north so there's all the brass band influence I have within, but I've always wanted to maintain that street performer element of the procession, and I started doing that from 1997 directing music with theatres. We would go out to perform without notice or publicity to play processions, and when we did this I saw the beauty of music not for a stage. Within this movement I began to form a street band of northern music in Santiago, performing across Chile, that was something worth developing.
We continued making music for theatres too, but with the autonomy for us and them to create what we wanted to be happy, and hope that one day we could live from the music.
Returning here to the north [with Tambobrass], there are so many feelings and family connections in this region, it's a very mysterious call. Within this mystery, in my state of rebirth, the music that has always accompanied you growing up always returns. It's an intention to create the sounds of all I've received, in a way that's ours.
How is the music and culture of here in the North different from the rest of Chile or other countries for you?
Within brass instruments is the history of all Andean music, but within ourselves there's the blood of where we come from, sounds from other places. Within this band we are all dancers as well as musicians, we're musicians who also perform in small towns of this region and dance to the music with the altiplano communities here. We'll meet in village fiestas, performing and dancing up there in the mountains.
I hear a lot of Andean influence in this music. Is that something that's stronger here in the north?
Bolivia and Peru are big musical matrices that are grand musical references here, but also the fiesta culture of Chilean mountain towns, the Tirana carnival that happens, is something I grew up with. We would always go with my grandfather to offer things to the virgin and the saints, and we'd take part with the people in communities here. With Tambobrass we do traditional dance songs from here also, but mixed with other tunes.
The Andean mountain culture shares so much, but with Amazon culture and music of Peru it's something stupidly exotic here.
What's your ultimate aims and ambitions with your musical projects, that people could take away?
I want to continue being authentic, be happy and if I could hopefully live from this with my friends, amazing.
Find out more about Tambobrass at tambobrass.cl

Follow Sounds and Colours: Facebook / Twitter / Instagram / Mixcloud / Soundcloud / Bandcamp

Subscribe to the Sounds and Colours Newsletter for regular updates, news and competitions bringing the best of Latin American culture direct to your Inbox.
Share: