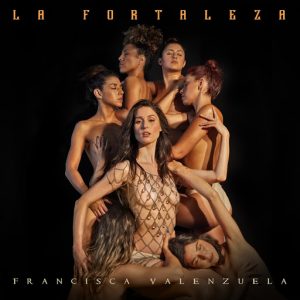 Review
Francisca Valenzuela – La Fortaleza
Francisca Valenzuela's first LP in five years, La Fortaleza, is an honest and theatrical pop album, a confessional diary of moments and moods in the artist's life – relatable to all of us.
Valenzuela turns to self-production on this disc, employing the self-belief she often sings of. Although she incorporates interesting rhythms and melodic scales, the punchy production is far from slick and the incohesive track order leaves us chasing her emotions to try and connect. Here's why, track by track.
In light of the tracks that were released as singles prior to the album's release – "Tómame", about that sensual and obsessive sense of infatuation, "Ya No Se Trata de Ti", a song about emotional (at least) abuse in a relationship, and "Héroe", about finding the strength to overcome darkness and find inner strength – I was expecting a narrative arc to La Fortaleza, a journey.
The LP begins beautifully and hauntingly, with a choral autotuned layering of insecurity and control in a relationship. Valenzuela sings perhaps the voice of an abusive lover excusing their behaviour. "Nunca quise herirte, nunca quise hacerte daño, todo lo que hice solo fue por sentir miedo, de que me ibas a dejar." "I never wanted to hurt you, I never wanted to cause you pain, everything I did was out of fear that you would leave me." Asking the lover's forgiveness becomes, with clanging piano chords and a rasping, deep voice, a plea to be able to forgive oneself. From the outset Valenzuela shows the strength that lies in vulnerability and the search within that the rest of the album will explore. Great stuff.
From here, the slightly old-fashioned pop single "Héroe" plays — too soon. The message is powerful and positive: our demons are always present, but we all have the power to rescue ourselves. This track has already proved a hit with its single release, but it sonically doesn't fit here after such an introspective, downtempo opening.
"Tómame" is more fun, with school-disco pop production, catchy cadences and rhymes, and a real sense of rhythm in the phrasing. This one sticks in your head. "Quiero ser como el agua que te refresca la boca / Yo quiero ser el espacio entre tu piel y tu ropa / Ser la fruta que tragas, mojada y pegajosa / Yo voy a ser la que tú tienes y tocas." It's a sexy and sensual song, where she really plays with the excitement and obsession of infatuation. There are diverse breaks to the standard song structure. The sound of rain (sweat?) dripping are sexy, the tick-tocking breakdowns fun. Motivational piano chords creep in as the song progresses, giving a sense of elation.
From this high, the tempo then drops right back down. Whiplash. But Valenzuela's voice shines on "Ven a Buscarlo", a cursi, cheesy love song about stargazing and being ready to fall in love. Although the song structure is conservative, the track shows off Francisca's range and technique, and her melodies don't follow as simply as you'd expect, keeping you tuned in.
The production in "Flotando" begins much more stripped back – a relief. Francisca's voice begins to tell the story with only piano chords and faint birdsong behind her. Soft backing vocals carry you through to a feeling of higher love. But the phrasing is too choppy, too quick, too staccato, too repetitive to get across the feeling of floating towards the divine. The track is best listened to with its accompanying video, co-directed by Valenzuela. Aerial shots of the singer dancing lying on the piano, and in a large, creased velvety sheet alongside more female dancers, give a much dreamier sense of falling in love.
Perhaps the strongest track on the album, "El Final del Mundo" is an epic duet with Claudio Parra of '70s rock band, Los Jaivas. Postponing the album's release in order to reinterpret what was a love song, but which became much more nuanced after Chile 'woke up', was Valenzuela's best move. Parra's piano accompaniment sounds like steps up to an epiphany and the reggaeton beat that creeps in at first reflects the percussion in a marching band. The track is a love letter to Chile – its landscapes, its people, its rebellion against military repression, its art. The two musicians push boundaries in the arrangement and reflect the country's internal clashes and drama. And there is no 'final del mundo', as Francisca launches us into the uncertain future with the repeated phrase "voy, voy, voy".
"Que secreto estas guardando entre la sal
En la curva de las olas y el arrayán
Vas mordido por discursos vacíos
¿No ves que te usan?"

Francisca Valenzuela, "El Final del Mundo"
We're then brought straight back down to the beautiful "No Se Trata De Ti" which, following what we've just heard, comes across pretty weak. "El Final del Mundo" is a tough one to follow, but it's such a shame that the brave vulnerability of this subtle anthem is eclipsed.
The Broadway style "No Te Alcanzo", which comes next, could be written for the stage. The piano melody matches that of the voice, giving it authority and making sure you follow the narration. Bass drums rumble, strings play out and a choir creates atmospheric power beneath Valenzuela's vocals. This is full drama – we're back on track.
"Ansiedad" is honest, soft and optimistic, and Francisca's precision gives the song serious hope despite the lack of motivation in what she narrates – that feeling of immobile anxiety. She sings intimately close to the mic and we feel we're with her. Perhaps this sense of accidentally playing the album on shuffle is a reflection of the rollercoaster of emotions we experience – we can't dictate the ebb and flow of our feelings or when they crop up. Perhaps I've been spoiled by the logical narrative of Rosalía's El Mal Querer? Either way, for such classic pop songwriting, you would have thought it would be spelled out by now.
With "Normal Mujer" comes a great contemplation for younger listeners, especially girls. "El mundo me dijo," she sings, "sola eres la mitad, encuentra el remedio." She takes apart the way we view ourselves in the eyes of others, the way we look for a partner in order to become somebody, the way we strive to be ourselves often without knowing exactly who that is. Here is an anthem on the difficulties of finding out who you are and learning to love yourself.
If "Normal Mujer" was the voice of an angel, the devil comes out in "Amiga Cruel" the next track – a great transition. "Boca", which follows, is a cool production and a much more current sound, with perhaps the most interesting production on the track. The themes are similar to "Tómame" – sensual desire. "Una Noche Contigo" which follows, speaks of the self-inflicted harm of staying a night with someone who's already moved on. You sense things are different but hold on, begging for just one more night together. It is classic storytelling through songwriting. That desire is then overcome in the final, power-pop track, "La Fortaleza" – the fortress. This song is a summary of the message of the whole album. She is the strength, she is her own fortress.
But I don't feel the satisfaction I should. Did Valenzuela string a bunch of songs with similar-ish themes together for this 5-years-in-the-making album? Did she whack a load of hits on one disc? Did she have a sudden burst of inspiration that led to the brilliance of "El Mundo al Final" and "Nunca Quise Herirte", after Chile's recent uprising began, elevating the rest of the album? It is in these powerful tracks – the final touches to this album – that there's content to really grip onto and think about later. I'm looking forward to Valenzuela's next record and hoping there's more of this. And a story arc.
Here's how I would listen to the album to get that narrative, my recommended track list:
Nunca Quise Herirte 
Ya No Se Trata de Ti
Boca
Tómame
Ven a Buscarlo
Flotando
No Te Alcanzo
Ansiedad (Peleo con las Sombras)
Normal Mujer
Amiga Cruel
Una Noche Contigo
La Fortaleza
Héroe
Al Final del Mundo (feat. Claudio Parra)

Follow Sounds and Colours: Facebook / Twitter / Instagram / Mixcloud / Soundcloud / Bandcamp

Subscribe to the Sounds and Colours Newsletter for regular updates, news and competitions bringing the best of Latin American culture direct to your Inbox.
Share: