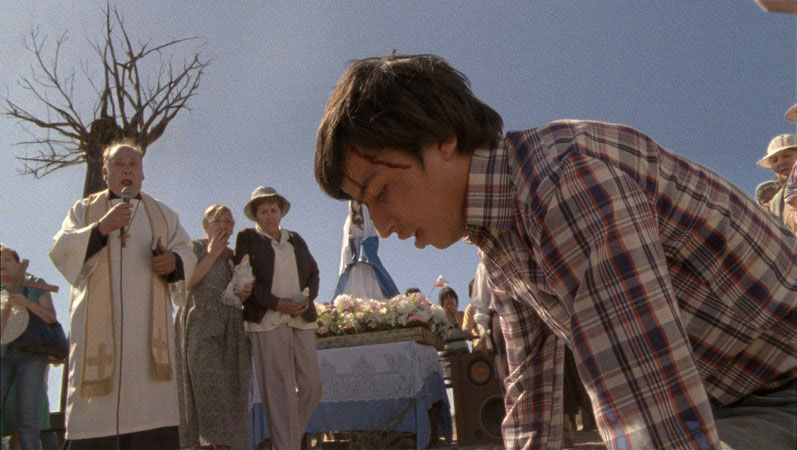 La Pasión de Michelangelo
25 February, 2014
Set in 1983, La Pasión de Michelangelo (The Passion of Michelangelo) follows events at Peñablanca, a small fly-blown inland town from Valparaiso, Chile. It's 10 years into General Pinochet's tenure and the government, whilst still requiring the full trappings of military oppression to sustain its validity, is beginning to see signs of opposition. Into this political bind comes a savour, Miguel Ángel, a seemingly ignorant street urchin with a direct line to the Virgin Mary.
Based on a true story, director Esteban Larraín produces a nicely ambiguous work on eternal and transient themes. The lead role of Miguel Ángel/Michelangelo is taken by Sebastián Ayala and there are fine supporting performances from Patricio Contreras, Roberto Farías, Catalina Saavedra, Anibal Reyna, Luis Dubó and others.
It's A Miracle
It's easy to poke fun at faith but reason and its concomitant, materialism, don't come out very well from this tale of human frailty and folly either. Artifice is everywhere. Larraín does a great job in debunking certitude in whatever guise it chooses. If you can draw any conclusions from this, it is that we aren't as clever as we think we are. Answers in which the truth is manifest are, it seems, as rare as manifestations of the Virgin Mary.
Apparition
The film starts off in a predictable manner. Padre Ruiz-Tagle has come from Santiago to investigate the phenomena of Miguel Ángel, who claims to be a conduit for the Virgin Mary and has come to Chile to save its souls. Physical manifestations start to appear to validate this. There are strange cloud formations into which the faithful plot the necessary signs and shapes. Then the chosen one appears to develop stigmata from an invisible crown of thorns. This is followed by the gift of tongues and the inevitable and miraculous appearance of the host. Things take a turn for the worse when the "Virgin Mary" instructs the assembled to remove their shoes and eat dirt. This reality, which is all to familiar to the pueblo of Peñablanca, is a metaphor of supplication too far for the visiting "faithful". The spell is broken.
Investigation
The Church draws parallels between Miguel Angel's age (14) and St Bernadette of Lourdes. The miraculous, though, presents it with a dilemma: the probability that it is a hoax; it's potential to be hijacked for political motives and the outright hysteria it might provoke. So it is here. As the TV stations and press arrive, all the paraphernalia of the fetish industry go into overdrive. Even Facundo, a local shopkeeper, realises the opportunity. "Look," he says, "I may be a communist but I'm not an idiot." He is soon stocking up with Virgin-themed statuary and trinkets. Even Modesto, a local journalist, photographer and cynical atheist, isn't immune.
Keeping The Virgin Onside
Miguel Ángel is taken to Santiago to be interviewed by the canonical authorities for a little induction into the finer points of the faith. He is asked: "Did the Virgin tell you how she fits into the Holy Trinity?" To which he answers: "She is the Immaculate Conception." He comes back proudly from Santiago having received a "medalla de honor compromiso patria".
Miguel Ángel asks Ruiz-Tagle if he has seen the Virgin. He answers generically by saying that all Christians see the Virgin when they pray. Miguel Ángel claims that he sees her. He also confides that the Virgin has told him that he is her son like Jesus.
Signs Of Irrationality
It becomes obvious over time that nothing is what it seems. Ruiz-Tagle starts to notice certain things. The planes and lorries which magically generate images and shapes in the sky, the presence of government representatives and the predominance of outsiders over locals in the crowd.
The Pinochet government is looking for a sign, too. In the presence of José María Larrazabal, a shadowy government figure bent on political manipulation, a ringing endorsement for the government might just do the trick. As one monsignor puts it: "The Virgin's favourite government." A Santiago-based monsignor is pushing Ruiz-Tagle to arrive at a conclusion. He says: "The Church has to take up a position." Thereafter, though, what might have been a ringing endorsement for the Church and political establishment, moves from the celestial domain to something altogether more earthly and predictable.
Back To Obscurity
When Peñablanca's all-too terrestrial limitations are revealed it returns to the wilderness. The faithful, denied the miraculous and feeling hoodwinked, want vengeance. Charity and pity are in short supply. The former messenger of the Virgin Mary, now seen as an opportunistic maricón, has to be rescued from the mob by Ruiz-Tagle. In restitution for their own gullibility, they curiously burn down the church in a righteous outpouring of retribution for the sins of a supposed impostor.
The cult of Peñablanca lasted from 1983 to 1988. Twenty years later Miguel Ángel reappeared as a transgender person called Karol Romanoff. He died in Peñablanca in 2008. To the end he claimed that he could see the Virgin Mary.
It's a very interesting and entertaining film with moments worthy of Buñuel. It also does a good job in telling us that the why and wherefore of humanity are an eternal conundrum.
La Pasión de Michelangelo is showing in Manchester as part of the ¡Viva! 20th Spanish and Latin American Film Festival on Friday 21st March and Saturday 22nd March. More information about the screenings at cornerhouse.org/film/cinema-listings/la-pasion-de-michelangelo

Follow Sounds and Colours: Facebook / Twitter / Instagram / Mixcloud / Soundcloud / Bandcamp

Subscribe to the Sounds and Colours Newsletter for regular updates, news and competitions bringing the best of Latin American culture direct to your Inbox.
Share: