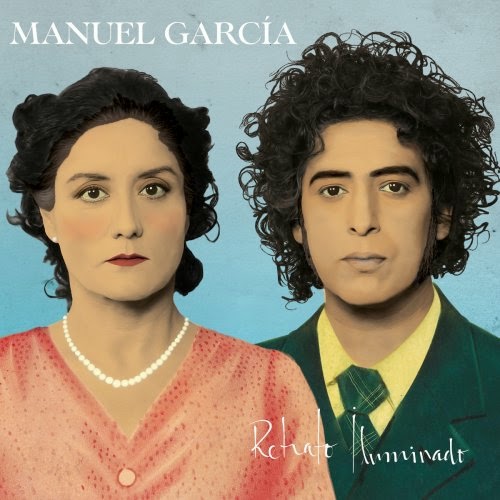 Manuel García is an artist that has never shied away from change. In his first album, Pánico, the young troubadour drew comparisons to the legendary Chilean Víctor Jara and to the father of Nueva Trova Silvío Rodriguez. García's sophomore effort, Tempera, moved into the progressive folk territory without completely abandoning the singer-songwriter's signature acoustic style. It was in García's third release, S/T, that the evolution of his sound became apparent with the incorporation of a wider range of instruments. He followed that with Acuario, whereby he ditched all acoustic arrangements for an electric, rock oriented record. His latest solo outing, Retrato Iluminado, is the culmination of all these previous musical efforts.
Retrato Iluminado is – in the form of two discs – two albums disguised as one. Any of the nine tracks on the first disc could easily work as B-sides to either S/T or Acuario. The album's opener, "La Aguja," is a slow, melodic ballad that thematically covers some familiar territory in García's discography. The instrumentals in "Raices" are reminiscent of the electronic sounds found in Acuario. This is not a detriment to the track, but instead a testament to how connected this project is to García's previous releases. In "Medusa," García sings about love and loss comparing the pain he feels to the stings of a jellyfish. The chorus features some beautiful, blaring horns reminiscent of a Mexican ranchera song.
However, the standout track in the first disc has to be "Maria." As far as I can tell this is the first Chilean song that openly addresses the topic of transsexuality. The song is not a preachy call to arms nor is it a polemic against this group of individuals. The track is inspired by one of García's friends who had surgery and is now known as Maria. With Maria's permission, García dedicates this song to her and sings from her own perspective. The end result is touching, introspective, and evokes strong elements of solidarity.
If the first disc works as a call back to Manuel García's preceding records, the second is a time machine to the Chile of the past. The title track, "Retrato Iluminado," perfectly sets the mood for the remainder of the album. Conversations and carnival sounds are heard in the background as García talk-sings about a peddler making his way from house to house offering to take pictures for different families. A feeling of nostalgia permeates through the lyrics and the sounds of charango and Spanish guitar transported me to that very house the peddler was taking pictures in. The illuminated pictures that García sings about can be found in many Chilean households, and they remain to many the only link to Chile's troubled past. "Retrato Iluminado" is easily the most powerful track on the entire project.
García's obsession with the past continues with the track "Noche Montuna." He is joined by Angel Parra, the son of Chilean folk-legend Violeta Parra. Instead of singing as a duo, Parra's vocals take the forefront with García simply harmonizing. "El Diablo" is similar in execution as only Parra's voice is heard coupled with the twanging of the guitarrón chileno. In "El Huerto de los Deseos," Parra sings the lyrics that García has written once again. This collaboration feels entirely natural, and Parra's voice is right at home with García's poetic and thoughtful words. A stylistic change occurs in "El Negro Manuel," a track that seems to have stepped out of the 1930s French jazz scene; it could easily be Django Reinhardt on guitar instead of García himself. The album closes in style with "Pupila de Aguila," an exciting cover of the famous Violeta Parra composition.
Manuel García has done something very rare with this project. It is equal parts familiar, different, old and also new. The first disc stands on its own with some great pop, rock and folk tunes while the second explores more traditional Chilean themes in both its sound and lyrics. Retrato Iluminado is not a short album – over an hour in length – but it is definitely worth several listens. If Manuel García was not a Chilean legend before this release, he certainly should be now.
Retrato Iluminado is available from Amazon UK, Amazon US and iTunes

Follow Sounds and Colours: Facebook / Twitter / Instagram / Mixcloud / Soundcloud / Bandcamp

Subscribe to the Sounds and Colours Newsletter for regular updates, news and competitions bringing the best of Latin American culture direct to your Inbox.
Share: