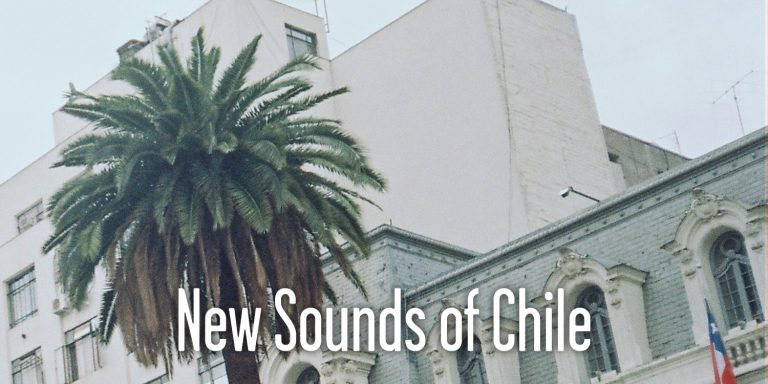 New Sounds of Chile #2
02 March, 2021
Continuing to shed light on the popular and contemporary musical landscape of the long and geographical diverse country of Chile, we share the newest sounds coming out of the southern tip of Latin America. As summer is saying goodbye with fresher days, but still with high temperatures, the selection of tracks have this beach vibe, with urban and tropical flavours peeking through.
Those pushing the beats of Chile closer to the Caribbean are the youngest artists, with one of the emblematic faces of the r&b and trap scene, Young Cister, releasing a new single and announcing the second instalment of Perreamos?, coming later this year. Representing a big movement in Santiago's peripheral neighbourhoods, Adan La Amenaza sings a mambo (often called urban mambo or electronic merengue, hailing from Dominican Republic) dedicated to those incarcerated in the prison system, a common subject in the Chilean version of the genre. Tropical music in Chile has always been related to cumbia, that's why we included the newest song by Santaferia, featuring Peruvian chicha icons, Los Mirlos.
Despite most of the artists getting recognition in Chile being from, or based in, Santiago, this time, we also have a lot of artists coming from the big city of Concepción, known as one of the musical capitals of the county. D Naiz is one of the most internationally acknowledged, and we also have female singer and rapper Antipatriarka, sweet pop from newcomer Ivanewbie and the beautiful voice of Niñosindigo over the electronic beats of Santiago duo Animales De Costumbres. Last but not least, electronic music projects Nuevo Desorden Mental and Chile Wave add experimental and psychedelic sounds to the mix.
Amikiraa – Cortocircuito
Part of a new batch of urban pop singers, Amikiraa enters the stage fully loaded with state of the art production and visual direction, aiming for the ever growing local addiction to trap-inspired beats and romantic tunes, especially amongst the new generation of listeners and fans.
D Naiz, Joakyn, Ninja Negro – Busco
All the way down from Concepción, neo perreo affiliated D Naiz goes smooth over this reggaeton beat. Produced by Joakyn and also featuring Ninja Negro, the song is an example of the good things coming up from the formerly known 'rock city', now dubbed 'Tropi-Conce'.
Young Cister – Callau
As one of the first ones to do it, flipping the street sound of peripheral Santiago from hip-hop to trap and dembow, Young Cister is persistent in making his own rules and taking time to prove his worth. His Perreamos? songs already got into the ears of Spanish singer Rosalia, adding even more hype for its follow up, Perreamos? 2.
Antipatriarka – O A S I S
Although the newest 808 beats and electronic sounds are still far from being accepted on most hip-hop scenes in Chile, contemporary r&b and soul singers are benefiting from it's freshness. The mellow voice of Antipatriarka from Concepción flows perfectly over the deep bass line and the synth pads on "O A S I S".
La Dejabu & DJ RC – Brilla
Jazzy and boombap have always had a feel good vibe to them, and "Brilla" from La Dejabu is an empowering anthem to stay fighting, to face the struggle and keep shining, in that exact style. The beautiful production comes from the mind and the hands of DJ RC.
Sentinela Del Norte – Una Serie De Viñetas (Bagre Remix)
Recognised through the underground Colectivo Etéreo crew, Sentinela Del Norte represents the alternative rap scene, with lyrics that mix personal introspection and much humour. His latest EP is a remix collection of his "Una Serie De Viñetas" track, with reinterpretations by Flakodiablo, Ramonomar and Talca-based producer Bagre.
Galee Galee, Harry Nach – It's Lit
As trap sounds have moved from the underground to the mainstream, with a front line of now established faces, the field is clear for newcomers. One of the most sought after new performers is Galee Galee, who is hitting higher heights with his recent collaboration with the already consolidated young artist Harry Nach.
Carlomarco – "Marafañe" (DJ Raff Remix)
Head of the NOAF (Noche Africana or African Night), Carlomarco, has come a long way with his own musical production, having collaborated already with Peruvian Qoqeqa and the internationally-known Pierre Kwenders. His latest song "Marafañe", alongside Guinean-Chilean duo Duniya, has also been remixed by renowned Chilean producer DJ Raff.
Nuevo Desorden Mental – Lanza Danza
A newly formed electronic improv ensemble, Nuevo Desorden Mental, from Concepción, is the collective effort of Jesús Seguel, Cristián Pineda, Toto Friedlaender y María José Mendoza F. A weekend of confinement led to a full sounding exploratory album.
MAGA – Plegaria 3: Mientras Quede Esperanza
MAGA's debut EP on Uruguayan label Salviatek is a five piece sound instalment. This ethereal journey is pushed forward by different club rhythms, from rave to tropical, with a dystopian yet hopeful emotion added to it, making you dance but also question many stereotypical ideas.

Follow Sounds and Colours: Facebook / Twitter / Instagram / Mixcloud / Soundcloud / Bandcamp

Subscribe to the Sounds and Colours Newsletter for regular updates, news and competitions bringing the best of Latin American culture direct to your Inbox.
Share: