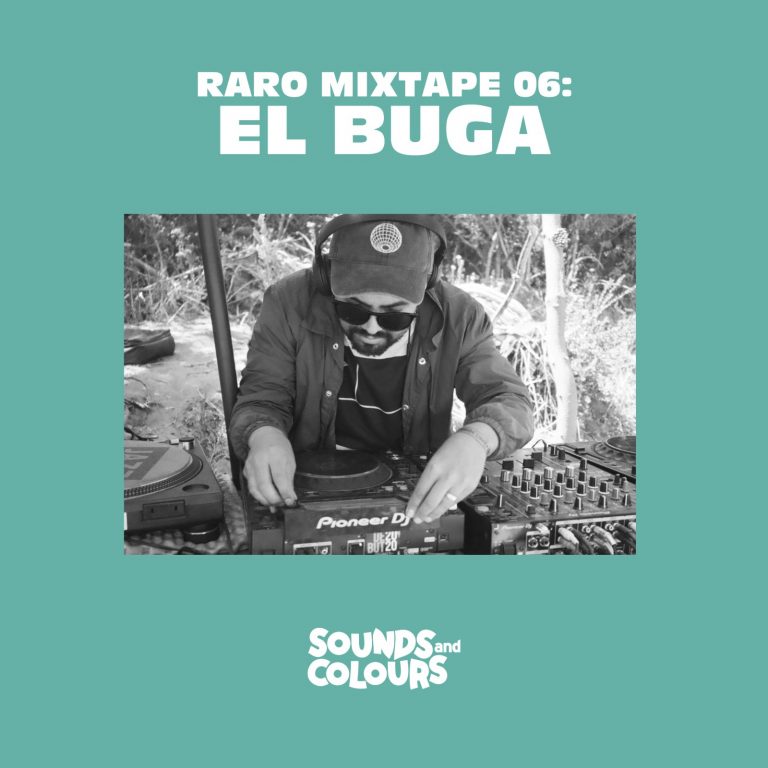 RARO 06: El Buga
20 November, 2020
El Buga is the pseudonym of David Bugueño – designer, DJ and member of the Sello Regional label. Besides releasing tracks by the likes of El Remolón, Dat García and Rolo Gallardo with Regional, the melomaniac from Santiago, Chile, is a celebrated producer in his own right, releasing hip-hop and dub influenced downtempo. The Chilean tastemaker, who is also a frequent contributor to Sounds & Colours, is a trusted voice in Latin American music and released a phenomenal compilation this April, Éxitos Regionales. We're overjoyed to have him sit in for this week's Raro Mixtape which traverses tributaries of the Latin American diaspora.
"Not necessarily made in South America, this mixtape showcases the diaspora and the influences that Latin and Caribbean music has across the globe, making a worldwide connection through sound. From Tokyo To Nigeria, the songs collected here expand the soul of bossa nova, salsa and cumbia, with the aid of the boombap of the beats of hip-hop, the delays of the filters in dub and the sequences of electronic music."
Tracklisting
Dreamatic – Audio Trip
Patâgoniå ft. Parrðt Jungle – 16.5 – 17
Charly Humos – Summer Vacation
Pete Rock – Brazilian Breeze
Towa Tei ft. Bebel Gilberto – Technova (Mr. PC Belle Isle Balearic Edit)
Youtaro – Tropicalia
BK-One with Benzilla – Caetano Veloso (Interlude)
Daniel Grau – Delirio En Fa Menor (Max Graef & Delfonic Remix)
Ursula 1000 – Beatbox Cha Cha
Los Samplers (Atom TM) – Mambo Brillante (HD Mambo)
Ochi – Kiss Me A Lot (Premium Banana Ocean's Eleven Remix)
Benedek & Noble – Profesora
Cesaria Evora – Angola (Carl Craig Mix)
SunPalace – Rude Movements (Kenny Dope Dancefloor Powder Radio Edit)
Bixiga 70 meets Victor Rice – Mil Vidas Dub
Keleketla! – International Love Affair (Project Pablo Remix)
Tony Allen – African Message (Mexican Institute Of Sound Rework)
Tribilin Sound – La Cumbia De Octavio (Freddy Da Stupid Broken Edition)
Gina Jeanz – Tropic City (Simbad Summer Mix Instrumental)
Zongamin – Cosmic Serpent (Multi Culti 'Snake' Dub)
DJ Falazia – The Pangolin Dance
Los Transatlanticos ft. Rosfriay Emerson Freyle – Baila Cumbia (Chris Read's Latin Concrete Dub)
Pernett – Cumbia Computer (Zeb's Reggae Instrumental)
Mon Rivera – Lluvia Con Nieve (Bigote Edit)Greenwood Rhythm Coalition – Salsa Verde
DJ Orion – Hits From The Bongo Pt. 1
Incredible Bongo Band – Apache (Grandmaster Flash Remix)
This mix series plays on the Hispanic and Lusophone homonym, "Raro". "Raro" holds two meanings in Spanish and Portuguese: "rare" and also "strange". Sounds & Colours' Raro Series is a crate-diggers' mix series which embraces both meanings. Over the course of on hour, our guest DJ will delve into Latin America's unknown, underappreciated and unbelievable music and reveal its hidden gems.

Follow Sounds and Colours: Facebook / Twitter / Instagram / Mixcloud / Soundcloud / Bandcamp

Subscribe to the Sounds and Colours Newsletter for regular updates, news and competitions bringing the best of Latin American culture direct to your Inbox.
Share: