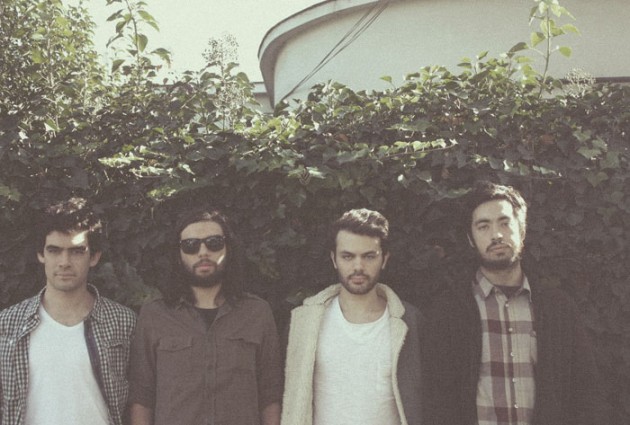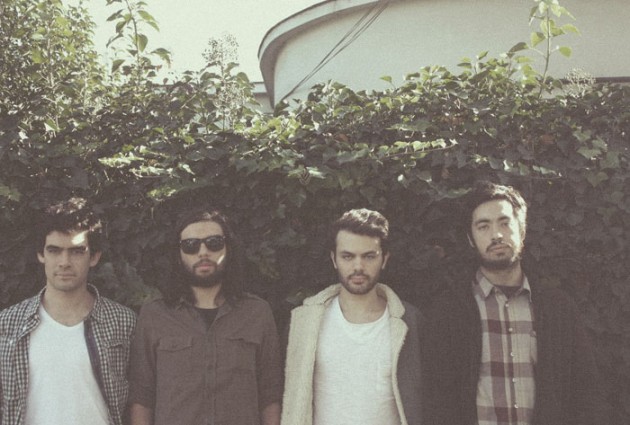 Spanish is Beautiful: An Interview with Fármacos' Rodrigo de la Rivera
19 August, 2013
Post-rocky ensembles, pop-choruses, minimalist percussion and simple and honest and intelligent lyrics. The mixture of all these is the Santiago-based band Fármacos who I've been following for a while now. Their songs are in Spanish (apart from a track called "Other" in which the language change is consistent with the song's theme of feeling 'foreign') and while they clearly follow a tradition of mainstream experimental indie bands such as Portishead or Grizzly Bear, their accessibility should not be confused with a longing to be radio-friendly.
Songs like "Abril" pack in three minutes a display of careful layering and space-rock choruses, always clean and sad without ever being melodramatic (just like their lyrics). Their bassist, Ignacio Kenfa Wong, manages to darken the otherwise bright and delicate guitars of Rodrigo de la Rivera and Carlos Doerr, while their vocalist, Diego Ridolfi, almost whispers his lyrics. The drums tend to concentrate on original beat-looping work. This lends itself to a certain clarity in their sound, always hypnotic but never pretentious or overworked.
I was in Santiago last December and Rodrigo de la Rivera agreed to an interview once their first album got released. Here, we talk of the current Chilean indie scene and how he sees it as part of a broader movement that transcends some of the exoticising shortcomings of a mostly folk-led musical tradition.
How would you define your sound? What are your influences?
It's pop, if you have to call it something. Diego's influences when he writes the song drafts are bands like Radiohead or Arcade Fire, and a lot of Gustavo Ceratti. But I would be lying if I told you that I knew where he gets his ideas from. I've no clue. When it comes to the arrangements with the band as a whole, our love as a band for atmospheric sounds kicks in: guitar effects and synthesisers with a lot of delay, etc. We all love Mogwai, Sigur Rós and My Bloody Valentine, so we all manage to reach a common ground when it's time to work on arrangements in that style, even over a more pop-sounding composition.
I remember you once mentioned that singing in English implied a certain sense of dishonesty in Chile. Have you changed your point of view on this subject? Was singing in Spanish a conscious choice for Fármacos?

Personally, it makes me uncomfortable seeing bands over here singing in English, even more so when they don't speak very good English [he laughs]. But I don't really have that much against it. With Fármacos, Diego and I wrote a song in English for the Abril EP called "Other" and the reason why we don't play it live anymore is precisely that, it feels wrong. It's not something close to us, and from that experience we've never tried to go back to writing songs in English again. Spanish is beautiful and fortunately now no one tells you "Your band's good but the Spanish bothers me." It's actually the contrary.
But there are clear Anglo influences in the current Latin American indie scene. Do you think this is true? Or is it now impossible to geographically limit contemporary popular music movements?

Yes, logically there are Anglo influences and I think they are the base of the whole Latin American indie scene. A lot of bands use folk elements from their own countries to sound more interesting or authentic but under all of that there are clear foreign influences. And that's good. Personally, I love Anglo music or whatever it is, and I grew up listening to all of that, not Victor Jara or Quilapayún. There are some impressive bands over here that cultivate styles that are clearly foreign. Like Astro, for example. And then there are bands that do sound like cheap imitations of something gringo or European, and that creates a rejection among us, or it makes you laugh, and that may be when you create difference. But I think the intentions all over are the same.
I couldn't pretend that I was influenced by music rooted in Latin America. Even the band that always impressed, Soda Stereo, is definitely Anglo in its roots. But no, I don't think there are geographical limitations when it comes to music today and I like to imagine that there must be indie-pop-electro-shoegaze bands everywhere in the world.
And how difficult is being in an indie band in Santiago? What's the hardest part about it?
There's nothing easy about being in an indie band in Santiago [he laughs]. There are lots of reasons for this. This is really slow and life moves on quickly. You can gain popularity but when it comes to getting any money from it, it isn't easy or at least not fast enough, so people start looking for other things to do, and bands end up being more of a hobby or they simply break up. In Fármacos, we're all musicians by profession except for Wong, our bassist, so we're more conscious that we chose this as our way of living, and we're prepared to make sacrifices and have patience. But it isn't easy. That's the hardest part, to cope with the anxiety of not getting paid properly for all the work done behind the scenes.
Plus, there's a distinct lack of support from the media here. Despite it being a really lively movement full of devoted fans, I assure you my parents have no idea who Denver or Astro are, or Alex Andwanter. They only know Americo.
[soundcloud url="http://api.soundcloud.com/tracks/103895937″ params="" width=" 100%" height="166″ iframe="true" /]
Congrats on your new album. Which was the hardest song to record?
Thanks! There wasn't one that was harder than the next. Maybe "Un Gran Final", the one that opens the record, was harder because we didn't realise at the studio that some of the guitars came out a bit ugly and so we had to re-record them some time later at Diego's studio. But apart from that, the whole recording took about eleven days at the studio.
And what are your future projects?
There are a lot of plans with Fármacos at the moment. Now with the new record there's a lot of publicity work that needs to be done, and a lot of things to look forward to as well. I want to keep growing with Fármacos and Miss Garrison, which is the other project I'm a part of. With Miss Garrison, there's a possibility of playing in New York in January and we're planning on recording something new too.
And it would be nice to get paid a little better for it too [he laughs].
——————————————————————————–
Fármacos have just released their first full-length album on the 5th August. Stay tuned to their Facebook page for news. Check out their EP and check out "Abril" (above) or the new "Despegarte de Mi" (below), both beautifully produced music videos.
Rodrigo is also the guitarist for Miss Garrison and Banda Marchante, the latter of which will also be releasing some new music soon (you can listen to their first album here: bandamarchante.bandcamp.com).

Follow Sounds and Colours: Facebook / Twitter / Instagram / Mixcloud / Soundcloud / Bandcamp

Subscribe to the Sounds and Colours Newsletter for regular updates, news and competitions bringing the best of Latin American culture direct to your Inbox.
Share: