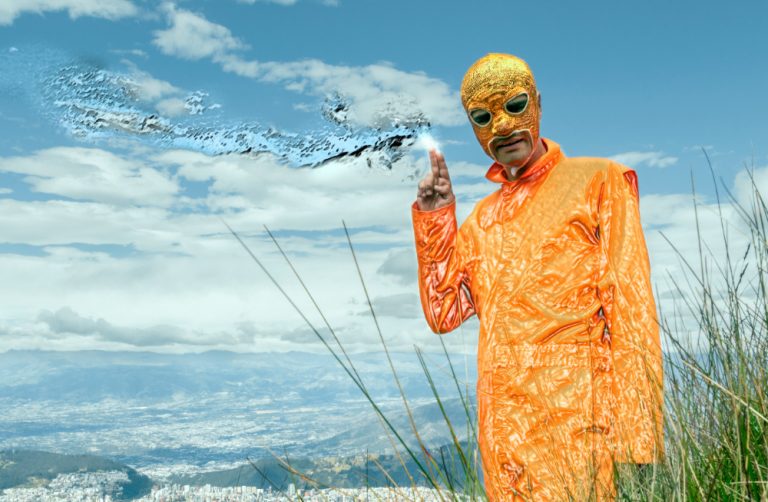 Under The Radar: S&C Editor's 2020 Picks
22 December, 2020
Looking through Best of 2020 lists over the past month or so and it becomes clear that ambient music, and what you might call 'deep cuts', have proved especially popular this year, their reviews normally containing comments like "I so needed this album this year". Clearly, we have all been searching for ways to keep on an even keel, and I've certainly not been any different. Although with a slight twist.
This list contains five records that I think deserve greater attention, that reflect my listening to ambient and minimal electronic music during this tumultuous year, but also in records by El Gil and Boris Vian that offered me some catharsis in dealing with my emotions. Hopefully you can find something new in these choices that will allow for some kind of release until this year of doom is over.
El GiL – ReyWey: Cuarentino
I'm new to the world of El Gil, a Mexican musician who's been making various shades of pop music since 2010, but his latest feels like a great place to start. ReyWey: Cuarentino follows three EPs also prefixed ReyWey and was not a release El Gil planned, but rather felt compelled to accomplish. This can be felt in the emotion and lyrical honesty brought to this 5-song EP that deals with quarantine and all the myriad feelings that it has engendered. In that way the EP works like the five stages of grief, each track dealing with denial, anger, bargaining, depression or acceptance of what's going on, with these themes carrying through to the music and the lyrics. The title track is the most tongue-in-cheek of the lot, a heady synth pop riposte to "la nueva normalidad", while on "Carolino" there's a harder indie rock edge and both "Cuarentín" and "Corolario" show a far gentler side, the use of choral vocals lightening the mood somewhat, and completing the grief process. Quarantine albums are not rare at the minute, but ones that are this creative and infused with feeling are, and I'll certainly be keeping an eye on El Gil's career from now on. Plus, if I ever get round to putting together a quarantine playlist, you can be sure that it will lead with "Cuarentino".
Boris Vian – Remedios Varios
Taking a collage approach that recalls 90s electronic groups like The Avalanches and Lemon Jelly, as well as the more pop song-leaning terrain of early Beck, there's much to love on this album from Ecuador's Boris Vian [pictured top]. The opening track is where the Lemon Jelly comparison seems so ripe, an instrumental cut-and-paste curio that starts off gentle before the pace grows frantic as the samples pile on top of each other.
On "Antiestático" the fusion of a lo-fi hip-hop beat with pop hooks, not to mention the high-pitched vocals, brings to mind Gorillaz. It's a fusion that Vian pulls off with even more aplomb on album stand-out "Cayendo Cayendo", whose droll vocals can't help but recall Damon Albarn, though the contrast with Reyvegui's vocals on the chorus, where things get a little more tropical, takes it to some place else.
On "Tutti Frutti" and "Disco" hip-hop beats give way to disco, with a touch of Jorge Ben on the former in what I can only describe as a great pop song, and the latter a brooding disco instrumental.
The joy of Remedios Varios is that whether playing with a hip-hop beat, 70s hybrid or an experimental collage ("Don Patricio" being a fine example) there's always killer pop hooks and a swagger to the rhythm, which keeps me coming back for more.
Alex Hentze – Soplo de Vida
Alex Hentze has increasingly become part of my daily diet this year, and his latest release is, for me, his finest work yet. In some ways it pains me to break down its beauty as ever since this album came out it's been an aural blanket that's wrapped around me whenever I've needed to settle my nerves (something I'm having to do on a regular basis right now). But, break it down we shall. Soplo de Vida sees Hentze's ambitions grow, with exercises in textures, slight melodies and a predilection for occasionally-grand arrangements. On the title track, with its ambient variation of club music it's impossible not to make comparisons with Jon Hopkins, a parallel even more fitting on final track "A Bao A Qu" when the opening rumbles of bass and diffused beat give way to razor-sharp day-glo beats as sirens sound off amid the din. The sense of claustrophobia is palpable, but it's a trick only used sparingly across the album.
The slowly enveloping piano and synth swells of "Sagitarii" are one of my favourite things of 2020. It's almost like hearing a bell sounding in the distance, and no ordinary bell, one that gives reassurance, that acts as a compass. It feels both grounded and ethereal and could go on for far longer than its 15 minute length and I would not be complaining. The following track, "La Piedra Sin Tiempo" is close to a minute shorter, and operates in a slightly different terrain, an ambient drone piece that gradual builds, but is always working on a different plane, whether subterranean or spatial I am still unsure.
Across its six tracks, Hentze shifts between beatific ambient compositions and Hopkins-esque gusto that finds that sweet spot between club music and avant-garde composition. The amazing thing is that whether doing either, he pulls it off without fault.
Juan Pablo Abala & Juan C. Eyzaguirre – Invernadero
Occupying similar terrain to Soplo de Vida is this album from the Chilean duo Juan Pablo Abala and Juan C. Eyzaguirre. Opening track "Pulverización" is a great case in point, as it also features reverb-heavy piano that occupies a space between the near and far. Yet here, their is a greater melodic sophistication brought to the instrument, no doubt due to Abala's involvement (whose solo work, not to mention collaborations, have always revealed an underappreciated talent), and it's joined by jittery electronics and a bass line that continually pushes the song forwards, its interplay with fluttering piano notes creating an hypnotic groove. Similar can be said of "Eter", a song wrapped in an ambient drone, just the bass and especially-florid piano pushing their way through the ether (or should that be eter?).
Eyzaguirre, for his part, often records as Janaki (with notable releases on Discos Pegaos and La Isla), and based on his previous releases I would assume that, apart from the piano, the majority of these musical landscapes are his doing. His sonic imprint is undoubtable at the beginning of "Un Mundo Secreto" with its disquieting ambient atmosphere. The crucial difference is that his sound is always leavened by those bright, melodic piano notes (with even the sound of the piano mechanisms reverberating into the distance), and on this track the duo take the track somewhere else completely. From an ambient, slightly unsettling, piano piece, gated drum hits and a tinny drum machine shift the groove into some form of muted liquid r&b whereby the original vocal sample that runs throughout morphs from an alien voice to a celebratory hook.
The glory of this album is in the union of these two members, the combination of Eyzaguirre's ambient soundscapes and Abala's tuneful musicianship resulting in something really quite special.
Various Artists – Savia
Electronic music from Central America and the Caribbean has begun to gain in popularity. Alex Hentze is one of the names to emerge from this scene, but there are many more, and a good amount of them are included on the debut compilation from Mazukamba. Based in Antigua Guatemala, this collective have been playing festivals and clubs around the region for around five years, and have now setup a label, with Savia being their first release. It's a great primer for understanding this whole scene, with tracks by Hentze, as well as Di Laif, Ocarimbo, NAOBA and many names I was completely unaware of.
Selva y Cerro's "Abuelita Planta (Qati't Q'ayes)" is a bold opener, indigenous chants that gain in power as the beat switches to a clear, bright pattern. The use of indigenous vocals has become a marker of Latin American downtempo, and it's a trick used many times here, though crucially, always with respect. "El Viento" by Di Laif, which marries muted hand drum percussion and flute, sounds to me like a mix of Andean, Afro-Latin and native Central American influences that hits hard while almost entirely using sampled acoustic instruments (it may even be all sampled, the bass line is the only instrument I'm unsure of). As if to prove the varied styles of the artists, the following track "Congotren", by Ocarimbo, is completely electronic, a whirl of melodies and pulsing beats.
My personal favourite is "Tamborón Corazón" by Sonido Quilete, an ominous groove that really makes you wait for the pay-off, adding new details to the rhythm as it builds and builds, the moment at 2:30 when a quick-witted new riff of arpeggio-like notes being the point at which I peak. Other tracks by Aerofustan (The Bug on holiday), Guia (underwater dub), Parutz (percussive minimal), Radio Fuete (classic tropical bass) and a euphoric contribution from Alex Hentze are all worth checking out, on what is an essential primer for what's currently happening in underground Central American and Caribbean dance music.
READ: Sounds and Colours' Best Albums of 2020

Follow Sounds and Colours: Facebook / Twitter / Instagram / Mixcloud / Soundcloud / Bandcamp

Subscribe to the Sounds and Colours Newsletter for regular updates, news and competitions bringing the best of Latin American culture direct to your Inbox.
Share: