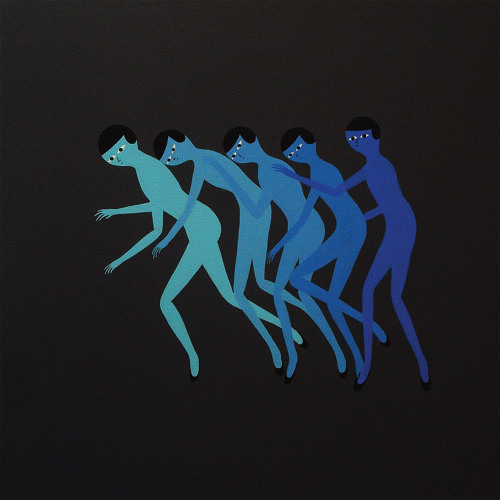 If you thought EDM could not be Latino, DJ Raff's compilation is here to prove you wrong. DJ Raff, one of Chile's most prolific electronic music makers, decided that the best way to showcase the complex, rich sounds of the Chilean electronic dance underground was to publish them himself. It's like the old saying, the one about if you want something done you have to do it yourself. But younger. And with house beats.
You may be familiar with DJ Raff if you are a lover of Comedy Central's Broad City. He composed the theme music. Pirotecnia Vol. 1 is his latest release, the name playing on pirotécnica (aka pyrotechnics), and the album does just that, on his new label by the same name. It's a danceable, fun, beat-rich compilation that belongs in any club with neon and dancers. Like any good EDM record, Pirotecnia does not miss a beat or a chance to layer complex rhythms while still maintaining a very DJ Raff identity. This is a hard task to accomplish in a compilation since it's all different artists, but it's clear that through this, DJ Raff wants you to know that Chile's EDM underground has a distinct, unifying sound.
[soundcloud url="https://api.soundcloud.com/tracks/206063962″ params="auto_play=false&hide_related=false&show_comments=true&show_user=true&show_reposts=false&visual=true" width="100%" height="450″ iframe="true" /]
The album starts with DJ Raff himself on the track "My Girls," a song that sets the scene for the rest of the compilation. It's fun and upbeat while not being overwhelming, and it takes you through the motions as if you were in a sophisticated dance club in Santiago. This track easily flows into "Bueno Ya" by Roman & Castro, another powerful song full of fun, eclectic and electric house beats.
"LSO" might be my favorite track mostly because it's a perfect embodiment of the whole compilation. It starts off simple and soft (as far as electronic music is concerned) and then it begins to build. What makes this stand out is that it grows and crescendos with added beats and all the fanfare of a fun house track. Just as you're getting used to the rhythm of it, this track messes with you and drops the bass and hits a tropicalia-influenced beat that really makes it feel refreshed. Despite the natural repetition of house tracks like this one, "LSO" manages to keep you interested.
The genius of this whole compilation is that it's seamless and cohesive, yet each track has its own personality. "Cosas del Cuore," a more breathy track by Fantasna really cools things off a bit, but it still fits neatly like a neon puzzle piece into the entire body of work. No part of it is shocking. It flows well like it was always meant to be.
It's very exciting to see a label emerge that has both the combination of personality and artistic vision while still showcasing artists' distinct fortes. Yes, "Soy Humano" with Mamacita may make you blush, but it still fits with the tone and the flow of the record. "Levitar" is more manic and full of vibrations that will definitely make your brain levitate. And "Ghetto" really puts that bounce in the EDM step. But they all belong together like castaways on an island of misfit toys. From start to finish, this compilation is a tour de force, and definitely an exciting addition to Chile's already burgeoning music scene.
Pirotecnia Vol. 1 is available from Amazon UK, Amazon US and iTunes

Follow Sounds and Colours: Facebook / Twitter / Instagram / Mixcloud / Soundcloud / Bandcamp

Subscribe to the Sounds and Colours Newsletter for regular updates, news and competitions bringing the best of Latin American culture direct to your Inbox.
Share: