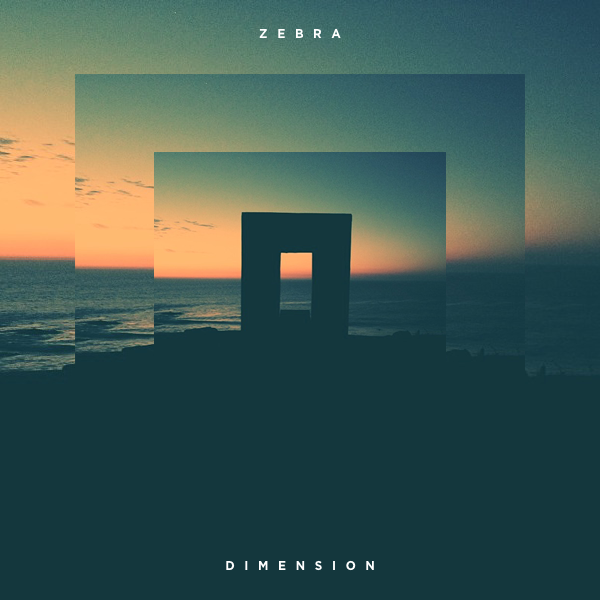 Review
Zebra – Dimensions
Chile is currently the heart of indie pop in Latin America, which is why it is no surprise that the new chillwave EP Dimension is by a Chilean band called Zebra. Fans of this country's other dream popstars Alex Andwandter and Javiera Mena will find Dimension to be a more laid-back and meandering collection of four songs that will take you on a journey somewhere in-between. Zebra impressively weave synth-dance sections and funky bass lines with an overall pensive and drawn-out chillwave vibe.
When a country is relatively small, musical collaborations are inevitable, so it makes sense that Zebra consists of three different artists, all with different bands and projects of their own: DJ Roman (from MKRNI and Roman y Castro), Miguel Irarrazaval and Enrique Escala (from Treboles). They mesh the house dance music of Roman y Castro with the electro and disco influences of Treboles. The result is chill wave: background music for a relaxed party where people want to hear each other talk.
The album sounds like the "walk across the evening sun" that Zebra sing about in "Syncro Love": its mood is somewhere between night and day, or somewhere between the Earth and the stars. With most songs over five minutes each, Zebra doesn't rush to get you to a catchy chorus, but then again, it doesn't need to. You'll be relaxed in a sea of lush sounds – softer than their previous EP Summerlove – but you won't lose yourself completely when a catchy synth melody pokes through. "Dimensional," the first song on the EP, pulls you in with its catchy intro. Its lyrics are a little repetitive, but then again the point of chillwave isn't to showcase a voice. In fact, most of the breathy vocals on the EP are a little lost in the winding songs, but maybe that's intentional, to allow the listener to focus on the music.
The second song, "Deep in Your Attraction," gets a little funkier, starting off slow, but building up to some keyboard jamming. A tinkling wind chime adds a unique touch. "We Dream" is, you guessed it, the dreamiest of the songs on the EP. Yet again Zebra seamlessly transition across different sounds – this time a computerised car alarm sound – to pull you out of your half-sleep trance.
The final song on the EP, "Syncro Love," is the most new wave of the collection and waves back and forth between dreamy spots and bubbly sections. It almost sounds like they want to break into dance with a "dum dum, dum dum dum" rhythm and hand claps, but can't quite pull themselves away from the mellow vibe of the rest of the album.
Released by Endemika Records, a cross-cultural label based in both London and Santiago, it's no wonder the lyrics are in both English and Spanish. Aside from the language, the only other Latin influence I found was a breathy, toned-down Andean pan pipe sound, which may or may not have been intentional. I'm interested to see what sort of compilation Zebra would make with a full-length album, as they have not yet released one. With so many different sounds and layers within their music in this one EP, they should showcase what else they are able come up with. яндекс
[soundcloud url="https://api.soundcloud.com/playlists/27011586″ params="auto_play=false&hide_related=false&show_comments=true&show_user=true&show_reposts=false&visual=true" width="100%" height="450″ iframe="true" /]

Follow Sounds and Colours: Facebook / Twitter / Instagram / Mixcloud / Soundcloud / Bandcamp

Subscribe to the Sounds and Colours Newsletter for regular updates, news and competitions bringing the best of Latin American culture direct to your Inbox.
Share: