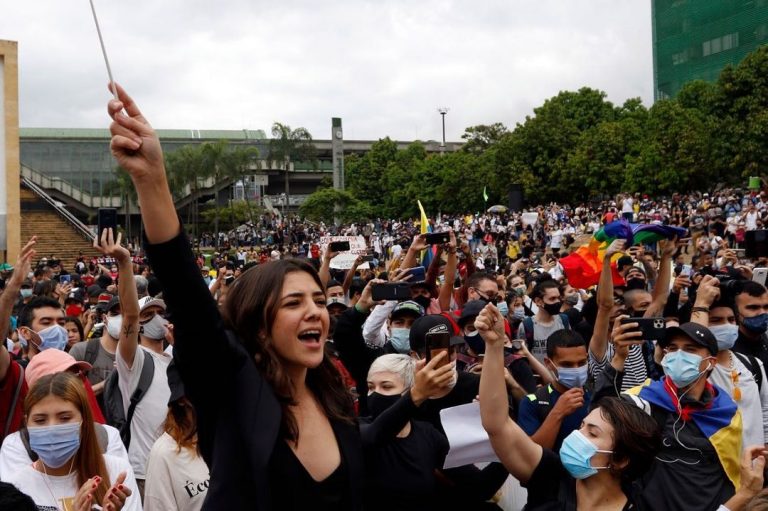 Arte Para No Morir: Artistic Solidarity with Colombia
11 May, 2021
Protests broke out across Colombia at the end of last month, when a national strike was proposed in direct response to a new Tax Reform bill that would further impoverish Colombia's lower classes, who have disproportionately been hit by the COVID-19 pandemic.
Although protests were met with brutal violence from the state, this only seemed to galvanise citizens to join the strike. Students have taken to the streets, truck and taxi drivers are blocking key routes into cities and indigenous groups have arrived from rural areas to support those in Cali and Bogotá and make demands.
Despite the withdrawal of the tax bill and the resignation of finance minister, Alberto Carrasquilla, strikers have continued to demonstrate, broadening their demands since last year's protests in November to encompass poverty, police brutality, corruption and inequalities in health and education, as well as massacres in Cali and the Pacific Coast, failure to rebuild Providencia after the hurricane, violence in Buenaventura, and the murders of dozens of social leaders and ex-FARC members since the peace agreement was signed.
Giving sound and colour to the protests, artists have expressed solidarity with Colombians online, in the streets, from home and from abroad. Here are some of the ways art is diversifying the protests, clarifying the message and unifying Colombians.
La #Marchanimada
In the 'Marcha animada' (animated march), Colombians who couldn't leave their house but wanted to show support for the national strike joined an initiative proposed by illustrator and animation director, Daniel Cuervo, producer Juliana Rueda and 2D animator William Cifuentes – to produce short animations or graphics digitally representing themselves marching. The entries were then compiled using the hashtag #marchanimada.
Explaining the situation with plasticine
Plasticine artist, Edgar Humberto Álvarez, uses his Facebook group 'Se lo explicó con plastilina?' to discuss issues in Colombia through short stop-motion 'claymations'. His work covers disappearances, cacerolazos, the tax reform, motherhood, the Red Cross. In one piece, he portrays the moment in which Misak indigenous people pulled down the statue of Jiménez de Quesada in the centre of Bogotá this 7 May. Álvarez asks followers to think about what should be done with the statue and the empty space where it once stood.
Illustrating solidarity
Illustrators have also supported the cause all over Instagram and other social media sites. Yapicomics, in their series 'Esa no es la forma' (This isn't the way), contrasts the softness of youth with the brutality of the current situation in affecting images.
Building on an illustration by the Cali-based Gráficas Molinari, journalist Andrea Yepes Cuartas wrote a text to accompany the image of a chained woman in flames. "Under the burden of bloodshed, hunger and death that we grew up with in this raging country", she writes, "we've learned to dream of average things; we desire what should be guaranteed to us. […] here we simply wish to not be killed when we go out to protest, by a government committed to curtailing our rights and to imposing unequal reforms which ignore the everyday reality of most of us. We dream of women not being raped when they go out to exercise their freedom of expression, of not having to call a search party after each march because so many have disappeared. We use the expression 'If only' like this: 'If only it weren't images of the flames that got us out of bed each morning."*
Voguing in Plaza de Bolivar
Colombian artists Piisciiss, Neni Nova and Axid, vogued in front of police and protestors to show resistance in this moment of extreme state repression, through art. "In moments like these when we are being censored, art must continue to be the path towards light and visibility that we need," Piisciis writes on Instagram. "When we raise our bodies and our voices, the world listens."
Anthems of the Strike
"Bella Ciao", the ubiquitous 19th-century Italian folk song sung by the mondina workers in protest against harsh working conditions in the paddy fields of northern Italy, has once again been reimagined as a protest against Colombia's president, Iván Duque. "Duque chao, Duque chao, ¡Duque chao chao chao!" has been sung and played across the country in recent days. There's even a champeta version.
In Medellín's Parque de los Deseos, dozens of musicians took over the square to play as a unified orchestra, promoting unity and solidarity and expressing discontent with the government. Susana Boreal organised the initiative and continues to support other similar concerts in Colombia.
Paisa rappers Alcolirykoz joined caleño singer Junior Zamora on the track "La Caza de Nariño", to talk about the complex and corrupt political situation. It's a new song written in support for the marches taking place all over the country. The track was produced by El Arkéologo and recorded, mixed and mastered by Juan Pablo Builes.
22-year old Hendrix Hinestroza, from Cali, has been actively posting freestyles and gigs in support of the paro nacional. He started a TikTok challenge, asking followers to sing or rap over the track "¿Quién los mató?", which was released last year, alongside fellow Afro-Colombian musicians Nidia Góngora, Alexis Play and Junior Jein, to speak out about the five Afro-Colombian children killed in Llano Verde in Cali last August. In the challenge, #quienlosmatoparonacional, he asks followers to reimagine the track to talk about the current situation.
Colombian musicians in the UK, Desta French and Santiago Morales (from Bogotano beats collective Sello Indio), covered Violeta Parra's "Una Carta" in solidarity with their brothers and sisters in Colombia. They say: "the lyrics resonated deeply with us, and what is happening in Colombia. Our hearts are in so much pain right now but the unity that the people of Colombia have shown is inspiring to say the least so it's our duty to stay strong for the people still out in the streets, and show them love and support. All proceeds from this song will be donated to two trusted sources helping protesters who need it the most."
Karol ET and KALA from Labadband recorded a lo-fi, pissed-off, bassy track "Arte para no morir" with accompanying mini-video.
La Perla performed "Guayabo" in tribute to Colombia's social struggle and those resisting in the streets.
Edson Velandia and Adriana Lizcano's genius "Todo Regalao" was released just a day before the national strike began. The track and accompanying clownish video explain, through satire and acerbity, how many Colombains feel. "El salario del senao – lo pagamos nosotros / El senador relajao – lo pagamos nojostros … Qué será que los ricos quieren todo regalao"
Some musicians, including Goya, J Balvin, Shakira, Juanes and Maluma, supported protesters and lamented the violence in Colombia to varying degrees. A video from Shock compiled videos and comments of solidarity.
Our friends at Movimientos have put together a new crowdsourced playlist entitled ¡Resistencia Musical! The list includes a number of Colombian protest anthems, including the "Himno de la Guardia Indígena". You can suggest more songs here.
*Translations are the author's own.

Follow Sounds and Colours: Facebook / Twitter / Instagram / Mixcloud / Soundcloud / Bandcamp

Subscribe to the Sounds and Colours Newsletter for regular updates, news and competitions bringing the best of Latin American culture direct to your Inbox.
Share: