Aterciopelados: legendary alternative Colombian band returns to London
28 June, 2023
Aterciopelados is the most legendary rock band from Colombia, formed by frontwoman and guitarist Andrea Echeverri and bassist and producer Hector Buitrago (also known as Conector). They were pioneers in creating rock music with a Colombian identity, and played an important role in the rock en español movement of the early '90s. For 30 years they have been reinventing themselves – and the music scene in Latin America. 
This year, Aterciopleados are touring Europe celebrating the 28th anniversary of El Dorado, an album hailed as their masterpiece and a collection of Latin American anthems. For Sounds and Colours, Silvia Rothlisberger caught up with them ahead of their July gig at London's Electric Brixton.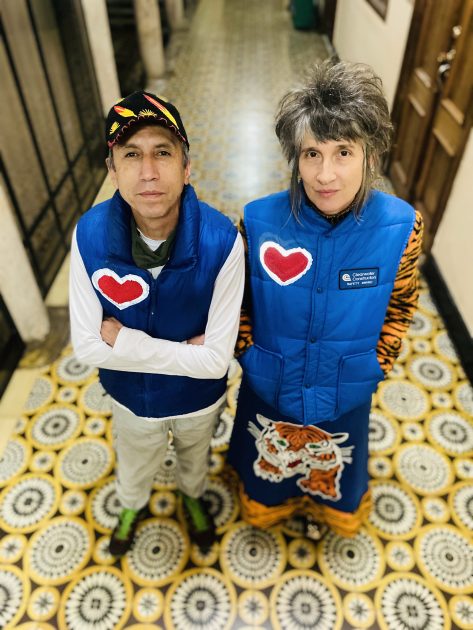 The dynamic duo met at the beginning of the '90s in Bogota when Conector was in the hardcore punk band La Pestilencia and Andrea Echeverri was at art school. One of her friends invited her to sing in a band and on the first day of rehearsal they arrived at Conector's house. This was the beginning of one of Latin rock's most iconic and long-lasting partnerships.
Soon after, the couple got together, opened a bar and began experimenting with music. Barbarie became a hub for alternative music in Bogota. "When we moved in together, we started all the revolutions: we were an inter-class couple who moved in together without getting married – in that epoch," recalls Echeverri. Andrea was a "preppy girl from the north of Bogota" and Héctor was "a punk from El Restrepo", a working-class neighbourhood in the south of Bogota. The rock and roll lifestyle was getting the best of them and they broke up. A few months later Andrea contacted Héctor to tell him she had been invited to play in a band: "Are we going to play or what?" They reunited musically and started the revolution that is Aterciopelados.
Although the duo haven't been a romantic couple since, their love story has evolved through a prolific musical partnership and many other forms of love. This is reflected in the band's name, inspired by a line in a book Echeverri was reading at the time by French feminist Simone de Beauvoir, "aterciopelada flor de la pasión" (velvety flower of passion).
The group's first album Con el Corazón en la Mano came into fruition after they sent the song "Mujer Gala" into a radio station to promote an upcoming gig. To their surprise the radio station called back to say listeners were asking for the song. "It was a very amateur recording, we did it in a hurry and still it became number one. So we became famous overnight," Echeverri explains. They swiftly signed with BMG and recorded their first album Con el Corazón en la Mano, released 30 years ago.
In 1995 Atercipelados released their breakthrough album El Dorado, whose title song is about the legend of El Dorado. During the Spanish reign in Latin America the invaders were so obsessed with finding gold that they believed there was a city made entirely of gold called El Dorado, and they killed, raped and tortured our Indigenous ancestors in their search for clues of the location of this fictional, shiny city. "Many conquerors lost their mind looking for that treasure but this treasure is something that we carry inside," explains Conector. "We also gave it this title after the international airport in Bogota. It's also called El Dorado and we wanted to travel everywhere!" explains Echeverri. 
If their first album gave them recognition in Colombia, it was their second album that exploded them into fame throughout Latin America and into North America. El Dorado cemented their music as rock with a Colombian signature. "There are songs where we seek our identity as Colombians. For example, "Colombia Conexión" is a song that is about accepting who we are, loving who we are as Colombians. At that time, and still now, we looked outwards: to music and culture from abroad. Indigenous peoples were overlooked and even stigmatised. Many of the songs in this album are about the need to change that imaginary, to love who we are and to build through all that richness that we have," says Conector.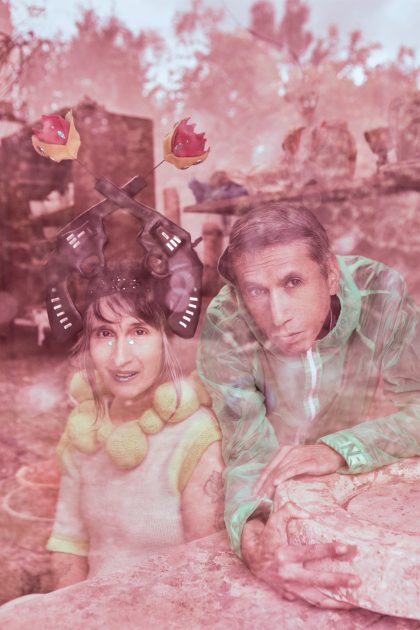 Their music mixes many genres: there's rock, pop and punk fused with traditional music from Colombia like guabina and bambuco. "These fusions were very daring. Every song is a search," explains Conector. It's not only Aterciopelados' rhythms that made them stand out, but also the lyrics, which reflected issues that we were facing as a society at the time. "That album [El Dorado] reflects the reality of Colombia, for example "Pilas" is a song about social cleansing, "Siervo Sin Tierra" is about farmers and the issues they face with the land, because they don't own their land," says Echeverri. 
Aterciopelados not only marked a generation with their music but the band's aesthetic also played an important role in their influence. Conector was a rasta punk and Andrea Echeverri broke the mould with her androgynous image: pixie-cut hair and kitsch-inspired aesthetics, a unique approach to style that is integral to her public persona. Echeverri's guitar covered in colourful plastic flowers caught the attention of viewers in their videos for "Bolero Falaz" and "Florecita Rockera". "MTV at that time was the place to connect; everyone watched MTV. Now not everyone tunes into the same thing because there are so many different platforms that there isn't one that agglutinates all the audiences in the way MTV did at the time,"Echeverri reflects.  "I do believe that those two video clips 'Florecita Rockera' and 'Bolero Falaz' were pivotal to reaching wider audiences. ¡La rompimos! We started travelling throughout all of Latin America," she continues. "Those two songs for us are like 'Azucar' is to Celia Cruz. She played it in every single concert and we'll play 'Florecita Rockera' and 'Bolero Falaz' until we die."
Being one of the few women in the rock scene at the time and singing lyrics about being objectified as a woman, feminism, even femicide, made Andrea Echeverri an icon of feminism and a role model for young female musicians. "Andrea Echeverri has been a reference for me since I started making music as she was the only female musician making rock in Colombia and with whom I could identify," says Montañera, the Colombian musician who is opening for Aterciopelados at their concert in London's Electric Brixton.
"'Cosita Seria', Echeverri explains, "is a song that talks about 'me too'. It's like a predecessor to the #MeToo movement. From the beginning, our songs opened discussion about issues that are relevant now. I reflected a reality of Latin rock: on the tours there were 80 men and me. I also think I've built an alternative aesthetic of femininity. A large percentage of women singers play the same game with sexuality, influenced by the likes of Madonna. In my career I've looked for a different kind of representation, creating space for being independent and strong. A space that isn't exempt of sexuality, of colour, of playfulness. In my style I look to highlight hope, laughter, celebration, symbolism: I love the peace symbol, hearts."
The song "Antidiva" summarises this. – "Totally! That's me. Maybe other female singers are more famous and that's why my message gets to fewer people, but my message is revolutionary."
Aterciopelados have released 11 studio albums, which have awarded them three Latin Grammys and granted them six nominations for a Grammy award. Through breaking stereotypes and creating music with messages of female power, environmental activism, anti-war sentiment, love and heartbreak, they have transcended to legendary status.
"30 years in the music industry means that we have a lot of tools. With time everything became more clear and more structured. But the desire to reflect who we are politically, historically, geographically –our identity– that desire has been there from the beginning," explains Echeverri. "We are a very dynamic duo, like the [homonyms] song from the album Claroscura."
"We've been trying different things, experimenting, finding fusions, new rhythms. When we started it was a time when bands were experimenting with sounds from our own regions, our own countries and even the whole continent. We continue to mix influences. We still bring everything we've built since the beginning. All those fusions, those melodies and rhythms, everything we've found, and we enrich it with new production tools," Conector explains.  "We continue to experiment and to look towards the future, with daring fusions. We keep on looking for new sounds." 
Atercipelados are playing Electric Brixton in London on 2 July as part of their European tour.

Follow Sounds and Colours: Facebook / Twitter / Instagram / Mixcloud / Soundcloud / Bandcamp

Subscribe to the Sounds and Colours Newsletter for regular updates, news and competitions bringing the best of Latin American culture direct to your Inbox.
Share: