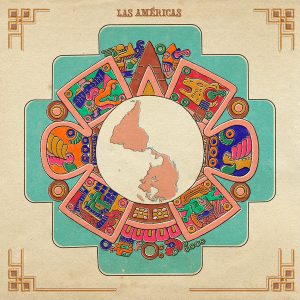 Review
Biomigrant – Las Américas
In February of this year, before this global confinement madness, music producer Biomigrant was preparing us (probably without knowing it) for a virtual trip through Las Américas. His latest album summaries the essence of the continent with rhythms ranging from downtempo dotted with natural soundscapes, including cumbia bass lines through which gaitas emerge, to Afro-house combined with champeta, to global bass and techno. Always accompanied by lyrics that vindicate the struggles of the native peoples of the continent —a prayer to Tláloc, Mexican God of the rain ("Pan de Mesquite"), a poem for maroons ("Liberación")—, a feeling also carried by subtle timbres of traditional instruments such as gaitas, zampoñas, quenas, marimbas and tamboras.
Michael Alfred Wagner aka Biomigrant is an American multi-instrumentalist and music producer who, as his name vindicates, took a sonic trip through the American continent. Starting in his native country, he crossed the continent by bike, passing through Mexican and Mayan lands to get to Colombia and finally settling there. His journey through the different cultures is doubtlessly documented in his musical set: he leaves no one out, summarising suffering, joy, the hate and love of its people, and calls for the solidarity between them: "que todos los hombres y mujeres de maíz finalmente empecemos a caminar juntos" ("El tercer hombro").
"Halo Solar" is a purely instrumental combination of what are perhaps Biomigrant's lead instruments: a transverse flute exploring a variety of performance techniques, percussion and a deep bass line in downtempo mode. It could surely sum up the drawing of a sunrise. "Liberación", an instrumental, has a fascinating bass line, with a danceable yet meditative tempo. In addition, the message of liberation by Palenque de San Basilio in Colombia is key, since its population is one of the first free peoples of America.
Nostalgia for the Colombian Pacific is felt on "San Pacho" which has sounds reminiscent of Colombian marimbas and clarinets that are likely echoes of verbenas and chirimías. On "(Del Otro Lado de) La Muralla" we jump to the Colombian Caribbean with the sounds of tamboras, llamadores, currulao and gaitas. Important is the participation of local musicians, like Waydis de Jesus Ortega, a renowned percussionist and educator committed to the marginalised youth of Cartagena (Colombia), through the project "Tambores de Cabildo".
This album was released by Frente Bolivarista, a Dutch-based label that focuses on merging "global" with "regional" and "foreign" with "roots" sounds. They are strong supporters of music without borders as a weapon to unify rather than separate cultures. This is exactly the message that we need right now.

Follow Sounds and Colours: Facebook / Twitter / Instagram / Mixcloud / Soundcloud / Bandcamp

Subscribe to the Sounds and Colours Newsletter for regular updates, news and competitions bringing the best of Latin American culture direct to your Inbox.
Share: