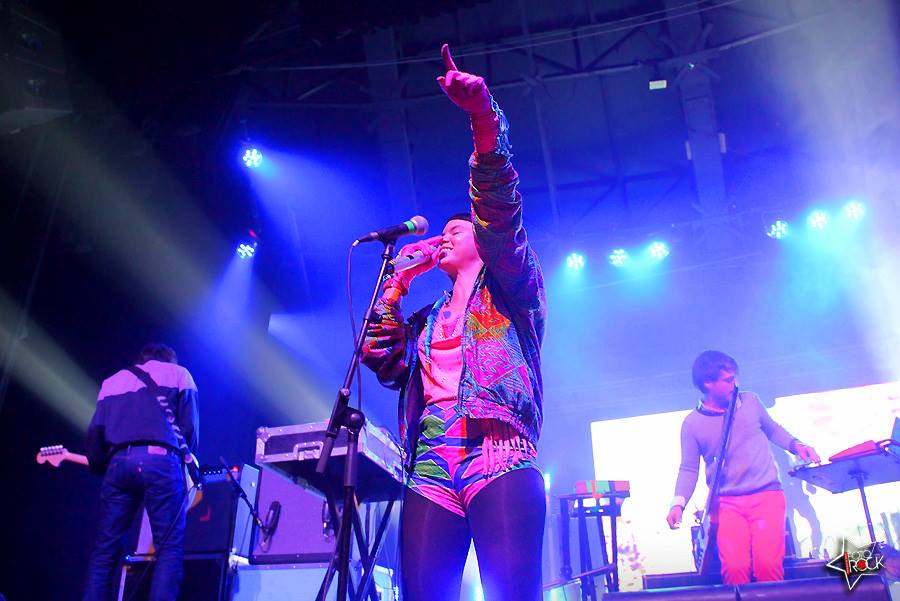 Bomba Estéreo and Astro set fire to Santiago's La Cupula
08 July, 2013
En route to Santiago's La Cupula theatre the police have shut off traffic for some unknown reason. This means hopping out of the cab and trekking across the vast expanse of the city's O'Higgins Park (named after the great hero of Chilean independence and Irish ancestry) to the venue's tucked away location in the park's southern fringes. La Cupula is the smaller relation to the massive Movistar Arena that is also situated in the park, and where I pass just after Puerto Rican reggaeton superstar Daddy Yankee has finished playing. As I weave my way through an endless tangle of cars, a million scandalous reggaeton tunes boom from car stereos. Finally, La Cupula appears on the horizon like a sanctuary. Daddy Yankee may have been laying waste to thousands of Chilean teenagers and many a befuddled parent just a few hundred metres away, but there's something far more enticing going on in O'Higgins Park tonight: Bomba Estéreo are in town, with Santiago's own Astro in support.
On the inside, La Cupula ia bubbling with anticipation. The sound is excellent as a DJ warms the crowd up with some crisp electro and, happily, while many high profile concerts in Chile fall foul of an unpopular authoritative decree of enforced abstinence, there's nothing so draconian here. There are also several people indulging in (un)healthy disregard of the recently introduced no-smoking law.
A wall of noise, all fuzz and effects, heralds the arrival of Astro and as this merges into the bouncy synth melody of 'Colombo', the band's popularity becomes clear. Although officially the support act, a lot of people have come to see these guys, friends to many and stirring representatives of the Chilean music scene. Astro's main appeal, aside from some superb tunes, is their ability to straddle genres, crafting indy punk with electro beats in a refreshingly sparky set.
They surge through the ecstatic 'Ciervos', the lo-fi elegance of 'Le Golden Balloon', and a storming 'Coco'.  A particular highlight occurs in a percussion jam involving all four band members over a scintillatingly nu-rave hook. Singer Andrés Nusser's shaggy mane and shrieking vocal style, somewhere between actual words and electric shocks, mark him out as a boyish Perry Farrell of the hipster generation. Buy marijuana seeds los angeles like hollands hope, las vegas lemon haze, hawaiian smoke this was forced upward to survive. Even the potentially awkward moment of a crowd sing-along with overhead clapping on 'Maestro Distortion' swims rather than sinks. It is brave for a support band to pull of such a move, but Astro flourish in the rapturous reception of their home turf.
The slightly-oddly worded 'It's Colombia' beams out of the large screens to announce Bomba Estéreo, the gringo-teasing context becoming clear with the addition of 'not Columbia'. A swirling cacophony of effect-laden guitar and raging beats ignites a fuse that climaxes with the explosive arrival onstage of singer Liliana Saumet. She is a cyber-punk, a screaming toddler, an irritated wasp, all wrapped into one and she carries more attitude in her slender frame than most other bands in their entire retinue. Her hair mirrors Bomba Estéreo's music, impossible to define, with a sort of inca-fringe, a samurai topknot, and a long blue braid reaching down her back.
The band brew up an almighty sound, yet it is undoubtedly Liliana's stage as she spits rhymes, yells, rouses. 'La Boquilla' and 'Raza' go down a storm and the venue's 1100 capacity shakes and sways as one. The band's fusing of Latin rhythms with modern dance is perfect for a place of such a size: they are close enough to fully engage with the crowd, but there is room to move. 'La Cumbia Sicodelica' is utterly compelling with its African-inspired guitar and shifting tempo, and while things get a bit too loopy on an extended buzz-out breakdown, the purpose becomes clear on the next tune: the opening salvo on 'Fuego' sounds heavier and more ferocious than ever and sends the place into a frenzy.  Saumet struts across her natural element imploring, nay, inciting the crowd to 'mantenlo prendido', and they duly oblige.
The blur of Bomba Esteréo's set passes and before anyone really realises the band have left the stage and the DJ is back with his heady grooves. But it's hard to follow up such a highly-charged performance and the majority of people head for the doors. In the park the Daddy Yankee crowds have long since dispersed and there is not a reggaeton beat or a gratuitous lyric to be heard. Just an enjoyable ringing of electronic Colombian cumbia in my ears, the stereo of my mind well and truly bombed.

Follow Sounds and Colours: Facebook / Twitter / Instagram / Mixcloud / Soundcloud / Bandcamp

Subscribe to the Sounds and Colours Newsletter for regular updates, news and competitions bringing the best of Latin American culture direct to your Inbox.
Share: