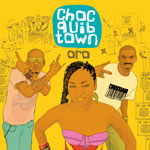 Choc Quib Town take their hip-hop-inspired update of Colombian folk music to Europe
11 June, 2010
Perceptions are changing in Colombia. Labels such as Palenque Records and Soundway Records, as well as plenty of good blogs have heightened awareness of some of the great folk music hailing from the country, while producers such as Quantic and Sidestepper have shown how this music can be presented in modern surrounds. Choc Quib Town are well-placed to continue this momentum.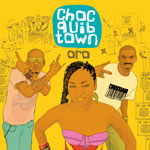 Mixing traditional Colombian folk music and wider Latin styles including salsa, with hip-hop, dancehall and modern production techniques they crafted two albums which have made them huge stars in their native Colombia. This year sees them spreading further afield with an international release for their third album 'Oro' (essentially a compilation of their previous records) on Nacional Records.
The group, featuring the lyrical triumvirate of Tostao, Goyo and Slow, are currently taking a break between two European tours. I spoke to Tostao to find out how this group from Quibdó (in the Choco region of Colombia) came to find their sound and where they hope it takes them.
Your sound is a mixture of many different styles; Colombian, Latin and Western. How did it come about?
Colombia is full of music influenced by Panama, Cuba and pop music from the middle of the 80s to the start of the 90s, as well as traditional elements. When we make our own music we make a mix of traditional Colombian and Cuban music, hip-hop, dancehall, Pacific folk music, bambazú, levanta polvo, and other elements of salsa and latin music. The mix of styles and the rhythms on the album are utimately just different rhythms that we like and that we grew up listening to.
Are Choc Quib Town part of any scene that is currently happening in Colombia?
There is no scene really that makes music like ours. There are scenes that make music of different rhythms, La Mojarra Eletrica are a good, different type of band. There are bands that play jazz, Cuban sounds, Bahian Ensamble Pacifico, they use rumba and salsa. There are many bands like this but others that combine hip-hop Cuban music and folklore, like we do, do not exist in Colombia.
How was working with Richard Blair (from Sidesteppers) on some of your material?
Richard Blair is someone we have worked with from when the band was in a very early stage, when we were unknown. Always he was a good advisor, a good contact. He is someone who has been like a Godfather to us, a good friend who produced our first disc, he was like a good brother.
Which are some of the artists who have a strong influence on your music?
Fela Kuti, The Roots, many folkloric groups from here, Lauryn Hill, The Fugees, many musical groups of Cuba and Panama. We are influenced by so many different groups, groups from around the world but there are also great bands here in Colombia, bands we really like that play bambazú, champeta and marimba, black rhythms that we like a lot. There is much influence from black music; political songs, songs adding to the knowledge of black conscious, love songs, homages to different rhythms, lots of great music that we could talk about all day.
What is the general reception in Colombia to the use of traditional music?
In Colombia there was much prejudice to traditional music but now things are improving because the world is talking, people are getting more in touch with their roots and a vibe is developing. Before it was different, people didn't really know about Colombian music but this has changed a lot. Interest is Colombian music is on the rise. Just think, there is Palenque Records, run by Lucas Silva, releasing champeta music. He has found a way of presenting Colombian music which I like, where he can sell to people around the world.
For us too, we use elements of traditional music, but we are big here in Colombia. We play many concerts, big concerts, playing at a high level. We are very happy to be so popular with a different sound in our country, leading the underground movement.
How has the European tour been going? How has the reception been?
It was a beautiful experience to show our music to Europe, to go to different places every night; 14 concerts in total. We went to Paris, Copenhagen, Madrid, Barcelona, Helsinki, very different places and the response was great. It was such an amazing experience, and we are so happy to finally find ourselves in this situation.
Can you tell us a little bit about the upcoming tour too?
We have more dates in June and July in Europe, playing Lovebox festival in England, Parkpop festival in Holland and in Belgium if I remember correctly [The rest of the dates are listed below – Ed]. We are touring with a group including guitar, bass, drums and percussion typical of Colombia; seven people in total.
And your general plans for the future?
First, we are promoting our disc and travelling to Europe, making these concerts and then I think the general plan is to spend some time in USA.
Choc Quib Town will be in Europe soon. See confirmed dates below:
18th June NUITS ZEEBRES Paris FR
19th June FESTIVAL MUNDIAL Tilburg NL
20th June AMSTERDAM ROOTS FESTIVAL NL
23rd June MESTIVAL Tarragona ES
24th June GLASTONBURY FESTIVAL UK
25th June FESTIVAL COULEUR CAFE Brussels BE
26th June AFRO LATINO FESTIVAL Bree BE
27th June PARKPOP FESTIVAL THE Hague NL
3rd July MEYOUZIK FESTIVAL LUX
4th July ROSKILDE FESTIVAL DK
13th July SOMMERSCENE Malmo SE
15th July GURTEN FESTIVAL Bern CH
16th July CABARET SAUVAGE SUMMER FEST Paris FR
17th July LOVEBOX FESTIVAL London UK
23rd July LA MAR DE MUSICAS Cartagena ES
24th July MUMES FESTIVAL Tenerife ES
Related articles from other sources

Follow Sounds and Colours: Facebook / Twitter / Instagram / Mixcloud / Soundcloud / Bandcamp

Subscribe to the Sounds and Colours Newsletter for regular updates, news and competitions bringing the best of Latin American culture direct to your Inbox.
Share: