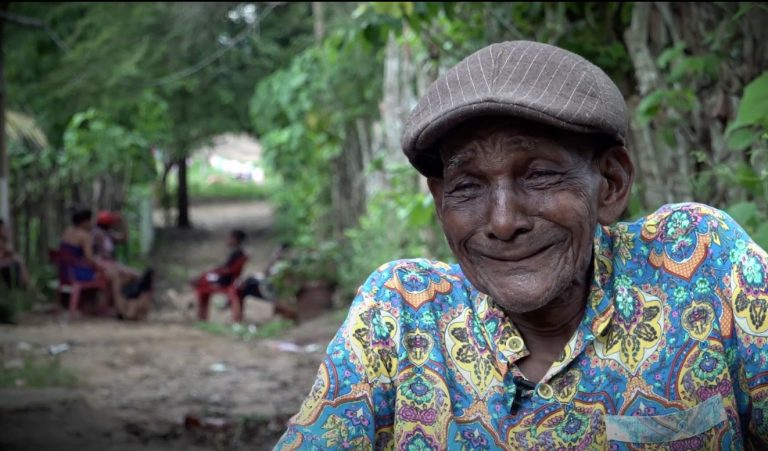 Colombia's 95-year-old Musician Magín Díaz Emerges From Obscurity
26 January, 2017
According to oral histories, Magín Díaz has composed some of Colombia's most famous folk songs. Songs that generations of Colombians know and love. Songs that have since been reinterpreted by big names like Carlos Vives and Totó la Momposina, making them their own, unaware of the man that originally composed them.
Unable to read and write, Magín Díaz never registered those songs under his name. But, now, in his 90s he is about to release his first solo album, Magín Díaz, El Orisha de la Rosa. Daniel Bustos and NONAME have spearheaded the project so far, recording Magín and getting it to the final stages. Bringing on board 25 musicians from across Latin America, as well as Manuel García-Orozco and Christian Castagno as producers, and getting the likes of Scott Hull to master the album (think Miles Davis, Bob Dylan, Nirvana…) Now, it just needs printing. To continue the gift economy at the heart of the project (everyone has donated time and talent), the team behind El Orisha de la Rosa have launched an Indiegogo campaign. Donate and you can get a copy of the album.
Though his first solo album, this will not be the first time Magín has appeared on record. In the 1980s, he recorded two LPs with Los Soneros de Gamero that had his cousin, Irene Martínez, as main vocalist. In the 90s, he recorded with Los Wadyngos (though those recordings are now lost). In 2012, Páginas de Cultura was released, an album that charts the musical legacy of Magín and Santiago. That same year, Magín also contributed to a compilation CD, Tambó, of music from Barranquilla. In 2013, he released a single with Gualajó as part of a project conceived by Federico Galvis. In 2015, Magín released an album with Sexteto Gamerano that was released by Konn Recordings. Now comes Magín Díaz, El Orisha de la Rosa, his first solo album, and the product of intense academic and musical research, due for release as soon as it is printed.
I have had a lucky listen and the album takes traditional genres like bullerengue, chalupa and fandango to new dizzying and defiant heights, submitting them and mixing them with a range of sounds and influences from the African diaspora: Argentine chamamé, Congolese soukous, Mexican cumbia, Pacific Coast aguabajo, and joropo from the Colombian-Venezuelan plains. On the disk, Magín is joined by the likes of Carlos Vives, Celso Piña, Chango Spasiuk, Totó la Momposina, Petrona Martinez, Bomba Estereo, Systema Solar, and more. The idea being that a plethora of musicians would be great homage to the old master himself.
It's a lot to get your head around, with each song vying for your attention.
Tracks are peppered with lyrics like "Me amarás" ("You Will Love Me") coming back on themselves like the mantra or meanderings of an old man still looking for the recognition he never had. In "Rosa", the opening track, Carlos Vives and Totó la Momposina, who previously interpreted the song, join the supposed master. Magín sings "Rosa, que linda eres…" ("Rosa, How beautiful you are") in a long precarious, pained howl. Cracked by age, his voice stretches out over each song and makes its way across the album and into our ears.
On closing track, "Mujeres Malas", the conclusion is much more than the preservation of one man's musical legacy, but a palimpsest mirroring the album's structure. Lyrics like "Mujeres malas no se pueden olvidar…" ("Bad women cannot be forgotten") are greeted by a chorus of Latin American female voices, modern manifestations of Magín's past muses, challenging his assumptions and updating his music for younger ears. Bomba Estereo's Li Saumet and Argentinian La Yegros provide the backbone of the song, whilst members of Kombilesa Mi rap in palenquero (the creole language of the ancestors of rebellious Colombian slaves) and Monica Carrillo, an Afro-Peruvian activist raps in Afro-Quechuisms. Captain Planet, in his distinctive style of global bass, harnesses Magín's spirit of resistance – he was one of the first men to sing genres like bullerengue traditionally sung by women – placing it in conversation with these voices that chide, berate, seduce and soothe Magín's rougher edges.
The album is jammed with tunes, 18 in total, and when printed there will be 18 postcards to accompany the CD. Artists across Latin America contributed, interpreting songs from the album.
Daniel Bustos' intentions were always to give Magín the recognition he deserved, going beyond the small folk circles that already respect him, but have few resources to help him. In that regard, Magín Díaz, El Orisha de la Rosa has gone above and beyond what anyone could have imagined.  It's a gem of an album made with care, commitment and creativity.
If you want to support Magín Díaz and get his first solo album, consider donating to their Indiegogo campaign.

Follow Sounds and Colours: Facebook / Twitter / Instagram / Mixcloud / Soundcloud / Bandcamp

Subscribe to the Sounds and Colours Newsletter for regular updates, news and competitions bringing the best of Latin American culture direct to your Inbox.
Share: