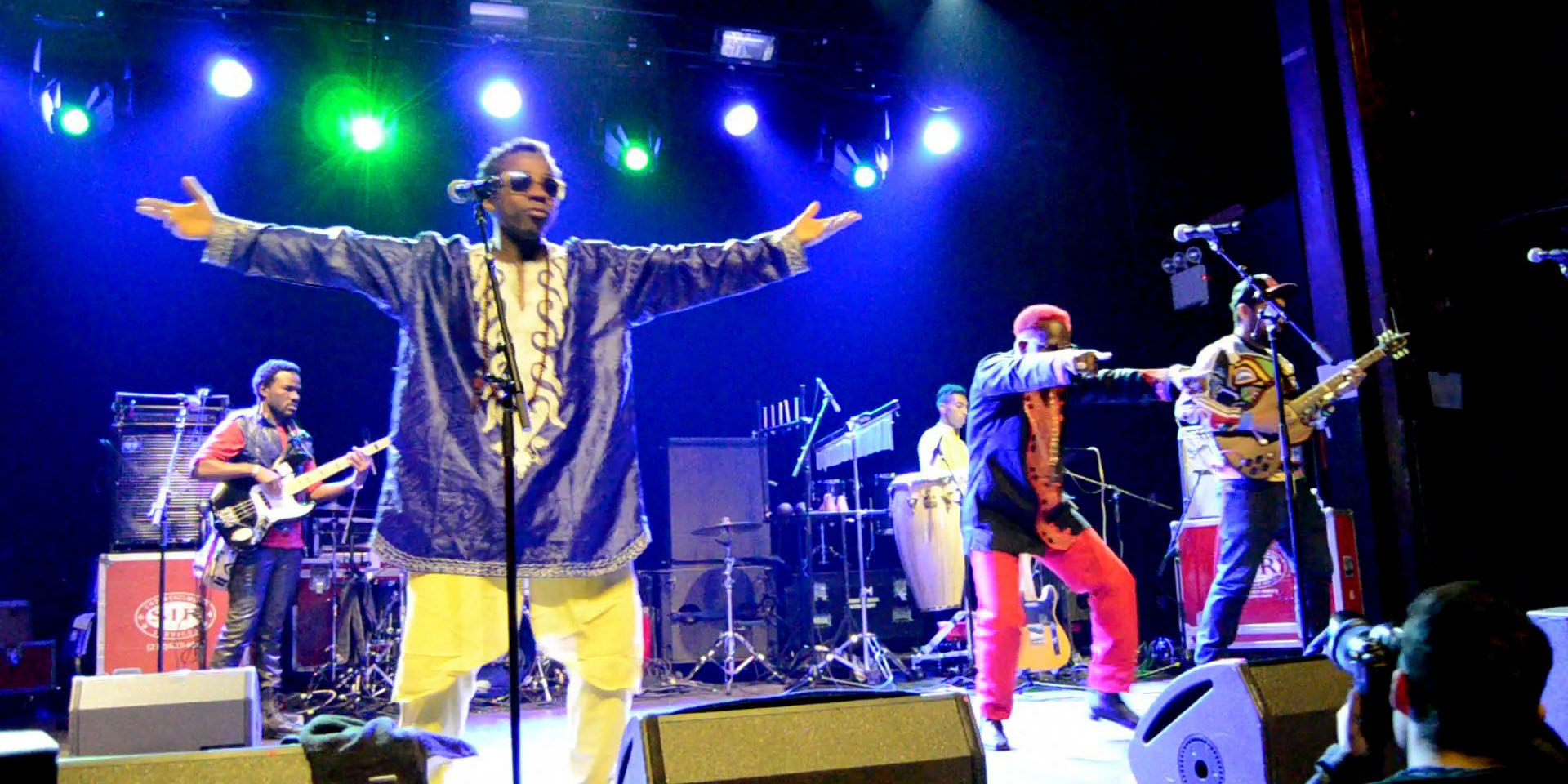 Diana Marcela Villegas D
Colombia's Tribu Baharú Take Afrocaribeño Champeta to New Heights
21 January, 2016
Champeta has a champion in Tribu Baharú (pronounced ba-roo).
The band, formed in Bogota in 2009, have been steadily taking their style of champeta to new heights. They've played the big WOMEX confence in Spain as well as SunFest in London (that's in Ontario), Canada, and their United States debut on Jan. 17 at a sold-out Globalfest concert earned them a NPR "Songs We Love" piece and a New York Times mention.
That champeta is getting international attention thanks to a sextet who hail from different parts of Colombia's Atlantic coast (with one born in the country's Pacific region) as we approach Barranquilla Carnival 2016, makes the band's buzzworthiness that much more special. After all, this is a genre of music that was once denigrated and damned, boycotted and banned. And, this writer remembers some Colombians scoffing at the genre during a visit to the 2012 Carnival. So what changed?
Tribu Baharú's drummer, Pocho (real name: Cesar A. Urueta Figueroa) attributes champeta's popularity to a number of factors, among them, champeta urbano's (think Kevin Florez) ascent earlier this decade, and an overall popularity for music from all over the Caribbean (think Latin Grammy-nominated Choquibtown.)
We see it as an overall acceptance of Carribean music influenced by African style on a whole. From bachata's meteoric rise to Diplo's love – and mainstreaming – of dancehall sounds, there's no denying that music with clear African roots is getting its due, even though some decry its appropriation or coopting by mainstream pop stars.
Whatever led to champeta's great popularity (just do a search for 'bailando champeta' or 'champeta' on sites like Instagram or YouTube) things have been good for Tribu Baharú. Pocho tells us the band are especially proud that their afrocaribeño style, different in that it involves live instrumentation, as opposed to the champeta criolla style using of pre-recorded beats, is finally getting its due.
Champeta as a genre was born in the 1970s, when those working on boats from West Africa, docked in Cartagena's port, bringing with them records of South African mbaqanga, Congolese soukous and Nigerian highlife. (Read more about champeta's origin in this 2010 Sounds and Colours piece.) But it hasn't always been readily accepted by all in the country, some who attribute the genre to a rise in teenaged pregnancy.
Nevertheless, the band's high-energy music is clearly influenced by champeta and the magic that came out of the picós. Music and lyrics are written as a group and with "the dancer" in mind, "just as Joe Arroyo sang for el bailador, we make music for el bailador," Pocho says. Lyrics are peppered with bantú lyrics (the Spanish-based creole spoken by Palenqueros) as well as English.
The band has an uncanny way of constantly flaunting their Afro-Caribbean roots and the costeño way of life in the lyrics. For instance, in "El Negro de Caribe," the song begins with a question for Shaka "el terrible," the group's MC:
'Hey, Shaka, where are you from, my man?'
"I'm from the Caribbean … I'm black and proud."
And the band's declarative anthem, "Made in Tribu Baharú," with its infectious hook, "Pa que vaciles …  pa que lo bailes tú… pa que lo goces … con Tribu Baharú,"  (so you have fun, so you dance, so you enjoy with Tribu ), they implore the dancer:
"Ponte vacano, que hay baile hoy!" (Get your best on; look good, because there is a party tonight! This is actually a lyric from this Joe Arroyo gem.)
All of that is heard in the music, found on their first album, Pa'l Más Exigente Bailador. Friend of the band, Elkin Pautt of Delsonido, who helped arrange their U.S. tour, tells us the band's guitarist, Boris "Boricua" Nelson, is one of the top two champeta guitarists in their country.
Pocho confirms this, adding that having global influences, and a love of many types of music, has helped the band evolve musically, without losing that authentic champeta feel.
"I like all music, from all things Caribbean to rock and roll. And you can hear it our rhythms," Pocho says.
Up next for the band: recording a new record. As far as goals, they'd love to someday travel throughout the continent of Africa.
"We'd love to take our music and interchange it with Africans," he says. "It would be great to tour there and record there, and to interchange our music and cultures. Africa is that spot that it would be beautiful to share music."
NYC: Tribu Baharú plays Nublu on Thursday, 21, Jan., Meridian 23 on 22 Jan., and the Randolph in Brooklyn on the 23rd.

Follow Sounds and Colours: Facebook / Twitter / Instagram / Mixcloud / Soundcloud / Bandcamp

Subscribe to the Sounds and Colours Newsletter for regular updates, news and competitions bringing the best of Latin American culture direct to your Inbox.
Share: