Spotlight on Palenque Records (or how Lucas Silva's Champeta love affair is getting back to Colombia's African roots)
11 June, 2010
Right now's an exciting time for Lucas Silva and his label Palenque Records. Palenque Palenque! (Champeta Criolla & Afro Roots in Colombia, 1975-91) was released in May in conjunction with London's Soundway Records.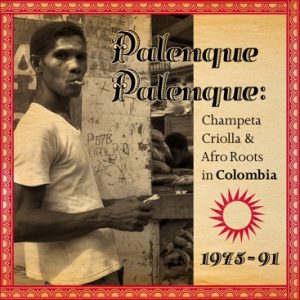 The album celebrates the Afro-colombian music that developed on Colombia's Pacific coast from the 1970s onwards. Travelers brought over records from Africa and Haiti at the same time as locals were beginning to build decent, poweful sound systems. Residents in the Caribbean area of Colombia, which includes the cities of Barranquilla and Cartagena, had largely African roots and instantly responded to the music they were being introduced to. Artists like Prince Nico Mbarga, Oliver de Coque, Fela Kuti and Tabu Ley Rocherau became hugely popular. So much so that local record labels (including the legendary Discos Fuentes) decided to record their own versions of the songs. The resultant records were a mix of African, Caribbean and Brazilian music with hints of salsa, rock and cumbia. This music would come to be known as champeta.
Lucas Silva, owner of Palenque Records, first found out about champeta in 1996, and has been devoted to it ever since: "I became really fascinated with this musical movement that I didn't know about, I met some musicians and things, and was really interested." He made it his mission to make sure that champeta would become known outside of Colombia. "Someone needed to make this music known to the world. In 1996 this music was available exclusively to the Caribbean and I felt that if I didn't do the job myself nobody else would. At the time I was living in France and I decided to release my first compilation from there in 1998."
This first release was called Champeta Criolla: A New African Music from Colombia and would soon be followed by Champeta Criolla Vol. 2: Visionary Black Music from Underground Colombiafrica in 2002. These compilations would focus on champeta records that Lucas had been collecting as well as more modern music like soukous, music that could be played on the soundsystems. At the same time he was also recording music, culminating in a release for Son Palenque on Honest Jon's Records and the Colombiafrica – The Mystic Orchestra: Voodoo Love Inna Champeta-Land on Palenque.
The next step was to find a way to reach more people and this led to the collaboration with Miles Cleret, the head of Soundway Records. The idea was to produce a compilation that would be pure roots, which meant doing a lot of searching. "These records are really hard to get. Some are impossible to find. We, me and Miles, have been looking hard for them. He has come to Colombia many times and we have really collected half and half for this record."
The result is a CD or Triple LP featuring an irresistible array of songs showcasing the wealth of talent that has been overlooked in Colombia for some time. What's really surprising is the musicianship and ideas that artists like Wganda Kenya, Cumbia Siglo XX and Abelardo Carbanó bring to the table. Recording may have been rushed or done for very little money but this didn't seem to affect the quality of the performances. Each track has its own take on champeta, mixing African, Caribbean and Latin styles in different ways, and very often bordering into the realms of psychedelia.
All this means that champeta is starting to gain a name in Europe but has it changed anything in Colombia. "In the beginning nobody in Colombia liked this music. This was in 95, 96, 97. I think with time more people are getting interested in African music, and now in the capital [Bogotá] people are started to get more into it, and there are some dance clubs doing fusions of champeta, cumbia, rock and some other music. The prejudices are dying away little by little."
Lucas' next move is to make a second volume of the record, produce a new record with Son Palenque and release a new documentary about this music. You certainly can't knock his work ethic. In the meantime enjoy a few of these nuggets from the new release, which can be bought directly from Soundway Records or from Amazon

.
[soundcloud url="http://soundcloud.com/soundway-records/sets/palenque-palenque-champeta-criolla-afro-roots-in-colombia-1975-91″ params="show_comments=false&auto_play=false&show_playcount=true&show_artwork=true&color=ff7700″ width="100%" height="136″ ]
Picture at top of page courtesy of Africolombia blog

Follow Sounds and Colours: Facebook / Twitter / Instagram / Mixcloud / Soundcloud / Bandcamp

Subscribe to the Sounds and Colours Newsletter for regular updates, news and competitions bringing the best of Latin American culture direct to your Inbox.
Share: