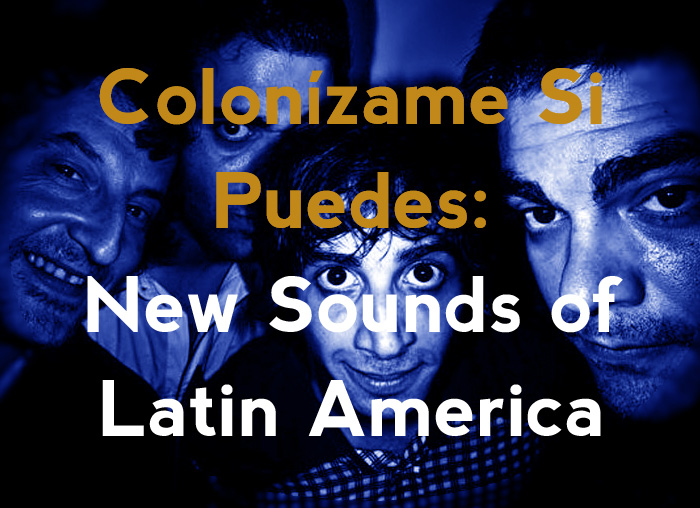 Colonízame Si Puedes: New Sounds of Latin America (Chapter One)
27 January, 2015
This is the first of a series of podcasts I'll be doing of Ibero-American music that I've seen live while touring through Latin America with my band, Animales Blancos. Also, I'll review most of the best Latin American acts I've seen in Colombia, especially in Bogotá (my hometown) and Medellín.
From flute music of the jungle to avant-garde urban sounds, from unknown bedroom pop acts to well established Latin American icons, this will be a place to discover music spanning a wide variety of genres.
This first edition is dedicated to Latin American garage, featuring five great bands I saw this year in the genre of raw, noisy, almost lo-fi rock 'n' roll sounds: Guadalupe Plata from Spain, Monte from Costa Rica, El Mató un Policía Motorizado from Argentina, Moldés from Peru and Montón Volador from Colombia. I hope you enjoy it.
Tracklisting
1. "Lorena" Guadalupe Plata (España)
2. "Cielo Aparente" Monte (Costa Rica)
3. "Los Subsiguientes" Moldes (Perú)
4. "Un Millón de Euros" El Mató a un Policía Motorizado (Argentina)
5. "El Oro Crece" Montón Volador (Colombia)
6. "En Este Cementerio" Guadalupe Plata (España)
7. "Ulises" Monte (Costa Rica)
8. "Vinilchrist" Moldes (Perú)
9. "El Magnetismo" El Mató a un Policía Motorizado (Argentina)
10. "Carro Veloz" Montón Volador (Colombia)
Guadalupe Plata (España)
One of the coolest places we played during our trip to México City this year was "El Chopo", a public stage placed at the end of a long street that goes by the same name and is fully dedicated to selling rock memorabilia, LPs, music books and stuff as bizarre as cassettes with Adolf Hitler's speeches (?). During weekends, by noon, the place is generally crowded with young rock 'n' roll enthusiasts, who gather around to listen to local and international bands who are playing there.
Right before our show, three grown men from Spain took to the stage armed with an old-fashioned electric guitar, a drum set and a pail with a string attached to it replacing the bass-guitar (a device I've seen before only in Colombian traditional insular music). From then on, it was the dirtiest, harshest blues-rock show I've heard in quite a while. Mixing feedback, rural-blues shouting and hypnotic slow grooves, the band managed to blend their old-school essence with a very innovative approach to the genre. Best of all: you could even dance to it.
They later came to Colombia during 2014's edition of Rock al Parque and were one of the coolest acts at the festival, no doubt.
Monte (Costa Rica)
In San José de Costa Rica we got to play in a very interesting festival called Epicentro that coincided with the huge and renowned Festival Internacional de las Artes de Costa Rica (FIA) but had a smaller and more alternative-oriented profile. The shows took place at El Steinvorth, a venue placed in an old building at the centre of the city that seemed to be the headquarters for San José's alternative scene.
The day after our show – also in El Steinvorth – we got to see Monte, a band that is now a trio but back then consisted only of Adrián Poveda on the electric guitar and lead vocals, and Franco Valenciano (who also plays in the post-rock band Zopilot and used to play in Las Robertas) on drums. Their loud, garage-like sound, mixed with Poveda's well crafted lyrics and Valenciano's powerful drumming, immediately got our attention. Intrigued by their show, we got on the internet to listen to their music and totally loved their raw sound in the studio as well.
San José seemed to us a very sunny and peaceful place to be. Thanks in part to Adrian and Franco, who drove us around, we got to know their nice city a bit more.
Moldes (Perú)
At the beginning of 2014 the Peruvian band Moldes were in my hometown, Bogotá, and invited me to do a song with them in their concert at Matik-Matik, a very special venue in the city dedicated to experimental music. Their show was, indeed, experimental. When you're listening to Aguas de Marte, their second album, you feel you're witnessing a haunting, weird mixture of noisy textures and obscure voices interpolated with delicate chords that evolve into aggressive, cathartic post-punk distortions. The same thing happened through their energetic show, also enthusiastically received by the public in Bogotá. (Immediately, Aguas de Marte became one of my top "headphone" choices during 2014).
Different Latin American alternative-oriented blogs recognized them during the year as one of the most interesting acts in the new peruvian rock scene. Also, they got the chance to tour Europe during summer.
El Mató a un Policía Motorizado (Argentina)
I saw El Mató a un Policía Motorizado, probably the most talked-about of the alternative rock acts in Argentina these days, as a part of Festival Hermoso Ruido, a nice initiative gathering up-and-coming Latin American acts in Bogotá and placing them in big, medium and small venues throughout the city. They did two shows: the first one was in the well known Armando Records; the second one, more interesting in concept, saw them playing together with 1280 Almas, a cult Colombian rock act, in Ozzy Bar (a venue located in the far west of the city).
I was well acquainted with their mantric lyrics and their simple but deeply moving songwriting. Also, I knew they could get as loud as it gets in live performances and was pleased to witness it myself. In concert, they performed all of their hits, mostly from their last album La Dinastía Scorpio. Nevertheless, they failed to play my favourite song of their's: "Un Millón de Euros". I'm sharing it here since it portrays, in my opinion, how enigmatically beautiful their music can get.
Montón Volador (Colombia)
Hanging out in Matik-Matik – the same place in Bogotá where I saw Moldes' show – a very mysterious local band called Montón Volador took the stage and did a concert in front of approximately five people. Art-Folk? Garage? Their style was hard to point out, but their songwriting – obscure and nihilistic – had a strange beauty to it. "El Oro Crece" and "Carro Veloz", the songs I'm sharing, strongly reminded me of Las Malas Amistades, one of my favourite local acts (and one that I reviewed here). Carlos Bonil, the keyboard player of Montón Volador that night, also belongs to Mugre, a Goth/Lo-Fi band from Bogotá really close to the local art-folk and art-punk scene.
Little is known about them and their digital presence is almost inexistent. Thus, this music is as underground as it gets.

Follow Sounds and Colours: Facebook / Twitter / Instagram / Mixcloud / Soundcloud / Bandcamp

Subscribe to the Sounds and Colours Newsletter for regular updates, news and competitions bringing the best of Latin American culture direct to your Inbox.
Share: