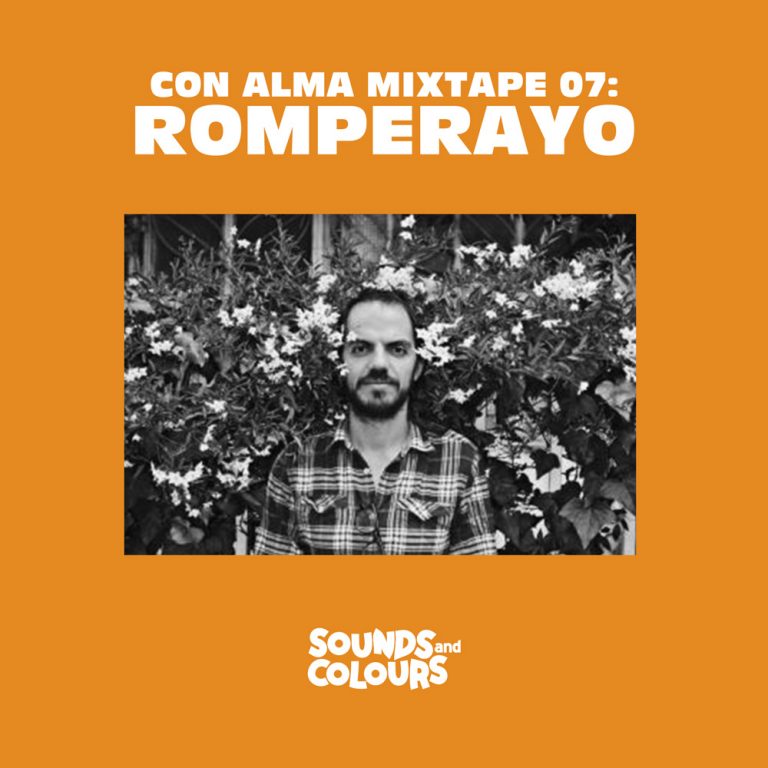 CON ALMA 07: Romperayo
12 October, 2020
Percussionist, drummer and songwriter Pedro Ojeda is el capitán of Romperayo – Colombia's polychrome tropical electro-folk outfit. Rooted in dialoguing between ancestral rhythms, minimalism, dance and ritual, Ojeda's prolific career has seen him reconcile underrepresented indigenous roots musics with electronics of a more recognisable Western idiom. Ojeda has collaborated with Colombia's most celebrated musical exports such as Ondatrópica, Frente Cumbiero and Meridian Brothers, and is an engaged member of Colombian experimental circles: in 2013, under the moniker Chúpame El Dedo, he took an unlikely foray into grindcore, speed and black metal. But it is with Romperayo – full of visceral energy, humour and well-learned tradition – that Ojeda is most celebrated. He has provided us with this week's upbeat Con Alma.
Ojeda explains a mix rooted in indigenous musical traditions:
"This musical selection is focused on four Latin American countries: Colombia, Ecuador, Peru and Brazil. With a marked emphasis on Colombia, it has a songs from the Vallenato guitar tradition and the merengue accordion. Some nods to the popular music of the Colombian interior such as Pepe Quintero, Gaston Guerrero or Emiro Caicedo and Los Alegres de Cali, in addition to the traditional music of the Colombian South Pacific, with  "To adore Antonio" from Guapi, Cauca and Kankuama indigenous music from the Sierra Nevada de Santa Marta. In addition, we also have some Peruvian music such as Cecilia Bracamonte and the Vazques brothers, La cuadrilla Morena or Los Compadres del Ande, and some Ecuadorian like legendary saxophonist Olmedo Torres. On the Brazilian side, we have music from the Amazon and Northeast Brazil with Pifano's band among other jewels. Enjoy…"
Tracklisting
Olmedo Torres, Cuando vengo no mas, aire típico
El Mochilon (alumbra luna-la casa en el aire), Chiquito Vergara y su conjunto porvenir santeño. Canta Armando Gonzales, paseo
Cecilia Bracamonte y los hermanos Vasquez, oita noma, Landó
Bovea y sus ballenatos, callate corazón, porro
Los alegres de Cali, Ciceron, Pasillo Fiestero
Pepe Quintero, El viento se lo llevó, canción
Gaston Guerrero y los isleños con Marcos Gilkes, El Alabao
Orq. Emisora Fuentes y Santander Diaz, El año viejo
Alejo Duran, Encarnación, merengue
Medardo Padilla y su conjunto, El Trueno, gaita 
Bandinha de Pifano, Caruaru Caruaru
Mírame, Luis Enrique Martinez, merengue 
Grupo Folclórico do Pará, Chote Bragantino
Grupo Los Veleños, Amparito, merengue
La Cuadrilla Morena con Juan Criado, Arroz con concolon, festejo 
A adorar a Antonio, Music of Guapi, Black Music of South America
Bobea y sus Ballenatos, Juana Blandon 
Los compadres del Ande, El Lechero
Rafael Campo Miranda, Remando
Chicote y Gaita de La Sierra Nevada de St Marta, La Paloma  
The Con Alma series is a mug of hot coffee served on Monday mornings, to start your week off right. An hour of musical soul food that's good for the body. Although the series' name is taken from Dizzy Gillespie's Latin standard, don't expect an hour of frenetic bebop – this is gentle introspection, warm sunrises, shower sing-a-longs… and always with plenty of soul.

Follow Sounds and Colours: Facebook / Twitter / Instagram / Mixcloud / Soundcloud / Bandcamp

Subscribe to the Sounds and Colours Newsletter for regular updates, news and competitions bringing the best of Latin American culture direct to your Inbox.
Share: