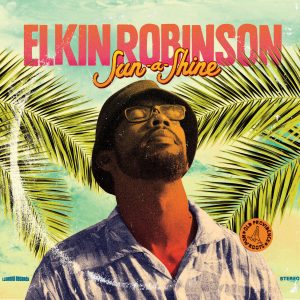 Review
Elkin Robinson – Sun A Shine
Creole twang, off-beat guitar skiffle and lyrics in English. It's a long way from the drum-heavy choruses and whistles often associated with music hailing from Colombia's Caribbean coast. Then again, the Caribbean Island of Providencia that Elkin Robinson, along with around 5,000 other people, calls home does sit closer to Nicaragua than it does to Colombia. In follow up to his 2014 EP, Come Around, Robinson has sought to continue his celebration of the island and its culture in the form of debut album Sun A Shine, bringing Old Providence's Caribbean folk music to a wider audience.
Produced by Sidestepper's Richard Blair, Robinson has cited traditional Afro-Caribbean genres such as calypso, zouk and mento as the inspiration upon which he has built his sound. These genres, whilst they may not traditionally be associated with the country on his passport, make up a defining element of Robinson's identity. He is keen to reaffirm the historical differences between Providencia's unique culture and the more Bolivarian elements associated with Colombian history and culture as a whole. Robinson uses tracks such as bright call-to-action "Revolution Time", with its lyrics "no fighting, just a cultural revolution" to mediate this message.
Tipped for bigger things on an international stage, and with a feel good factor throughout the album, it's clear to see why. Robinson has produced an easily accessible sound that will go down well on a summer festival circuit. Yet you can't help thinking that there is still a way to go, with more than an element of triteness manifesting over the course of the album. It would be shortsighted not to wonder whether the marketability of an English-speaking musician from Latin America plays it part in such ascendant hype.
It is perhaps then with an endearing irony that Robinson considers language in the context of Provedencian culture through the album. Clearly proud of his mother tongue, he still hints that to an extent perhaps, it has been the hand that has held him and his 'people' (to whom he refers to throughout the album) down for some time.
"My first language is English creole, 90% English, 5% African and the other 5% Dutch. That is what we all speak here among ourselves. When we go to school, they flip the script. All the classes are in Spanish and then you go back home telling your parents to explain everything to you over again, but in English. So you realise that they distance your culture from education." Robinson, who lays bare this social-linguistic dislocation on "Creole Vibration", reminisces.
It could be that there is a prosodic element lacking from the cool Andean climes of Bogotá from which I write, yet the best artistry often transcends such differences. You can't help feeling Sun A Shine falls short of that mark. Unfortunately it ends up less affecting than it does feeling repetitive. A real shame given the individual potential of tracks such as "Bami", which beautifully brings together Afro-Caribbean recitations. Or "Warrior", a subtle yet welcome change of pace in which the percussive elements conserve a steadying presence behind one of Robinson's more soulful vocal deliveries on the album.
In capturing the spirit of an island where life for the inhabitants has changed little over the years, perhaps Robinson wasn't looking to fix a sound that wasn't broken, and there is no fault in that itself. Ten feel good hits come together for an album which will no doubt be well received in the right live setting. Nevertheless, as a complete work Sun A Shine ends up feeling more a like continuation than an evolution in sound; musically prosaic and as an album unlikely to leave a lasting impact on its audience.
Sun A Shine is released by Llorona Records and available on Bandcamp.

Follow Sounds and Colours: Facebook / Twitter / Instagram / Mixcloud / Soundcloud / Bandcamp

Subscribe to the Sounds and Colours Newsletter for regular updates, news and competitions bringing the best of Latin American culture direct to your Inbox.
Share: